There are so many great toys out there in the marketplace nowadays for dog lovers and pet lovers.
The greatest toys are very adaptable to the needs of the pets especially for those pets who have destructive tendencies when it comes to chewing items in the household.
The very best chew toys for destructive dogs are those that are really fun and motivating for the dog to play with for hours and hours. They are also colorful, and enjoyable to look at and feel.
The toys need to be durable as well as dogs will usually like to play with them and chew on them for a long long time.
First we will explore the reasons why dogs tend to chew on things and then we will go on to recommend the very best dog chew toys out there for helping to alleviate this issue in your household.
Here's Our Top 10 List of The Best Chew Toys For Destructive Dogs In The Market:
Below You can read in more details about each of these toys and how to choose the best one that suits your dog.
Why Do Dogs Chew Destructively?
Usually most people don't understand why some dogs are so destructive in their chewing habits.
The most important thing to know is that dogs actually don't do these things in order to be destructive. They are not vengeful nor do they participate in destructive behaviors to be difficult for you.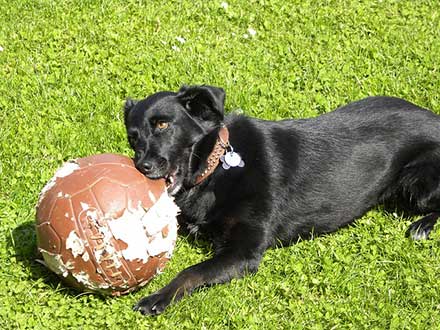 Destructive behaviors in dogs are often just a sign of anxiety and excess energy.
Most dogs are not used to being cooped up indoors for most of the day. If they are newborn and a puppy, they may also be a little bit anxious about their new environments, or new owners.
Most dogs show that they are anxious by chewing, digging, licking too much, or pacing.
Also, when they are just puppies, the teething process can be quite painful and sometimes it is a huge sensation on their gums.
Chewing on many different things actually helps to alleviate the pain of teething and the soreness of their gums.
When you can find out what is good for puppies to chew on and give them those toys to explore and help them feel less stressed about teething gums, the destructive behaviors often goes away instantly.
Another reason why dogs can be destructive and become destructive chewers, is because of separation anxiety. 
This is really the most common reason why dogs become destructive in their behaviors as this is not naturally their instinct in the first place.
If your dog came from a dog shelter or was a stray, the separation anxiety can show in destructive chewing.
They can also do funny things like follow their owners around the house everywhere they go, go from room to room, display frantic behaviors, react to when owners want to leave the house, and be very very attached to their owners.
When these puppies are left alone, they can tend to do things that are destructive in the house like soiling the house excessively and chewing excessively.
These behaviors have more to do with their emotions of separation and anxiety than they have to do with trying to become destructive or to destroy things in the house.
It is very important to understand your dog and their needs in order to alleviate the problem.
Oftentimes giving these dogs strong dog toys that are the best dog toys for heavy chewers is the only real solution to helping these dogs get their frustrations and anxieties out of their systems.
Understanding Your Dog
Oftentimes being able to be compassionate and understanding of what your dog is going through can help you to choose the right dog toys for aggressive chewers.
It can also help you to comfort your dog and make the right accommodations in the environment to help the dog stay calm.
Some dogs are actually afraid of loud noises and thunderstorms. Some dogs may even be very bored and lack enough social interaction with others or with their owners while the owners are away at work.
If they haven't got enough toys to play with or things to keep them occupied, they can start chewing excessively as a display of frustration and boredom.
This is especially why it is important to get the best toys for dogs that chew up everything.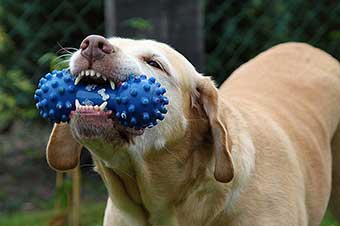 Another reason why your dog might be chewing everything up is because they may not have enough attention.
Sometimes they need to express themselves by chewing in order to get the point across that they are really missing some sort of attention in their lives or missing some sort of social interactions.
At times your dog might be playing and sometimes take it too far. Young dogs play in many different ways and some of their play is in chewing things to explore the items in their environment. In these cases the best way to deal with this is to basically provide them with the best most indestructible dog toys.
This allows them to keep chewing and chewing and getting their anxieties out while enjoying their new toy.
Play behaviors can often get these puppies into things like excessive digging in the garden, chewing on shoes, socks, and other objects.
If the dog is chewing on your socks and shoes incessantly, this can become a problem.
Analyzing the Causes of Destructive Behaviors
Here are some other reasons why some dogs may continue destructive behaviors.
#1 – The dog may be investigating the items in their environment.
#2 – The dog may be used to playing fetch but not have enough of an outlet for playing fetch. Some dogs like Golden Retrievers are used to playing fetch for many times during the days.
#3 – They may be teething or exploring their mouths.
#4 – They may be unsupervised for overly long periods of time on their own.
#5 – They may be inappropriately or excessively punished.
#6 – They may have medical problems such as gastrointestinal problems, gum problems, dental problems, or excessive anxiety problems. They may also have excessive hunger or sensory issues. These should be looked into by a veterinarian.
#7 – They may be on very inconsistent feeding routines which may make them hungry and going around destroying things in order to look for food.
#8 – They may find their surroundings too small especially if they are in kennels or crates during travel or barricaded into a certain area of the home. This will make them want to get out of the space and cause destruction by trying to get out into free space.
If dogs are trying to pursue other little animals this may also cause destructive behaviors.
It would be important to look into all of the possible causes in order to deal with the situation effectively.
Source: A.Davey/Flicker
If the situation is due to teething or anxiety for whatever reason, getting the most durable dog toys is probably a good solution for you and your dog.
Punishment is usually never a good solution at all.
Try to find other ways to deal with the situation such as providing the right indestructible dog toys for your dog to chew on and work on for hours while you solve the situation!
Here are some playful dog toys that we recommend that will help you and your young, playful, untrained or in training high energy dog get socialized and cope with their stressors.
The Top Ten Chew Toys For Destructive Dogs
The best toys for very active dogs include the very hard rubber toys designed especially for dogs.

Such examples include Nylabone and Kong types of products. They are easy to carry around and they come in some curious shapes and sizes so that your dog can explore for hours on end.
Rope toys are also very good and some of these come in bone shaped sizes with knotted ends.
Tennis balls are also really good for dogs but they do break down quite easily and need to be thrown out right away after that.
If you have treats that are a bit harder to chew but that taste like yummy snacks or like peanut butter, the puppy can be motivated for hours to chew through it.
For those puppies that are teething, there are actually specially designed toys that allow your dog to chew through the toy in order to get to their treats. An example of this are Busy Box toys. Soft toys and stuffed animals are sometimes good for dogs, especially the ones that really prefer softer chew toys.
Here are the top ten of the toughest dog toys that we recommend for your little or big canine today!
1 – The Kong: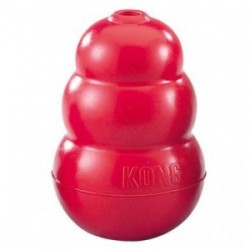 This is a really cute rubber shaped snowman.
Inside it are many treats but your dog must be very persistent in order to get into the treats area.
The best thing about this is that it is a very durable dog toy. This makes it occupy your dog for hours and hours on end which is exactly what a hyperactive destructive dog needs.
This is touted as one of the best indestructible dog toys out there! This is a toy that is made of Kevlar.
Kevlar dog toys are known to be one of the best toy materials out there for destructible dog chewers. It is durable and long lasting.
KONG - Classic Dog Toy, Durable Natural Rubber- Fun to Chew, Chase and...
Large Dogs (Up to 65 lbs): The KONG Classic red rubber toy is 2.75" by 4"; it helps satisfy dogs' instinctual needs while providing mental stimulation...
Fetch and Chew Toy: The KONG Classic's unpredictable bounce makes for exciting games of fetch and other interactive play with your pet. This is a fun...
Stuffing: The stuffable KONG Classic is even more enticing when treat filled with bits of kibble, peanut butter, KONG Easy Treat, Snacks or Ziggies....
Last update on 2023-12-04 / Affiliate links / Images from Amazon Product Advertising API
2 – The Hide a Squirrel: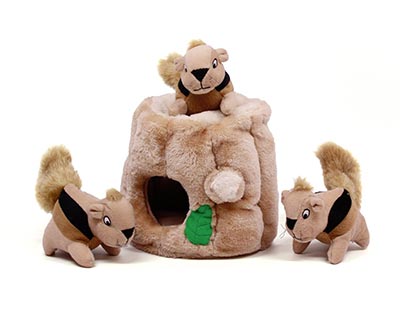 This is a plushed toy that is made of a hollow tree stump.
Inside of the stump are three squeaking squirrel toys.
This is really really cute but also really dog appropriate. The wonder and surprise of what is inside of the stump and the challenge of getting the squirrels out is not only fun for the dog but also will be a great challenge for him/her.
Outward Hound Hide A Squirrel Plush Dog Toy Puzzle, Medium
HIDE & SQUEAK FUN: The Hide A Squirrel dog puzzle is an easy way to get your furry friends engaged for hours of fun! Just fill the tree trunk with 3...
2-IN-1 INTERACTIVE PLAY: Toss the squirrel-filled trunk, place it on the ground, or take the squeaky plush toys out and launch them for a game of...
CHALLENGING & IRRESISTIBLE: Keep boredom at bay and you're curious canine mentally-stimulated while feeding their natural instincts to hunt with plush...
Last update on 2023-12-04 / Affiliate links / Images from Amazon Product Advertising API
3 – The Frostbite: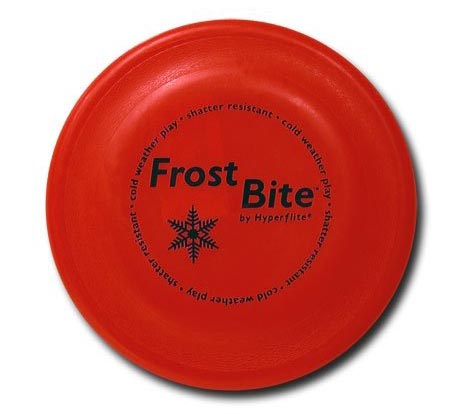 This is a flying disc that is made out of a soft plastic.
It is actually really durable and although it is soft, it is hard to cut and break through so it can leave your dog chewing it for a long time.
The most important thing is that it can be used to play fetch as well with your dog.
Last update on 2023-12-04 / Affiliate links / Images from Amazon Product Advertising API
4 – Tuffies: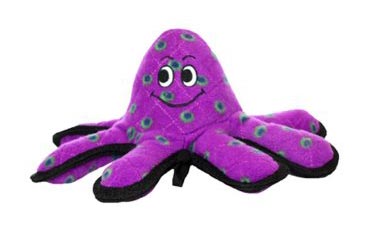 These stuffed toys are actually so durable and tough that you can barely even tell that they are soft toys when you play with them.
They look like stuffed toys, however they are tough durable little chew toys for dogs that chew everything.
Last update on 2023-12-04 / Affiliate links / Images from Amazon Product Advertising API
5 – Henrietta Chicken:

This is a rubber chicken toy that is really funny looking.
It is not expensive, but dogs really love it and are able to play with it for hours and hours.
The rubber part of it is tough, yet safe for dogs.
The color is yellow and red and it can be found in many dog and pet stores.
This is a well loved and very popular toy for teething puppies.
Sale
Charming Pet Squawkers Henrietta Latex Rubber Chicken Interactive Dog Toy,...
SILLY SQUAWKING DOG TOY: Squawkers latex rubber dog toys are a collection of funny chicken characters that come with an irresistible squawking...
REDIRECTS DESTRUCTIVE BEHAVIOR: These enticing dog toys are a great way to teach your dog appropriate play behavior while distracting them away from...
MADE WITH SAFE & NATURAL MATERIALS: These interactive dog toys are made of all-natural latex, and are hand painted with lead-free paint, so you can...
Last update on 2023-12-04 / Affiliate links / Images from Amazon Product Advertising API
6 – The Gappay Rope and Ball Toy: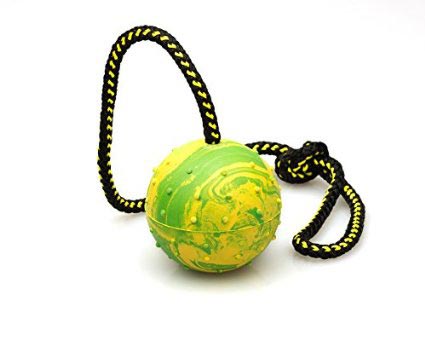 This is also a very well loved classic toy.
It involves a rope and a ball that come together, and are tied together.
This is made of natural materials and so is safe and non toxic for the dog.
It is played with by dogs for long periods of time without boredom.
This is a classic toy because it was used in the olden days for dogs when rubber had not even yet been invented.
Last update on 2023-12-04 / Affiliate links / Images from Amazon Product Advertising API
7 – The Squirrel: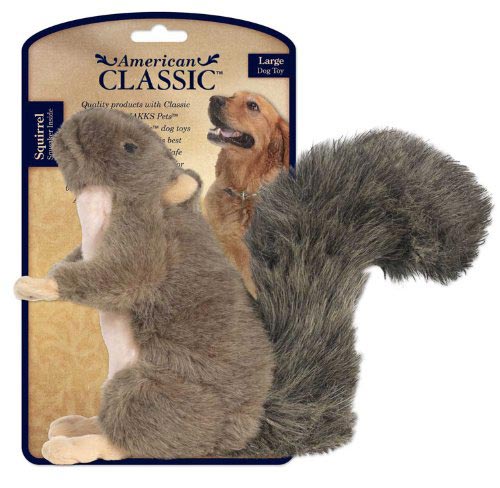 This is similar to a Kong because it is rubbery and tough, hard to bite through, but holds many treats deep inside of the treat.
This toy is able to keep dogs busy for hours. Especially little teething puppies.
Last update on 2023-12-04 / Affiliate links / Images from Amazon Product Advertising API
8 – The Toss-a-Lot: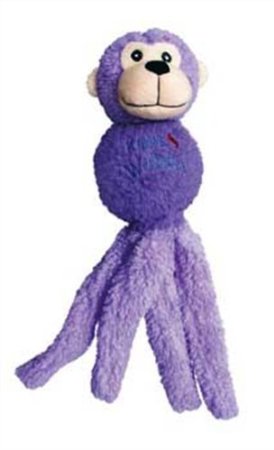 This toy looks like an octopus. It actually smells and tastes funny, but dogs still love it! It can be tossed about, fetched, and chewed. It provides hours of fun for your dog despite its funny smell.
Last update on 2023-12-04 / Affiliate links / Images from Amazon Product Advertising API
9 – The Leo: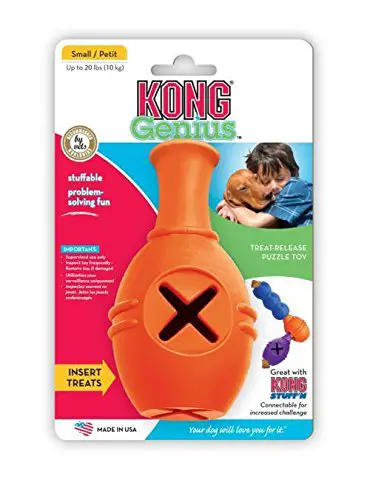 This toy is a great treat for dogs. It interlocks and there are treats that are placed inside of it.
This is a more expensive toy but it is also a lot more sophisticated than some of the other toys out there for dogs.
They interlock in different ways so that your puppy needs to take the time to figure out cognitively how to get to the treat each time, versus just chewing randomly and madly to get to their treat.
Sale
Last update on 2023-12-04 / Affiliate links / Images from Amazon Product Advertising API
10 – Plush Gingerbread Man: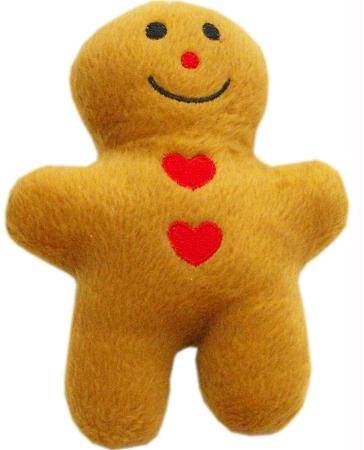 This gingerbread man can be touted as a Christmas toy.
It is soft, squishy, smells nice, and it also squeaks when chewed upon.
The dogs love it. This is a cute little toy that adds a little bit of creative Christmas zest! The interactive play with this toy can last for many hours and dogs love how soft it is, yet durable for hours of fun chewing activity.
Last update on 2023-12-03 / Affiliate links / Images from Amazon Product Advertising API
Overall, these fun top ten toys are great for most dogs. They are interactive and playful.
Using these toys can also help to strengthen the bond between you and your pet.
Playing fetch with the rope, disc, or Kong can also help to improve your relationship with your dog, and help the puppy to expel mental and physically tied up energy.
This reduces stress for both parties and can alleviate the effects of confinement, boredom, and isolation.
For most dogs, the above toys will work, but for Pit Bulls it is important that you remember that your dogs jaws are a little bit tougher than most dogs.
The most important thing is to get toys that are made especially for Pit Bulls. These toys are made a little bit tougher with more durable materials.
Pit Bull toys are made to be especially indestructible. One of the best toys for Pit Bulls is the Goughnut Black Maxx.

This is a rubber dog ring that toys can chew on for hours because it is made to be as tough as nails.
This toy is for extreme chewers and polymer engineers spent a long time making this product.
Although it is not as creative as other toys, consisting of a simple black rubber ring, it is a very functional and effective toy.
Last update on 2023-12-04 / Affiliate links / Images from Amazon Product Advertising API
Pit Bulls are usually super tough when they want to be. This ring floats in water, and is indestructible even in the pool during playtime with your Pit Bull by a kiddie pool.

The whole toy is made of a thick layer of rubber. The red in the middle of the toy shows that it is time to replace the toy. Because it is being played with by a Pit Bull, although the lifetime is long, you will eventually need to replace it.
Conclusion:
The very best chew toys out there for destructive dogs are listed above in our top ten list.
You can find them both online or at many pet stores.
They provide hours of fun chew time and help to alleviate stress for both owners and the dogs.
For specialized play with Pit Bulls, the best recommended toy is mentioned above and it is called the Goughnut.
Have fun, and stay safe with your indestructible dog toys. Using these recommendations and strategies, your destructive dog habits should not stay for very much longer.
Feel free to try out a variety of the above mentioned toys to help your dog get their chewing and destructive behaviors out in constructive ways. They will also be able to engage in much more play in their day using these toys.