Games of fetch are an important part of the training and bonding process between dogs and their owners.
The acts of getting the dog to wait, chase the item, pick it up and return it on command are all essential in obedience. this action also works with the instincts of many breeds that are built for this sort of task. Games with balls and toys mix training with play and make it more enjoyable.
One of the most enjoyable ways to do this is with a dog Frisbee. This adds a new skill to the dog's arsenal and a new level of difficultly, while remaining fun. It is also a great form of exercise.
Dog Frisbee activities are highly recommendable, but only with the right tool.
The best Frisbee for dogs will provide a safe, enjoyable session for all concerned. The worst dog Frisbees, on the other hand, are a health and safety nightmare. Therefore, we all need to know how to find the best.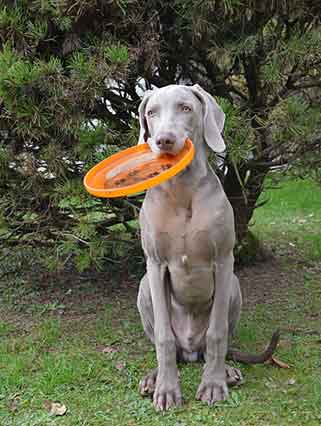 In this guide to finding the best dog Frisbee, we will look at some of the best models of dog Frisbee that are available right now, within different types and designs.
We will look at the importance of a more flexible Frisbee for dogs that is safer for our four-legged friends, with a closer look at the materials, durability, shapes and some of the best options from top brands.
All owners want to find the best indestructible dog Frisbee, but does it exist?
We will also look at some of the other important questions to ask when choosing a Frisbee. This includes looking at the best Frisbee for small dogs, alternative shapes and the differences between cheaper and professional Frisbees.
Before all of that, we need to take a moment to look at some of the other considerations with dog Frisbee games, such as health and safety, and the potential for competitions.
Some of the most important considerations to keep in mind before you start searching for dog Frisbees
The first thing to think about here is the health and ability of the dog. We have to remember that not all dogs will be that good at Frisbee games – and we can't force them to be.
The act of running and fetching these fast discs is better suited to the brighter, agile dogs with a history of working with humans. This means gundog breeds, like spaniels and retrievers that would fetch prey in a work environment, as well as those smart, playful breeds like the collies and shepherds.
Any smart dog that likes to play, and can jump high enough, has the potential to learn this skill.
However, there are some breeds that wont do well at all as others and some just aren't cut out for it. Any heavy breed, short legged breed or breed with joint issues may not be a good candidate here.
For example, it seems a little cruel to try and get a corgi to catch a Frisbee, however much he love to chase things. Check with a vet before putting a dog through its paces with any sort of activity like this. If it doubt, stick to throwing balls around.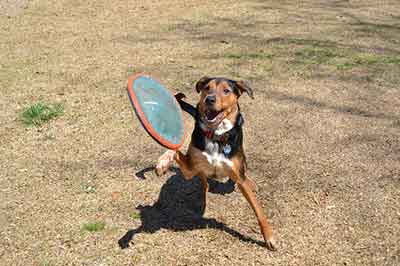 The potential for dog Frisbee competitions
Some people want a dog frisbee because it is great for a safe playtime activity, and its switch up playtime a little from the typical balls and soft toys. Others want something more substantial that will help with obedience training. Others have bigger ambitions in mind.
As with most sports and activities, if you can play it, there is sure to be some form of professional competition to take part in.
There are many canine-human partnerships that take part in professional, regulated competitions. Those that are good enough, and work with the correct discs can have a lot of fun and maybe earn some prize money at the same time.
It takes a lot of control, communication and hard work to reach this level. Still, it is worthwhile for those that enjoy it.
What are the differences between Frisbees and flying discs?
Before we look closer at the different models of flying discs for dogs, there is one other point to address.
Some people may be wondering why we keep switching between the term Frisbee and flying disc in this guide. What is the difference between the two?
The truth is that the term is pretty much interchangeable these days. Most brands will refer to their products as flying discs, or something similar. That is because the name Frisbee is actually a brand, not a toy. Any other brand that says that they have a "Superlite aerodynamic Frisbee disc", or something similar, could face a lawsuit.
We are just so used to the term that we have adopted it as the more common name for all flying toys of this kind.
The majority of the products below are thin disc that fly just like a Frisbee – with the exception of some alternative options.
Finding the best soft Frisbee toys for a game of fetch with your pup
Before we look at some of the best products here, we need to understand why you need a soft Frisbee.
The first thing to mention here when considering the different factors of a dog-friendly Frisbee is that most of the best models are soft Frisbees, not hard, tough models.
There are many people that will try and play Frisbee with their dogs using a normal, cheap plastic model – what many refer to as a "human Frisbee". There is nothing to stop dogs from trying to catch it, and they will still enjoy the chase, but the hard edges and tough plastic are a bad idea. It is too easy for dogs to injure themselves on their gums, especially if the Frisbee splinters under the force of their bite. This is where it helps to search for soft discs instead.
Two models to mention here straight away are the Floppy Disc Soft Flying Disc and Booda Tail-Spin Flyer
The Floppy Disc Soft Flying Disc To has a pleasing sales pitch with the idea that it "makes hard plastic discs obsolete".
It is designed to be as safe and gentle as possible for the teeth and gums of dogs and seems to work pretty well.
Users like the use of materials – a durable fabric and rubber combination – because they say that it is lightweight and flies pretty far. It is also safe for water-based play.
The Booda Tail-Spin Flyer is similar in that it boasts similar attributes. "It flies, it floats, it is flexible!"
The benefits here are much the same, with good comments on the ease of flight, the safety for dogs and the durability of the materials.
The only difference here is that some feel that this options is a little big for smaller dogs.
Last update on 2021-05-24 / Affiliate links / Images from Amazon Product Advertising API
The best rubber dog Frisbee
There are many different types of materials out there that manufacturers can choose from when deciding on how to make the perfect dog Frisbee. Some maintain that dog-friendly plastics are the best, while others prefer softer rubber materials.
Rubber toys are great for dogs because they tend to provide that balance between a strong chewable toy with a nice tactile feeling, and something that is soft and safe enough for the animal.
There is one name that comes to mind straight away when we think about the best rubber toys for dogs, and that is Kong.
Naturally, Kong saw a space in the market for a Frisbee of their own. The KONG Rubber Flyer starts off with the bold sales claim that it is the "best soft rubber disc on the market".
Few would disagree on the quality of he material, as it is the same one used in the other feeders and chew toys that owners love so much. It proves to be safe enough for most pet owner's standards.
The problem here is that while it is a good chew toy, and maybe a good disc for tug of war, it doesn't really make a good Frisbee.
The main reason for this comes down to the weight. The heavy, floppy rubber doesn't lead to that light, clean shape that Frisbee throwers need.
There is also the downside that it sinks, so owners have to be careful using it anywhere near ponds and rivers.
Last update on 2021-05-24 / Affiliate links / Images from Amazon Product Advertising API
What about a foam dog Frisbee?
Foam is one of the other alternative materials for a flying disc. There is no problem with the weight and safety of the animal here as it is soft and conforms with the action of the dog. They can bite down and not feel the same resistance as those dangerous plastic options.
The problem with foam is that it might not be best for creating the most durable dog Frisbee around. Some makers will be able to use the right types of foam and treatments for the surfaces for a well-made option, and there are plenty of durable, floating options out there. However, others might get a little flimsy and break down after a while. This can all depend on cost, which is something we will discuss further later.
The Ruffwear Hydro Plane is a great example of a foam model, even if there is the chance that some owners may be a little mislead by the name.
This isn't a foam plane to chase, this is another disc. This is sold as a "soft, buoyant foam disc" with a choice of wither bright red or yellow for visibility on the water.
Although it is made of foam, there is the additional promise of abrasion-resistant materials for "integrity" so that this lasts longer than some other Frisbee toys. There are some mixed reactions here, but there is no doubt that this soft disc is ideal for protecting the mouths and teeth of pets.
Last update on 2021-05-24 / Affiliate links / Images from Amazon Product Advertising API
How to find the best dog Frisbee for chewers
One of the major problems with typical Frisbees for dogs is that they are great to play with, but also great to chew.
Sometimes a dog will start chewing on it for a while and mangle it up.
This can be a problem for a number of reasons. First of all, damage to a plastic model could cause splinters or shards that they may swallow. Chewable rubber and other materials may stay intact longer, but the shape of the Frisbee may distort and it may not be fit for purpose for long. Lastly, they may have more fun chewing some of these Frisbees than chasing them.
This is why we need to make sure that the Frisbees we choose are safe enough to be handled by chewers, and tough enough to last long enough to be of value.
Two interesting examples of chew-friendly dog Frisbees are the BIONIC Toss N' Tug Durable Tough Medium Fetch and Chew Toy for Dogs and Hyperflight Jawz Ultra-Tough Disc.
The BIONIC Toss N' Tug Fetch and Chew Toy comes under this category because of the use of "bionic rubber".
The idea here is that this super strong toy is tougher than many other models, so will last longer for keen chewers, but its still soft enough for safety.
There is the added bonus here that this stronger rubber floats. The shape allows for tug of war games and the colours are bright for improved visibility.
Last update on 2021-05-24 / Affiliate links / Images from Amazon Product Advertising API
The Hyperflight Jawz Ultra-Tough Disc, meanwhile, has been described by a number of pet owners as one of the toughest examples that they have found. They are not indestructible but any means, but they don't splinter at all and seem to have a fairly long life to them.
Some would argue that they are a little bit expensive at £15. however, others feel that this is fair for the extra quality compared to some cheaper options.
Last update on 2021-05-24 / Affiliate links / Images from Amazon Product Advertising API
What options are available for those that need a small dog Frisbee?
If the material of the Frisbee is the first major concerns for dog owner, the second has to be size of the Frisbee.
There are many brands that create large, round discs and rings that are ideal for long flights and perfect for the typical Frisbee dog breeds. They are the medium sized agile dogs like the shepherd, collie and retrievers.
However, there are some small dogs that like to buck the trend and show larger breeds what they are made of. Anyone that has watched a Jack Russell jump around knows that they can give bigger dogs a run for their money. Therefore, owners of these small, strong jumpers and good fetchers need an appropriate piece of kit for them to chase.
The good news is that there are some brands that provide their Frisbees in smaller sizes and weights. Be sure to check the specifications on the range for the precise dimensions to make sure it is small and light enough to be carried with ease. Also pay attention to user comments from those that have tried the product so see if they had success with it.
One such model is the Ruffwear – Hover Craft Flying Disc for Dogs. This is another great disc with many familiar elements, just in a smaller size.
It is made from a melded foam core and "rugged" fabric exterior for a good flight, soft feel and buoyancy if used near water. Users appreciate the durability and reflective trim.
Last update on 2021-05-24 / Affiliate links / Images from Amazon Product Advertising API
Is there such a thing as a professional dog Frisbee?
In the section above on key considerations, we talked about the idea of dog Frisbee competitions and regulation discs, but is there really
such a thing as a professional version?
There are certainly a number of models that go further than rival brands with their specification to try and improve performance or some other aspect of the functionality. There are also those that try and build on the durability for a longer lasting toy. Naturally, this all come at a higher price. There is a clear gap between some of the cheaper options at a couple of dollars a go, and the more "professional" ones around the $15 mark.
A great example of the more expensive toys if the West Paw Design Zogoflex Zisc.
This is a well-made model that tries to tick all the boxes highlighted so far, which is why it can justify a higher price tag. It is light, strong and able to float. It has a soft material for the safety of the animal, while promising to be tough enough against "dog damage".
It also comes in different sizes, is suitable for tug of war games and even glows in the dark. This range of features is ideal for all those that want to train after dark and in different terrains. Some say it is not as durable as hoped, but it is still pretty popular.
Last update on 2021-05-24 / Affiliate links / Images from Amazon Product Advertising API
Why are cheap Frisbees such a problem?
Sticking with that idea of a price scale, it is important to take a moment to look at those cheaper Frisbees and the problems of going for something so low cost for your dog.
Cheaper Frisbees are appealing because dogs tend to go through them so quickly. However, they often come at a price with the quality of the materials or flight.
A good example of this is the following. The Wham-O Eurablend 95 Gram Fastback Frisbee Dog Disc boasts a "new blend of material" that is meant to improve the flight.
However, there are many dog owners that say that the material is far too tough for their dogs' mouths. Therefore, it is better to pay a little more for a soft flying disc.
Last update on 2021-05-24 / Affiliate links / Images from Amazon Product Advertising API
Choosing the best Frisbees for dogs by brand
The brand shouldn't really matter too much with dog Frisbee toys because there are so many that are built for short-term use and they
are often cheap, replaceable items.
However, there are clearly some well known name trying to offer something a little different, as we saw with the Kong Flyer above.
Another name that has entered the market is Nerf. Nerf is more familiar to parents as the creator of the projectile shooting guns that kids love to play with. They clearly have an understanding of materials and aerodynamics in these darts, so does this translate to their dog toys?
Let's take a look at some of the models that they have to offer.
The Nerf Dog Nylon Flyer is an interesting example as it is a lightweight throwing disc primarily made of nylon.
Key features here include the tear-resistant coating and ability to float. This disc comes in a 2-pack of red and blue, for improved value, and has a 9'' diameter.
Last update on 2021-05-24 / Affiliate links / Images from Amazon Product Advertising API
A similar product in the range is the Nerf Dog Trackshot Toss and Tug Ring, which uses another woven nylon disc and tear-resistant coating.
There are mixed views on this nylon as is is tough enough for many dogs, but not all, and nylon doesn't seem to fly as well as the foam or rubber.
Last update on 2021-05-24 / Affiliate links / Images from Amazon Product Advertising API
Then there is the Nerf Dog TPR Float Flyer with its textured thermoplastic rubber, which again floats in the water and promises durability. This one is definitely tougher and flies a little further.
Last update on 2021-05-24 / Affiliate links / Images from Amazon Product Advertising API
Do they have to be discs?
The disc is the go to shape because of the Frisbee, but it is not the only flying object that dogs can catch.
The focus of this guide has so far rested on that traditional shape of the flying disc because this is the easiest thing to throw, chase and retrieve. It flies well, it is simple to produce at low cost and is easy to carry – if it is off the right materials and weight. However, we want to take a minute to consider the pros and cons of other toys.
There are plenty of toys that are designed for fetch that aren't discs.
The ChuckIt! Flying Squirrel is one of those. However, despite its positive attributes, it doesn't quite offer the same experience as a
Frisbee.
This flying squirrel dog toy is actually as the name suggests, with a cute design of a gliding rodent. It is meant to be aerodynamic, bouyant and strong. This design is a nice novelty, but it doesn't fly with the ease of the discs and definitely wont adhere to regulation standards.
Last update on 2021-05-24 / Affiliate links / Images from Amazon Product Advertising API
The importance of color with dog toys
The final factor in choosing a Frisbee for dogs that we want to consider here is the color of the toy.
Some may wonder why color matters if dogs can only see in black and white. However, there are lots of tones in the doggy world, and dogs do favor certain colors.
There are many dog owners that find that their dog prefers a certain ball over others. Some may attribute this more to the feel or smell,
but they soon find that they also favor other items of a similar tone in other products and toys. There is something about that tone that is more pleasing to them. Therefore, it helps to find more toys in that color.
This is when it pays to choose packs of discs, or brands with different colors where the dog can make its choice.
For example, there is the Petmate Softbite Turbo Disc Assorted Color with a selection of options. This colorful toy has the safety, durability and flight that owners are after, with dual reinforced Bite Zones, a flexible edge and their own airfoil design that they say "produces superior flight, accuracy and distance".
Last update on 2021-05-24 / Affiliate links / Images from Amazon Product Advertising API
What have we learned when it comes to looking for the best Frisbee to buy?
There is clearly a lot to consider here for anyone looking for the perfect dog Frisbee.
The first is the use of materials and while some dislike the rubber models for their lack of aerodynamics and weight, they are much kinder to a dog's mouth and fun to chew on. Then there is the size, always make sure it is the right weight and diameter for your breed so it is easy enough to catch in the air and wont cause injury.
From there, you can look at other factors like the color, shape and alternative designs. Also remember to work with other opinions, not just the specifications of brands and your own gut feeling.
This works in two ways. First you can look at the user reviews to see if the sales promises match the user experience. The second is to head to a pet-friendly store and let your dog find the color and design that it likes best.
So which model is best for you?
In the end, it is definitely better to go for a soft, dog-friendly Frisbee that is a little pricier, rather than the cheap, nasty plastic ones. Those that are keen to build skills and compete will want the most durable, aerodynamic and safe model they can find – and a £15 price point wont seem to bad.
However, this is clearly too much for many dog owners that know that these Frisbees wont last that long. Therefore, it is best to look for
the middle ground for the best Frisbee for dogs, to give dogs time to get used to the new toy and, above all, have a lot of fun.