If you love going for hikes, why not drag your dog along? It may be easy to walk on the trails, but you would not want to do it barefoot, would you? The idea of purchasing a set of the best dog boots for hiking is therefore not a bad one.
As a dog owner, you want to do everything possible to ensure your dog is safe, healthy and happy.
Dog boots can keep your dog safe in many different situations and ensure that you do not end up with a dog who needs vet attention for an infected foot or other foot injuries.
As you shop for dog boots, you will find that you have many options.
A good set of boots keeps his feet protected, which means the dog can hike for miles without hurting its paws.
Hiking boots also protect its feet from painful scratches and cuts especially if it is an indoor dog.
Shopping for the right pair of hiking boots may take time since the right one depends on the kind of terrain you will be dealing with during the hike and how often you go hiking.
Why Invest in Hiking Boots?
• Going for walks with your dog is a great form of exercise that all breeds require to remain healthy, active, and occupied.
• A dog that exercises with its owner is usually happy and stays out of trouble.
• There is a limited variety of hiking boots for dogs to choose from in the market and their quality is not comparable to that of other dog accessories. Nevertheless, this does not mean that there are no good ones out there.
• Dog boots ensure that his paws remain healthy and offer general protection to its paws; however, it is imperative to select high-quality boots that give the required protection.
• Avoid walking your dog on grounds that are too cold or too hot to keep its paws in proper shape. We often tend to forget that they are more sensitive to extreme temperatures than we are, on the other hand, they develop tolerance quicker than we do.
Selecting the right hiking dog boots
• Look for boots that will comfortably fit its paw. If they are too small, there is a risk of poor blood circulation while large boots could rub against its paws causing them to be hurt.
• Look for boots with a thick sole: The best hiking boots for dogs have a thick sole to withstand more damage during your hike without causing any trouble to your dog.
• They should have a Velcro closure: This ensures that it is easy to put on dog boots or even take them off. There could be some resistance from your dog, therefore, be very careful when putting on the boots until your dog gets used to this routine.
• Give him time to get used to the boots before you set him loose. If you notice some resistance or discomfort after using the boots several times, it may be a chance to try another size or brand of boot.
• Variation between breeds: Some breeds may have some webbing on their feet to make them good swimmers; hence, it is good if you ask for recommendations from your veterinary.
• There are brands of hiking boots that are impermeable, thus after a hike; it is appropriate to remove his boots and inspect his paws. If there are any cut or scrapes, take great care since these are breeding spots for infections.
Dog hiking boots reviews- The best brands
high durability and its sole is made of water and salt-resistant leather. The boot is stitched with heavy-duty industrial nylon thread while the Velcro strap is backed with a reflective element for nighttime visibility and safety. The smaller sizes have Cordura toe-protector while the larger sizes have sturdy leather toe-protectors. Its body is made of soft, heavyweight fleece to pad the ankle from the Velcro strap.
These boots are available in eight sizes ranging from 1.5 inches (Itty Bitty) to 4.75 inches to 5 inches (XXL ). The self-tightening system actually allows equal distribution of pressure on the area around the ankle for easy and quick tightening and fastening. However, these boots fit the foot snugly because they are a bit taller than other boots. This brand may be a little harder to put on and are a little pricey too but depending on the size.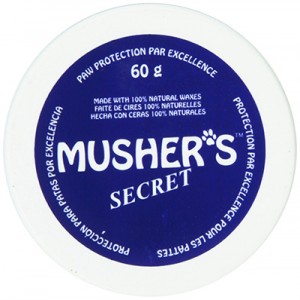 This brand is not a simple set of dog hiking boots.
Musher's invisible Boots helps in protecting your paws without hassle.
Not only does the boot protect its paws from scrapes and scratches, but also protects them from extreme temperatures.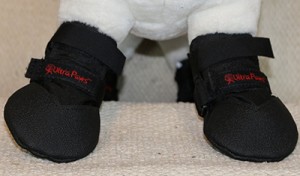 These boots come with two Velcro closures that make it easy actually to fit the boot around the dog's paws. They have a firm eight-millimeter sole, they are water-resistant, non-slip, and are abrasion resistant, but best suited for light-duty and indoor. This is an excellent option for hiking not so rugged terrains. Ensure that the size you purchase is a little wider than paws of your dog; therefore, they have sufficient room to fasten around its ankle.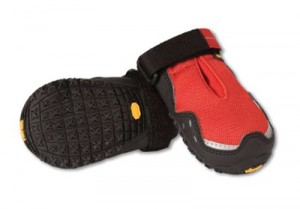 These boots come with a firm sole that will not mark floors, but it provides the grip your dog requires during hikes.
The boot is made of tightly woven mesh that keeps the debris out while maintaining the fabric breathable.
There is an adjustable strap so you can adjust its tightness appropriately to ensure a comfortable fit.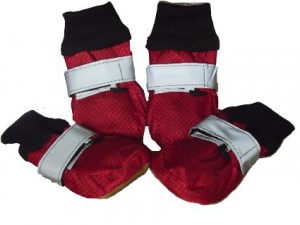 They are designed with a light, breathable waterproof fabric and thick non-slip sole to protect its paws. They have a variety of boots that use a Velcro fastener around the ankle and are open at the front. This brand is ideal for lasting paw protection, and protection during hikes and sports.
In conclusion, all dogs can benefit from hiking boots for dogs. They are not just for the pampered dog that needs some shoes to match their new dress or for an adventure dog that is hiking in the mountains. Any dog that goes outside can benefit from the protection that dog boots offer.
Where can I buy dog boots?
This is a question that many people ask. The most common and reliable places to purchase a pair(s) of best hiking boots for dogs are Amazon, eBay, and Petsmart just to mention a few.
Remember, whichever type of hiking boot you decide to choose for your dog should give you years of loyal service and a little time spent in choosing the right pair for you will be amply rewarded.