One of the most stressful things for pet parents is leaving their dogs or cats home alone.
Whether you are at work or going on vacation, you may want to keep an eye on your pets and ensure they are not being destructive.
One way to communicate with your cats or dogs is to use the best pet cameras.
We've done our homework to compile a list of the best pet cameras available in the market today.
Check out these pet cam options to find out which product best suits your needs.
1- Pawbo Life Pet Camera
Pawbo Life Pet Camera is actually an Acer product. Yes, the firm that makes smartphones and laptop computers.
According to the company, they are aiming to expand with pet devices that users can control via apps. They have only started making pet cameras recently, but if this device is any indication of what's yet to come, they are in for great success in the market.
The Pawbo Life Pet Cam is a well designed product that is very easy to set up. The minimalistic design also incorporates a treat dispenser that delivers small treats.
The presence of a Lazer tag game makes this pet cam different from other options in the market; you can actually transfer the laser for your pet to run after. And you can do all this from wherever you're using your smartphone.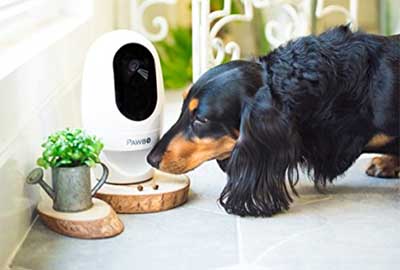 Pros:
✓ This pet camera has a dedicated app for both android and iOS platforms. This is one of the major selling points for this unit.
✓ It features a treat dispenser that allows you to give treats to your dog at any time.
✓ Two-way audio for listening and talking to your dog or cat anytime, from anywhere in the world.
✓ Great for capturing videos and taking images to share on social media.
✓ Durable product.
✓ Reliable customer support.
Cons:
Generally, the price; there are many other pet cam options in the market that seem to compare with the Pawbo when it comes to features and benefits.
Many people love getting a bargaining here and there, and this might not be the best option for you if you're on a budget. However, the software and full integration of the Pawbo stands out.
Pawbo Life Pet Camera: WiFi HD Video with 2-Way Audio, Treat Dispenser and…
Pawbo Life camera (PPC-21CL) w/ 720p HD live video, 130° wide-angle lens, and 4x digital room, capture and record every precious moments from your…
Built-in microphone/speaker/laser/treat dispenser let you listen, talk and reward your pet's favorite snack or play & interact with your pet anytime,…
Instant social sharing: snap photos and share your pet and family's adorable images on Facebook, Twitter and Instagram.
Last update on 2023-12-03 / Affiliate links / Images from Amazon Product Advertising API
2- PetChatz
If you are looking for a high quality model, you may also want to consider the PetChatz pet camera.
Offering an amazing "great & treat" experience, this product features a two-way audio and video system for both parents and pets to see and listen to each other.
If you want to treat your furry friend further, you can even buy the "PawCall" button, which enables your pet to contact you with just a single push of a simple button.
The simple design also makes this device safe for your pet. Your dog won't be able or tempted to chew the edges of the device since it is properly mounted to the wall through an integrated mounting kit.
As an added advantage, the PetChatz offers a different level of experience with the integrated "calming scent" that produces special soothing smells that can ease anxiety in your pet.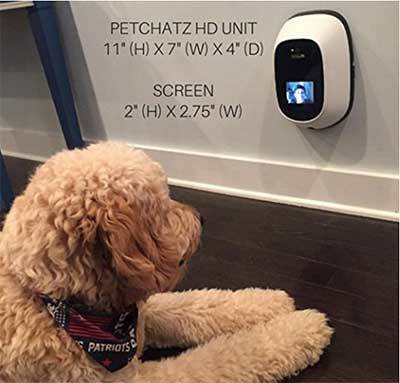 Pros:
✓ Two-way video and audio.
✓ Treat dispenser and calming scent release.
✓ DogTV compatibility.
✓ Reliable customer support.
Cons:
The camera is quite costly, but once you lay your hands on it, you will be happy with your purchase. When you see the high quality videos and take the time to talk and listen to your pet, your will not be disappointed with your purchase.
PetChatz HD: Two-Way Premium Audio and Video Pet Treat Camera (Discontinued…
NO MONTHLY FEE PetChatz Digital Daycare is a full day of interaction and entertainment for your home alone pet. Two-way video chats, treat dispense,…
Sound/motion activated PETWATCH video recording to capture and view your pet's activity while you are away.
PET SAFE design made in the USA with no corners, edges or cords to chew; attaches securely to your wall (>100 lb pressure tested) or kennel for…
Last update on 2023-12-03 / Affiliate links / Images from Amazon Product Advertising API
3- PetCube Play Interactive Camera
Considered to be one of the best pet cameras in the market today, the PetCube Play Interactive Camera offers two-way audio, a 1080p video, night-vision and an integrated laser for your pet to play with while you are away from home.
Featuring a refined aluminium design with rounded edges, the PetCube camera looks stylish and efficient even before you use it.
In addition to its beautiful design, this camera has a dedicated android and iOS app that allows for easy interaction with your animals with the integrated laser toy.
Moreover, the smartphone app facilitates quick and easy sharing of videos and images with friends and family on various social networking sites.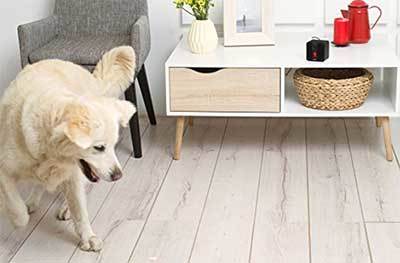 Pros:
✓ PetCube automatically senses movement and captures video that is stored to the cloud, with up to four hours of free storage.
✓ Two-way audio.
✓ Laser pointer.
✓ Stylish design.
Cons:
✓ Can be hard to connect to Wi-Fi.
✓ Laser detection quite inaccurate.
Petcube [2017 Item Play Smart Pet Camera with Interactive Laser Toy. Remote…
MONITOR 24/7 FROM YOUR PHONE: With Petcube Play Wi-Fi pet cam, check on your pet day or night with clear 1080p HD video, 138° wide angle view, and…
CHAT WITH YOUR PET: With two-way audio you can speak to your pets and hear them bark or meow back. Tell them you love them from anywhere.
PLAY FROM YOUR PHONE: Play with your fur baby with the built-in pet safe laser. You can control the laser movement within the app or set to automode…
Last update on 2023-12-03 / Affiliate links / Images from Amazon Product Advertising API
4- Nest Cam
The Nest Cam offers night vision for uninterrupted security surveillance. It also has a speaker and microphones to talk and listen to your pets.
The Nest Cam can be set up anywhere in your home by the use of a wall mounting plate or the magnetic stand.
The Nest Aware costs $10 per month and gives you easy and quick access to your files and advanced monitoring features.
This device can also aid in home automation via the app while the Z-Wave watches over door sensors and security lights at the same time.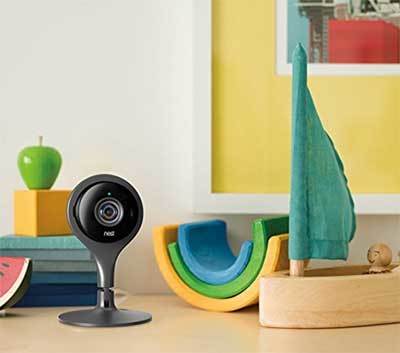 Pros
✓ High-quality unit with a stylish design.
✓ 1080p HD video.
✓ Two-way audio system.
✓ Clear night-time images.
✓ Motion and sound alerts.
Cons
✓ Quite expensive.
✓ Some devices tend to overheat.
Google Nest Cam Indoor – 1st Generation – Wired Indoor Camera – Control…
24/7 live stream video in full 1080p HD over Wi-Fi. Check in from anywhere at anytime. Send clips to family or friends in 1920×1080 resolution.
Night vision featuring 8 high-power infrared LEDs provide light for clear video in the darkest conditions.
Mobile alerts and notifications let you know as soon as your camera spots activity. Take action or save the event for sharing later. 3-hour snapshot…
Last update on 2023-12-03 / Affiliate links / Images from Amazon Product Advertising API
5- Zmodo EZCam Camera with Night Vision
Offering up to 720p high resolution video, this camera is available for those on a tight budget and allows for easy installation.
It offers the standard features you would expect in the best pet cameras with night vision and two-way communication, and can detect and send movement alerts straight to your mobile device.
Another great feature of this device is on-board recording to a microSD card for those who want to skip cloud storage.
It's an excellent monitor that can record for up to three days on an expandable SD card, allowing you to monitor exactly what goes on around your home and pet.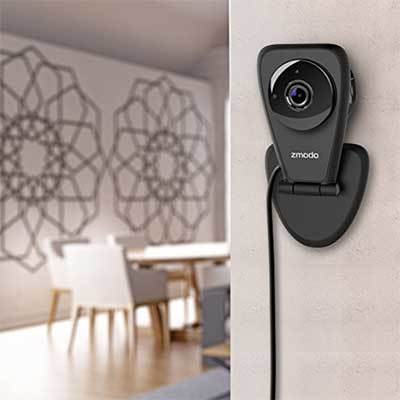 Pros
✓ Stylish design.
✓ Affordable and effective, with expandable SD card.
Cons
✓ Features few bells & whistles.
Zmodo 1080p HD Cloud Cams – Wireless Kid and Pet Monitoring Security Camera…
【1080p Full HD】Security camera with 1080p provides a clear, sharp video both day and night. Night vision allows you to see clearly in low light…
【Full-Duplex Two-Way Audio】meShare indoor camera delivers real-time video of your home and family, allows you to talk with them and see if your…
【Works with Alexa 】The wireless security camera Works with Amazon Alexa/Echo Show/Fire TV/Google Assistant. Ask Alexa by a simple voice command to…
Last update on 2023-12-03 / Affiliate links / Images from Amazon Product Advertising API
6- Petzi Treat Cam
The Petzi Treat Cam offers high quality audio and video content, allowing you to monitor your furry friends when they are at home, all alone.
And when they run eagerly to hear your voice, take a picture of your pet and share it with your friends on social media.
This pet camera offers a 720p video with night vision to boot.
The presence of a treat dispenser enables you to offer treats to all of your pets at the same time. The integrated one-way audio system allows you to communicate with your dog or cat, but you won't be able to hear your furry friend respond to your sound.
However, you can still record clear videos that you can share with family and friends or on various social networks through the dedicated smartphone app.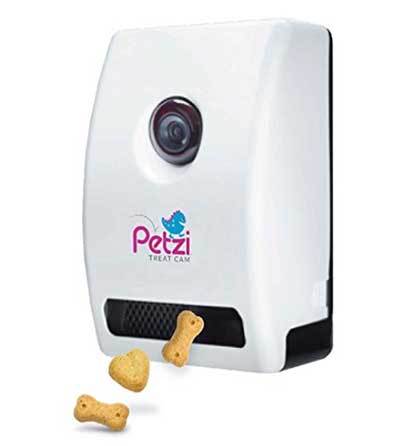 Pros
✓ Features a treat dispenser.
✓ 720p HD video.
✓ Hanging strap.
✓ Speaker for pets to hear your voice.
Cons
✓ Doesn't offer a two-way audio system.
✓ No full HD.
Wi-Fi Pet Camera & Treat Dispenser
A fun and easy way to connect with and treat your pet from anywhere
Watch the excitement on your pet's face when you pop in
Dispense your pet's favorite treat with the Petzi treat launcher for a big smile, say hello to your pet through the high quality one-way audio
Last update on 2023-12-03 / Affiliate links / Images from Amazon Product Advertising API
7- YI Dome Camera
The YI dome camera is a high quality cam that features a wide-angle lens to monitor the activities around your pet up to 120 degrees.
This product is also designed to prevent accidental recording while not in use.
With the single touch of a simple button, you can configure the settings. Besides monitoring your dog or cat, you will be able to improve the security of your home with this security camera.
The Yi Dome Camera also allows you to capture and record movements thanks to its advanced algorithms. Moreover, you don't have to worry about storage since it comes with a 32 GB SD card that can store up to 80 hours of clear videos.
Moreover, the YI Cloud Service offers a backup that is highly protected due to its advanced encryption system.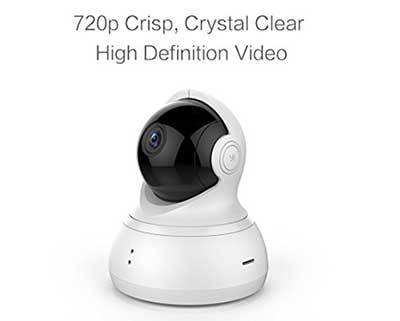 Pros:
✓ Adjustable functionally via app.
✓ No blurred images.
✓ Multiple setup features.
✓ Easy and quick setup.
✓ High-end YI cloud access.
Cons:
✓ App has lots of ads.
YI Dome Camera Pan/Tilt/Zoom Wireless IP Indoor Security Surveillance…
720p High-definition, 112° wide-angle advanced glass lens combined with 345° horizontal & 115° vertical rotation range create a complete 360°…
Responsive and advanced microphone with a built-in anti-noise filter for a clear 2-way Audio experience. Intercom Mode: one party to talk and listen…
Receive real-time Activity Alerts while you're out. 10-sec motion tracking records and centers the moving object. Bookmark your favorite positions (up…
Last update on 2023-12-03 / Affiliate links / Images from Amazon Product Advertising API
8- Motorola Pet Scout66 camera
This is another reasonably priced pet camera that is particularly great for parents with temperature-sensitive pets thanks to the inclusion of a temperature sensor in this model.
Moreover, the unit features video recording and two way-audio.
You can also consider the Hubble Cloud Video as an additional feature to keep a record of up to 30 days of uninterrupted monitoring.
The Motorola Pet Scout66 cam also offers the option for motion or sound-triggered videos.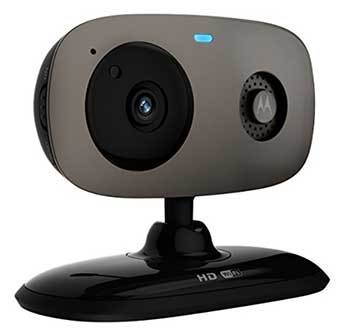 Pros:
✓ Sound and motion-triggered notifications and videos.
✓ Temperature sensor.
✓ Reasonably priced.
✓ Night vision available.
Cons:
✓ No app for iPhone users is available.
✓ No full HD videos.
✓ Sound/motion-triggered function requires a subscription plan.
Motorola Pet Scout66 Wi-Fi HD Pet Monitoring Camera
Remote HD quality video streaming (requires internet access via Wi-Fi)
Set up in seconds using the Free Hubble App
Motion triggered recording and image snapshots (requires compatible viewing device with storage capability)
Last update on 2023-12-03 / Affiliate links / Images from Amazon Product Advertising API
RECEIVE UPDATES ON DOG TRAINING, BREEDS, AND HEALTH + ALSO GET A FREE COPY OF OUR EBOOK 100 DOG TRAINING TIPS....