One of the nagging concerns that pet parents all over the world often have to deal with is whether to allow their furry friends to snack on plant matter or not. And this especially applies to pets that are naturally carnivores, such as cats and dogs.
In most cases, we freely allow our dogs to nibble on plant matter, arguing that doing so helps them to relieve gastrointestinal issues. Well, for the most part, we may be right.
However, if you're not an experienced vet, you may never really know which plants are poisonous to your dog and which ones aren't.
Take a case of licorice, for example. And you could be wondering, can dogs eat licorice?
The safety of licorice for dogs has always been a subject of contention, but dogs can eat licorice provided that you only offer the plant to your furry friend in moderation.
Licorice contains compounds that could be beneficial to your pooch in small doses, but can also be highly toxic for them in large doses.
So, if you discover that your dog ate licorice and is behaving abnormally, the chances are that the animal helped itself to more licorice than it should.
This post shall expound further on the safety of licorice and why dogs shouldn't have it.
We shall also highlight the best way to offer licorice to dogs for pet parents that are adamant about adding the plant to their dog's diets as a health or dietary supplement.
Is Licorice Bad For Dogs? A Brief Overview of What Licorice Is All About
Is licorice poisonous to dogs?
As we've just observed, licorice contains compounds that could prove toxic for your dog if consumed in large amounts. Still, you could be wondering to yourself, will licorice hurt dogs?
Before we delve deeper into the potential benefits and toxicity of licorice for dogs, let's first unpack what this plant is all about.
Licorice, also spelled as liquorice, refers to a perennial plant that's native to the Mediterranean region. The plant, scientifically known as Glycyrrhiza glabra, belongs to the pea family and thrives in subtropical and temperate climates.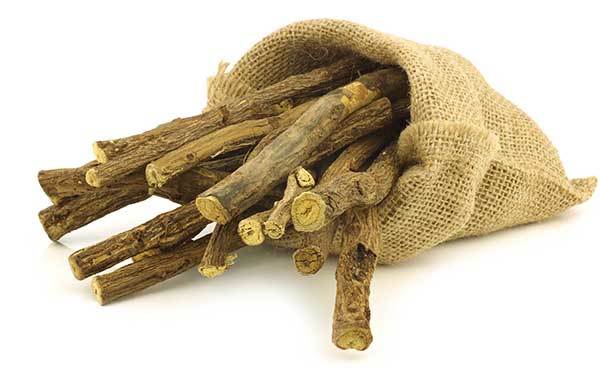 Licorice goes by numerous other names, such as sweet root, Gan-Cao, Spanish licorice, Reglissa, Liquirizia, black licorice, et cetera.
While licorice is a green, flowering plant, it is mostly known for its roots. Licorice roots are used to flavor tobacco, beverages, confectionaries, and medicines. The roots are believed to be up to 50 times sweeter than sucrose.
In fact, licorice roots are so sweet that most animals don't mind snacking on them. But is the sweetness of the roots enough justification to offer licorice to your dog? Is licorice dangerous for dogs?
The following sections shall expound further on that.
PetHonesty 10 in 1 Dog Multivitamin – Glucosamine Essential Dog Supplements…
10 BENEFITS IN 1 DAILY CHEW – Our 10 in1 Multivitamin chews combine a well-rounded blend of essential vitamins and supplements for dogs' overall daily…
JOINT HEALTH WITH GLUCOSAMINE – These soft chews have high amounts of glucosamine and other joint support ingredients that may help reduce joint…
HELP IMPROVE DIGESTION AND SKIN – Our chews contain 1 Billion CFU probiotics and pumpkin, which help keep your dog's digestive system and digestive…
Last update on 2023-06-08 / Affiliate links / Images from Amazon Product Advertising API
What Happens If A Dog Eats Licorice? Here's What Could Go Wrong
To understand how licorice affects dogs, you should first familiarize yourself with the active compounds present in the plant.
The four main compounds in licorice include saponins, flavonoids, glycosides, and glycyrrhizins. Out of these compounds, it's glycyrrhizins that should worry you the most.
If consumed in large quantities, glycyrrhizins can raise your dog's blood pressure, making the dog more susceptible to heart and cardiovascular diseases. So, can dogs eat black licorice?
Probably not. Besides increasing your dog's susceptibility to cardiovascular conditions, black licorice is also laden with sugar.
Consuming foods that are high in sugar could expose your dog to tooth decay and conditions like diabetes and obesity.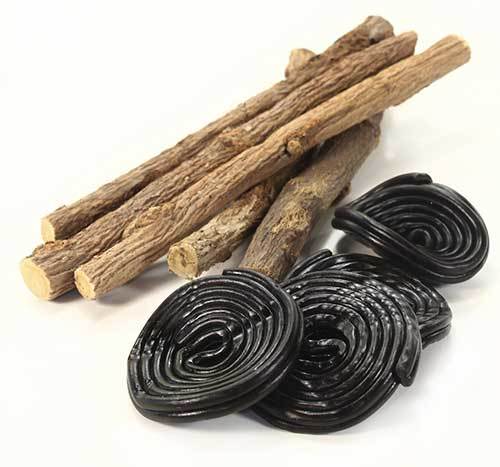 Some dog owners may argue that since licorice contains natural sugar, the sugar might not cause their dog any harm.
However, dogs require minimal sugar in their diet. The less the better for them. And to think that a plant with up to 50 times more sugar content than sucrose is safe for dogs is to put the health of your canine friend in danger.
In light of this knowledge, some dog owners may now consider getting their dog sugar-free licorice. Well, experts advise that you proceed with caution.
Most sugar-free black licorice products are flavored using xylitol, a compound that is also harmful to dogs. So if you can, resist all temptation to give your dog licorice, be it natural licorice or artificial licorice-infused products.
If you suspect that your dog has eaten licorice, you should watch out for gastrointestinal symptoms, such as diarrhea, vomiting, and an upset stomach.
The dog could also exhibit other symptoms like body tremors, muscle weakness as characterized by poor coordination, and generalized fatigue.
Other complications that could occur include;
Water retention;
Reduced potassium;
Sodium retention; and
Organ failure, particularly the heart, liver, kidney, and uterus.
Most importantly, remember that a high blood pressure, which is the main side effect of licorice poisoning, doesn't manifest in physical symptoms. So, your best bet is to schedule a visit to the vet if you suspect that your dog has eaten licorice.
Lastly, it's also worth noting that dogs are carnivores. As such, they rely more on animal protein as opposed to plant matter.
Therefore, eating licorice might lead to choking, irritation of your dog's gastrointestinal tract, or allergic reactions.
Canidae Pure Limited Ingredient Premium Adult Dry Dog Food, Real Salmon &…
Contains 1- 22 Lb. Bag of Canidae PURE Salmon and Sweet Potato Recipe Dry Dog Food
Real food ingredients for the taste your dog will love. Crafted with real salmon as the first ingredient, paired with whole ingredients like manhaden…
Complete and balanced goodness for adult dogs. This recipe is made using 10 or fewer key ingredients that are easily recognizable, perfect for…
Last update on 2023-06-07 / Affiliate links / Images from Amazon Product Advertising API
Various Forms of Licorice
So far, we've mostly discussed licorice in general. But as you shall find, there are different parts of the plant as well as different licorice-based products. Some of these parts and products carry more toxicity to dogs than others.
Let's have a look at the various forms of licorice by answering a couple of licorice-related questions.
Is licorice candy safe for dogs?
Licorice candy is a sweet and nutritious treat for humans. But can a dog eat licorice candy?
Well, candies are high in sugar content, the same that dogs should not eat. Plus, most of the sugar used in licorice is artificial, making it all the more dangerous for your pooch.
If you discover that your canine friend dog ate licorice allsorts, watch out for immediate gastrointestinal symptoms. Better yet, call and schedule a visit with your vet immediately.
Can dogs have red licorice?
Red licorice may appear pleasant to your dog's eyes (and taste buds). But can I offer red licorice to my furball, or is red licorice bad for dogs? Unfortunately, dogs should not eat red licorice.
The fancy color doesn't make red licorice safe for your canine friend. As long as the red licorice is high in glycyrrhizins and is laced with other ingredients considered harmful for dogs, then you should keep it away from your canine friend.
There's also the question of offering your dog licorice that's flavored using various sweeteners, such as cherry, raspberry, and strawberry.
So, can dogs eat strawberry licorice? What about cherry licorice, can dogs eat cherry licorice? And finally, can dogs eat raspberry licorice?
The answer to all those questions is that it depends on the ingredients. Excess sugars, high amounts of glycyrrhizins and other additives only make licorice toxic for dogs, regardless of what flavor it comes in.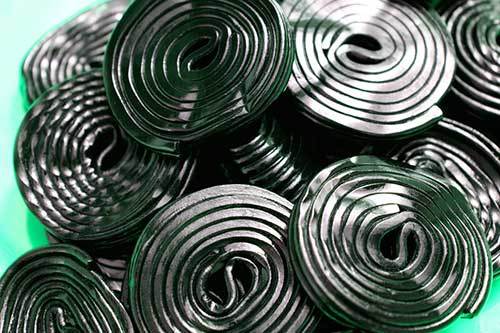 Can dogs eat black licorice jelly beans?
Again, your focus should be on jelly beans and the ingredients that have been added to it. If the beans contain ingredients that are considered unsafe for dogs, then you should avoid it altogether.
Lastly, is licorice root safe for dogs?
Out of the many parts of licorice plant and the various forms of licorice-based food supplements out there, licorice roots are the most beneficial.
Potential Health Benefits of Licorice Roots for Dogs
As we've just mentioned, the best part of licorice to offer your dog are the roots. So, the benefits that we will highlight in this section almost exclusively apply to licorice roots.
1. Licorice root for dog cough, respiratory infections, and GI complications.
Dogs with a cough can benefit by snacking on licorice roots. The roots contain anti-inflammatory properties that can help to relieve many other respiratory conditions in your dog. Examples include asthma and bronchitis.
And since licorice roots also possess mild laxative properties, you can use them to relieve gastrointestinal complications, including constipation or indigestion.
2. Licorice root for dogs with cancer
The powerful antioxidants that are present in licorice roots can help to prevent oxidative damage that might result from the accumulation of free radicals in your dog's body cells.
By countering the effects of free radicals, the roots help to keep your dog safe from chronic conditions like cancer, arthritis, heart disease, and diabetes.
The anti-inflammatory properties of licorice roots are particularly helpful in inhibiting the growth of malignant tumors.
Last update on 2023-06-08 / Affiliate links / Images from Amazon Product Advertising API
3. Licorice root for dogs with itchy skin
Licorice roots are also beneficial with itchy or flaky skin.
Due to their anti-inflammatory properties, the roots can help to treat various doggy skin conditions like eczema, contact dermatitis and psoriasis. The roots are also effective at combating flea infestation.
4. Licorice root for the liver
You can use licorice roots to combat various canine liver diseases, such as chronic hepatitis. Snacking on the roots occasionally can prevent the onset of liver conditions.
The roots boost the immunity of your dog's liver by enhancing the production of T-cell.
ALSO READ: The Best Calming Dog Treats for Stress and Anxiety Relief
How Much Licorice Root Should Be Given To A Dog?
Again, experts still discourage licorice for dogs. But if you strongly feel the urge to integrate this plant into your dog's health and wellness routine, then you should go slow on the doses.
First off, you'll need to make licorice root tincture for dogs. Then apply between 12 and 20 drops of the tincture daily for a dog weighing about 20 pounds.
Licorice roots may also be available in capsules or as an herbal tea. The amount you feed your dog depends on its age, size, and medical condition.
There are also plenty of licorice-based products that you can buy, such as Zesty Paws Cranberry for Dogs. This product not only supplements your dog's dietary needs but also supports the health of its organs.
Conclusion
Can dogs eat licorice sticks?
Offering licorice to your dog isn't a great idea. But if you must give the plant to your canine friend, insist on licorice root as it's safer and more nutritious.
Checkout Our Favorite Dog Products
1. BEST FOOD FOR DOGS AND PUPPIES
We Like: Victor Super Premium Pet Food – Ideal for growing puppies and pregnant or lactating females. Also provides sustained energy for sporting dogs and dogs with high physical demands.
2. BEST DOG TRAINING PROGRAM
We Like: Doggy Dan The Online Dog Trainer – Stop any dog problem and raise the perfect puppy with The Online Dog Trainer.
3. BEST DOG DNA TEST
We Like: Embark Dog DNA Test – Embark screens for over 250 dog breeds + tests for 170+ genetic diseases including MDR1 drug sensitivity, glaucoma, degenerative myelopathy, and dilated cardiomyopathy, some of the most common adult-onset diseases in dogs.
6. Best Vacuum to Tackle Pet Hair
We Like: ORFELD Cordless Vacuum – Engineered for homes with pets. With features and tools that dig out dirt, hair and allergens everywhere your pet gets.
RECEIVE UPDATES ON DOG TRAINING, BREEDS, AND HEALTH + ALSO GET A FREE COPY OF OUR EBOOK 100 DOG TRAINING TIPS....