If your dog is fussy about getting a toothbrush shoved into his mouth, you might want to consider alternative ways of cleaning his teeth.
As part of good dental hygiene, it is important to keep and maintain fresh breath for your furry little friend. It is recommended to often brush your dog's teeth so as to maintain a good oral hygiene, however, your dog may get tired of it pretty quickly.
If you can find other ways to keep your dog's teeth healthy without brushing you will have a happy pup.
Fortunately there are some very simple natural ways that you can use to clean your dog's teeth without brushing.
1. Get him some raw bones
Raw bones are a great alternative to clean your dog's teeth without necessarily having to use a toothbrush.
They are what animals in the wild use to keep their teeth so healthy and free of bad breath-causing plaque.
When your dog tears the connective tissues, the meat helps to clean the space between your dog's teeth while grinding the bone removes the tartar.
Giving your dog delicate bones like chicken wings and neck bones helps to scrub off the surface of his teeth.
Avoid cooked bones because they are easy to splinter and may end up being a choking hazard to your dog.
Last update on 2023-09-21 / Affiliate links / Images from Amazon Product Advertising API
2. Invest in a good dental spray
You can also choose to invest in a good dog teeth cleaning dental spray.
Pay a visit to your local pet store or even talk to your veterinarian about the best oral sprays for your furry friend.
Your dog is definitely going to love this because most dog dental sprays taste good, give a fresh breath and fill your puppy's mouth with enzymes meant to get rid of plaque.
Ensure that you also provide your dog with plenty of fresh water to help the dental sprays work more effectively. You need not to worry if this method will not completely remove the plaque, there are still plenty of other options.
Sale
Premium Pet Dental Spray (Large - 8oz): Eliminate Bad Dog Breath & Bad Cat...
Irresistible Fresh Breath: Nothing beats the joy of snuggling up to a pet with minty-fresh breath! Our pet dental spray targets bad breath at its...
Effective Dental Care: Enriched with baking soda and natural ingredients, our PAKT dental spray eliminates bad breath and absorbs odors, leaving a...
Easy & stress-free application: Enjoy the peace of mind that comes with a simple dental solution for your furry companions with our hassle-free spray!...
Last update on 2023-09-21 / Affiliate links / Images from Amazon Product Advertising API
3. Rinse, Rinse, Rinse
It may sound a little awkward to have your dog stand in front of the bathroom mirror and rinse his mouth with mouthwash.
You can look for Proden PlaqueOff Dental Care for Dogs and Cats in the market that help to fight off bacteria when used with natural home remedies and ingredients.
Being in powder form, you can just add to your dog's drinking water so that your canine friend does not have to bother with the rinsing and spitting like we humans do.
Remember dogs just like small kids may swallow the spit after rinsing their teeth instead of spitting it out. These products are safe to swallow so you need not worry about your dog. You can simply go ask at your local pet store or ask your vet for advice.
You can use Proden PlaqueOff in your dog's food or water as it promotes healthy dog teeth without having to fight over the toothbrush.
Sale
ProDen PlaqueOff Powder for Pets - Cat & Dog Breath Freshener - Plaque &...
Cat & Dog Teeth Cleaning Powder: Palatable ProDen powder is formulated with natural seaweed to help reduce plaque and tartar buildup over time. It's...
No More Dog Breath: This cat and dog breath freshener helps improve mouth odor over time as it works to reduce plaque. Give your dog fresh breath...
Healthy Mouth for Dogs & Cats: Statistics show that most adult pets have dental issues; help prevent oral issues with a daily dental care supplement...
Last update on 2023-09-21 / Affiliate links / Images from Amazon Product Advertising API
4. Use coconut oil
Coconut oil has always been a natural way of keeping bacteria off teeth.
You can check out organic coconut oil and use it to rub on your dog's teeth and gums.
Organic coconut oil plays a role to eliminate food particles and any plaque-causing bacteria that may be present in your dog's mouth.
Another effective way that you can use coconut oil is by adding a small amount to your dog's food. However, directly applying it to your dog's teeth is more effective.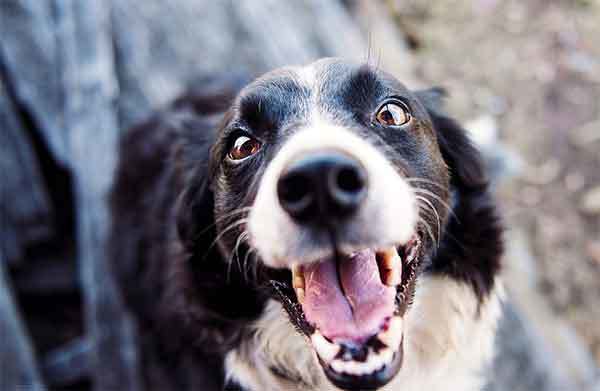 5. Fresh foods
Kibble is just an example of hard foods that can help break tartar and also remove food stuck between your dog's teeth.
The only catch is that most dogs only crunch once and swallow. This does not give your dog enough time to break down anything stuck on the teeth.
Giving your dog a fresher diet may help change the mouth's chemistry and help to create more enzymes in your dog's saliva to work on his teeth.
ALSO READ: Top 10 Best Bones to Clean Dogs Teeth
6. Hard foods
Your dog's diet should include some of these hard foods like carrots. They are good as they help to reduce the tartar from your dog's teeth and gum line.
As already mentioned earlier, raw bones are also very good at helping your dog maintain healthy teeth. However, your dog may not get any nutrients from the raw bones but a carrot a day will sure keep the dentist and the vet away.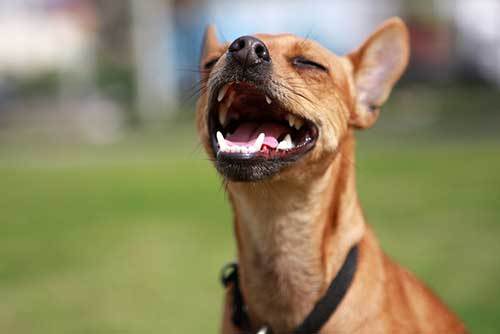 7. Dog dental treats
Whimzees Natural Grain Free Daily Dental Dog Treats are a good example of dental dog treats that you can get for your dog. They help to prevent bad breath as well as the build-up of plaque in your dog's mouth.
Whimzees contain all natural ingredients and are also low in fat therefore a very healthy choice for your dog.
It has a special vegetable based texture that will also play a big role in removing tartar and plaque from your dog's teeth as they chew.
WHIMZEES by Wellness Variety Box: All Natural Dental Chews for Dogs...
TREAT YOUR DOG TO CLEANER TEETH: These dental chews clean teeth, freshen breath and reduce tartar and plaque; treat them to a chew once a day to fight...
ALL NATURAL INGREDIENTS: Our chews are made with 6 primary non GMO ingredients and no artificial colors, flavors, preservatives, gluten or grain....
FUNCTIONAL GROOVES: Help work the treat into smaller spaces between dogs' teeth for a better clean
Last update on 2023-09-21 / Affiliate links / Images from Amazon Product Advertising API
8. Dog chews and Bully sticks
Apart from just getting chewy dog toys, you can also get your canine friend some dog bully sticks and chews.
Pedigree DentaStix Dog Chews are a great option that will help you clean your dog's teeth without a toothbrush.
The Pedigree DentaStix is scientifically designed with gentle abrasive texture that helps to effectively get rid of tartar in your dog's mouth.
Pawstruck is another great option of bully sticks that are all natural and odorless bully bones made out of beef muscles. They are extra-large in thickness and can be suitable for big dogs.
Made using natural ingredients, Pawstruck bully sticks are a healthy option for your dog.
The natural beef dog treats are made to last long and for your dog to happily chew as it helps remove plaque and tartar from his teeth.
You can let your dog gnaw on these bully sticks and his teeth will sparkle as a result.
Provide your dog with enough drinking water and supervise him as he chews because ingesting large pieces of the bully sticks may cause intestinal blockage.
12" Straight Bully Sticks for Dogs [X-Large Thickness] (10 Pack) - All...
Natural & Healthy - These truly are the best thick bullysticks for dogs and puppies. They are made with No artificial ingredients, No hormones, and No...
Helps Clean Dog Teeth - Dog dental care is important. These natural puppy and dog dental bull sticks help to remove harmful plaque and tartar leading...
Supreme Ingredients & Sourcing - Our premium bully sticks for dogs and puppies are made in our own South American facilities to ensure the healthiest...
Last update on 2023-09-21 / Affiliate links / Images from Amazon Product Advertising API
9. Gels
Gels are a safe way of maintaining healthy dog teeth without having to use a toothbrush.
Gels help to coat the teeth with safe and naturally cleaning agents.
Simply wash your hands and apply these gels onto your dog's teeth and gums using your finger. Some of these dog tooth gels come in different great flavors like peanut butter which your furry friend is likely to love.
Tropiclean fresh breath plaque removing gel is one such gel that will definitely help you get rid of that tartar and plaque on your dog's teeth.
It is a holistic blend of natural ingredients that will give your dog a healthy oral hygiene. It also helps to kill germs that cause bad breath, plaque and gum disease.
If your dog experiences some minor gum irritations, then this gel can help sooth him.
Tropiclean gel also contains some green tea extracts to help your dog have a fresh breath and it also helps fight bacteria in your dog's mouthy.
TropiClean Fresh Breath for Dogs | No Brush Dental Gel for Dogs | Dog...
FRESH BREATH — No brushing required! The minty-fresh dog teeth cleaning gel is a mild cleanser that loosens particles on the teeth and removes...
HEALTHY ORAL CARE — Our dog dental toothpaste is formulated to effectively reduce stinky dog breath, plaque & tartar buildup with a natural...
NO BRUSHING — Directly apply 2 drops of our easy-to-use dog teeth cleaner gel onto each side of your dog's mouth daily. Licking allows the dog teeth...
Last update on 2023-09-21 / Affiliate links / Images from Amazon Product Advertising API
10. Give plenty of water
If your dog was human, I would recommend keeping him talking so as to avoid having a bad breath.
Otherwise, give your dog plenty of fresh water. This will help to wash away the food that may be stuck in between his teeth thus causing plaque build-up in his mouth.
Water is a natural resource that is also readily available, therefore allow your canine friend to access his bowl of water any time he feels thirsty. It will also help him not to experience any bad breath.
Conclusion
In a nutshell, taking care of your dog's oral hygiene is as important as your own. If your dog has no problem with you brushing his teeth daily, keep it up.
However if you have issues with the toothbrush, you can resort to the above tips.
You can use dog teeth cleaning spray to help get rid of the bad breath and harmful bacteria. A good dental spray is a must-have in your home for the sake of your furry friend.
Organic coconut oil is an affordable way of maintaining your dog's oral health. Applying it straight to his teeth and gum is an effective way to make sure that plaque doesn't stick to his teeth.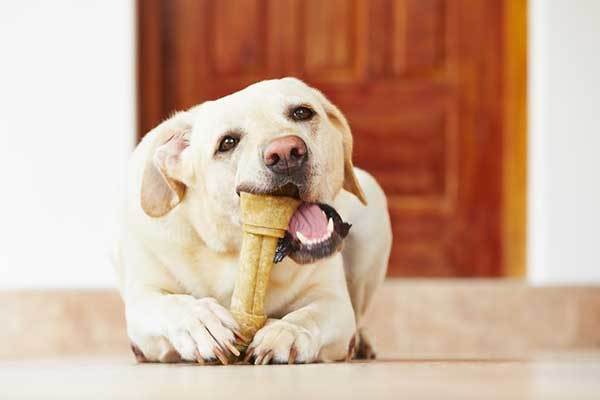 Cleaning your dog's teeth and maintaining a good oral hygiene is important to keep gum disease and tooth aches at bay. If he has red and puffy gums, it might be an indication that your dog has a poor oral hygiene.
Regularly take your dog to the dentist or vet for a regular check-up. If he has dark brown spotting or signs of cracked teeth, chances are that your dog might be in pain.
In conclusion, if your dog hates brushing his teeth, you can always help him to clean his teeth using other ways like chewing on natural foods and dog chews.
Make sure that your best friend is happy and you will have a healthy dog with healthy teeth.