Your pet's health is always going to be your number one priority. After all, a dog isn't just a pet, they're part of the family. And just like us, dogs need a wide range of different vitamins and minerals to give them the support they need to stay in tip-top health.
However, it's very important to ensure that you don't give your dog supplements that they do not need. You could end up doing more harm than good if you give them a mega-dose of something that their body already has plenty of.
It's not always easy to sort the facts from the fiction when you're dealing with this kind of thing. Everyone's got an opinion and they don't always match up. With that in mind, here are a few of the most important things to consider if you're thinking about giving your dog supplements.
1. Always Do Your Research
You'll only want the very best for your dog, and that's a fact. If it seems like there's something that's bothering them, or if you've noticed a change in their appearance or their behaviour, then of course there is going to be the temptation to panic.
It's so important to remember that you should never rush into anything when it comes to your dog's health and well-being. It's always worth taking your time to look at the options out there and seeing what other pet owners have to say about their experiences if your vet reckons that supplements are the best way to go.
You should always be sceptical of any sites that seem happy to lump dogs into one genetic category. Instead, look for a brand that understands that different breeds have different needs. They should also be happy to talk to you about any concerns and questions because they should know how important this is to you. If they're just trying to make a sale, you should think about looking elsewhere.
2. What Do You Need The Supplements For?
Your dog should be getting pretty much everything they need from their diet if you're feeding them properly and they're already in great shape. However, that's not always the case, is it? For example, senior dogs may need a different diet to help support classic problem areas for ageing such as muscles and joints.
There are also a lot of dogs out there that have issues with their digestion or suffer from itch. If you're thinking about supplements, then think about buying natural dog supplements that will give them that helpful boost in the target areas.
Dog supplements from ProDog Raw have no synthetic enhancers, and zero nasties, and they have species-appropriate ingredients so that you can rest assured that nothing in there will do more harm than good. Get in touch with their team today if you want to learn more about how natural dog supplements work and what they could do for your pet. You can browse through their selection online as they have a variety of dog supplements to choose from.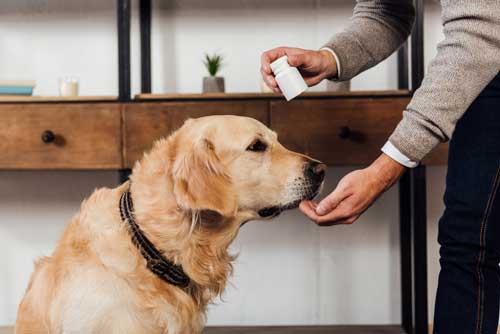 3. You Should Always Talk To Your Vet First
The golden rule for anything relating to your pet's health that you're not sure about: talk to your vet first. Your vet is there to give you the best expert advice on what your dog actually needs and whether you're going to do more harm than good.
Of course, it's worth noting that the science around health is advancing every day, but it would be a big mistake to assume that you know more than your vet does. They keep up with the latest developments too! If the vet decides that your dog needs a little extra support, they'll tell you whether you need to invest in supplements or whether you can get the same effect simply by making some changes to their diet. And speaking of diets…
4. Could A Change In Their Diet Be Just As Good?
When people invest in supplements, it's generally because they know that they are finding it tough to get everything they need from their diet. For example, if you're vegetarian or vegan, you might buy iron supplements to make up the difference that you'd usually get from a big juicy steak.
If you're worried that your dog isn't getting all the minerals and other goodness that they really need from their processed dog food, then why not look at a different diet for them? It might also be the case that the extra ingredients in that processed dog food are not doing your pet any favours. That's just one reason why so many dog owners are thinking about a raw food diet for their dogs. It's made up of meat and vegetables that are specifically chosen to provide the nutrition that your pets need with none of the other stuff that can be put in to bulk it out.