Walking your dog at night is a whole lot different than walking him during the day. There are a few challenges and you need to take extra precautionary measures to make sure that your dog is safe.
There are a number of safety tips that you need to consider when you want to walk your dog at night.
Here are a few tips for walking your dog at night.
1. Ensure your dog is okay with night walks
As dogs grow older, they may experience vision problems. If your dog has eyesight problems, then you might have to reconsider your night walks.
What you need to do is to take your dog to the vet and have a thorough check-up done. You need to be sure that it is safe to take your dog out for a night walk.
2. Consider getting your furry friend a vest for warmth
It might get really chilly in the evening hence you need to invest in a vest for warmth.
If you take your dog out for a walk at night and see him shivering, it becomes pretty obvious that you need to keep him extra warm. There are canine reflective vests that you can purchase for your furry friend to keep him safe and warm.
The Lemonpet pet dog jacket is a reflective waterproof vest that will serve to keep your dog warm and safe. It is made available in different sizes hence it doesn't matter whether you have a small or large dog breed.
This canine reflective vest is light in weight and also cold repellent which makes it just perfect for your furry friend.
LEMONPET Reversible Reflective Waterproof Dog Jacket Coat for Small Medium…
XL size – Back Length: 56cm / 22.04 inches,Neck Girth: 52cm / 20.47 inches, Chest Girth: 74-98cm / 29.13-38.58 inches, Snowproof Windproof Dog Winter…
Material:Polyester+TC (terylene/cotton), wind break waterproof Outer layer/ Soft and Warm Inner Layer.
Feature: Lightweight, Reflective, Adjustable, Reversible, waterproof, soft, Snowproof, Windproof,comfortable and warm Dog Coat
Last update on 2023-09-22 / Affiliate links / Images from Amazon Product Advertising API
3. Get you a reflective vest too!
When you take your dog out at night for a walk, you also need to keep you in mind. You need to invest in a reflective vest for yourself too.
The 247 Viz Reflective Vest is perfect for you during your night walks with your dog. This reflective vest comes with Hi Vis bands that can be adjusted. Available in neon green, orange and pink, this reflective vests makes you highly visible to motorists at night hence keeps you safe.
You will agree that one of the main reasons why accidents happen at night is the fact that pedestrians are not seen by drivers. When you have on the 247 reflective vest, you also get a pair of reflective arm bands to increase your visibility at night.
247 Viz Reflective Running Vest – Reflective Vest Running at Night for…
SOFTEST BREATHABLE VEST – perfect choice for anyone looking for a comfortable, reflective and versatile vest. With its soft, breathable material,…
BE SEEN FROM FARTHER AWAY – Be seen from over 350 feet, as light explodes off the reflective vest. With our reflective running vest, you'll…
LIGHTWEIGHT AND BREATHABLE – The soft material of our running reflective vest for men and reflective vest for women provides a natural feel and is…
Last update on 2023-09-22 / Affiliate links / Images from Amazon Product Advertising API
4. Walk your dog on a reflective leash
Making your dog's leash visible is another way of keeping your dog safe during night walks.
Mycicy Rope Dog Leash is a braided heavy duty dog training leash that you can use when taking your dog out for a walk at night.
It has a safety lock latch that is sturdy and very durable. The latch makes sure that your dog is secure and cannot slip out of the leash.
This reflective dog leash is made with a soft padded handle for your comfortability as it helps to protect your hands from rug burn.
Mycicy 3ft 4ft 6ft 10ft Reflective Dog Leash, Nylon Rope Braided Heavy Duty…
Exclusive Woven Design: 1/2" x 6 ft long pink cute dog leash is constructed with high-quality mountain climbing nylon rope leash. Durable, light…
Highly Reflective Design: Added reflective stitching, lights up when any light hits it at night. This strong rope has a reflective quality that…
Comfortable Flat Handle: The inside of the handle is soft padded for cushioning, comfortable to grip and breathable. You can comfortably pass your…
Last update on 2023-09-22 / Affiliate links / Images from Amazon Product Advertising API
5. Invest in an LED dog collar
A reflective dog collar will help you keep your dog safe at night.
An LED collar helps to make your dog more visible to motorists at night. It becomes necessary especially if you have one of those dogs that easily wander away from you.
Illumiseen LED dog collar is a great choice if you are looking for good quality LED dog collar to keep your dog safe. It gives ultimate visibility to your dog and your dog remains visible even when it is completely dark outside.
There is nothing that gives you peace of mind other than knowing that your dog is seen and safe. Illumiseen LED dog collar has a USB rechargeable battery and is made using lightweight material that makes it comfortable for your dog to wear.
ILLUMISEEN LED Light Up Dog Collar – Bright & High Visibility Lighted Glow…
SAVE YOUR DOG'S LIFE – this collar will save your dog's life by keeping it visible, safe and seen. This bright lighted LED collar provides the…
HIGHEST VISIBILITY – unlike others, our LED dog collars provide the highest visibility and are built to last so your dog will be seen in the dark…
RECHARGEABLE BATTERY THAT LASTS MULTIPLE WALKS – the USB rechargeable battery (cable included) gives 5 hours of illumination per 1 hour charge. A…
Last update on 2023-09-22 / Affiliate links / Images from Amazon Product Advertising API
6. Light up for the night walk
When you are taking your dog out at night for a stroll, it is advisable to also consider getting a waterproof headlamp that will help you to make your way in the dark.
Luminolite Bright CREE LED headlamp is a great choice if you are looking for a high quality waterproof headlamp to light your path in the night. It has a super comfortable and stylish headband that is secure and elastic. It can also go for days without you having to change batteries.
Is it drizzling outside? Worry not because this device is waterproof and can work well in the rain as well. It has two buttons that allow you to adjust brightness as you see fit.
If you are looking for stylish waterproof headlamps then Luminolite is a great choice.
Vekkia Ultra Bright LED Headlamp-5 Lighting Modes,White & Red LEDs Head…
【Versatile Design & Super Lightweight】 Adjust the Beam Angle up to 45 degrees with an easy up or down movement. Light Up The Night – 262 FT Range….
【Five settings for you need】White XPE LED: Offers Full Brightness (160 Lumens), Dim and Strobe Modes. Red LEDs: Constant Mode – Perfect for Saving…
【Multiple Use】This headlamp Ideal for Overnight Hiking, Camping and Trail Running. IPX6 Water resistant and Made from Durable Materials to Handle…
Last update on 2023-09-22 / Affiliate links / Images from Amazon Product Advertising API
7. Carry a flashlight
It is good to always have a back-up plan, carrying a flash light is necessary when taking your pooch out for a walk in the night.
In addition to wearing a waterproof headlamp, you can as well carry a flashlight. It will help you become more visible to motorists at night.
Sale
OLIGHT S1R II 1000 Lumen Compact Rechargeable EDC Flashlight with Single…
✅ 1,000-LUMEN OUTPUT: With the help of the all new customized battery, the S1R II delivers a huge output of 1,000 lumens in a small pocket light…
✅ BODY BUILT FOR GRIP: Small squared texture milling for a perfect grip and feel.
✅ PREMIUM BEAM: S1R II Perfectly balanced hot spot for optimal clarity and a soft transition to maintain comfortable vision during use.
Last update on 2023-09-22 / Affiliate links / Images from Amazon Product Advertising API
8. Walk in well-lit areas
When taking your dog out at night, make sure to stick to areas that are well lit.
Danger lies in darkness and criminals are likely to take advantage of poorly lit areas. Avoid dark alleys and parks. Stay in the light and keep you and your dog safe from harm.
9. Walk in familiar places
Getting lost at night is the last thing you want when you are out with your canine friend.
I would highly recommend that you use routes that you are well conversant with. Walk in areas that you know people so that in case you are in danger you can easily divert to the nearest friend's place.
10. Be very keen of your surroundings
Listening to music on your headphones is a great thing but you need to be very cautious of your surroundings.
Listening to music while taking your dog out for a walk in the night is acceptable but you need to realize that it can be distractive hence making you less safe. Avoid using headphones and stay focused on walking your dog and bond with him instead.
11. Use the side walk
Stay out of the road as much as possible when taking your dog out for a walk at night.
Use the sidewalks to reduce the chance for your dog or even yourself getting hit by a vehicle.
If it is mandatory for you to walk on the road, be sure to face in coming traffic. That way you are able to see the vehicles that are coming towards you hence keeping you and your dog safe.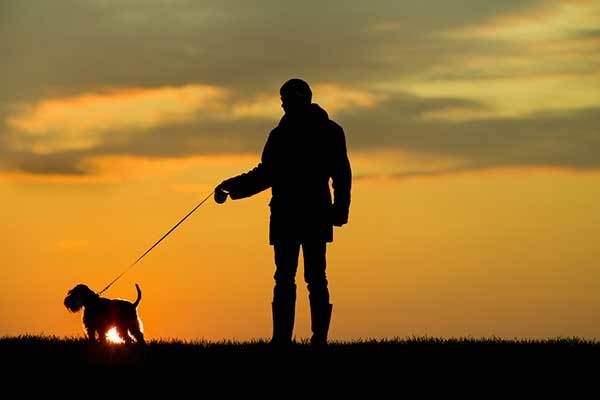 12. Take note of the road signs and traffic rules
When out for an evening walk with your furry friend, it is advisable to always be keen on following the traffic rules and road signs.
Use the zebra crossing for instance when you need to cross the road and only cross when the traffic lights show that you can do so.
Ensure that you have carefully trained your dog and he can comfortably walk around cars even in heavy traffic. If not, make sure to avoid busy streets. Always keep your dog close and make the leash short as well.
13. Get clip-on dog collar led lights
Prime Pet Clip-on Dog collar LED lights are amazing safety waterproof lights that are designed for dogs.
They come in handy during night or evening walks as they help to keep your dog safe. Prime option pet clip on dog collar led lights come in 6 different lights that you can change for your own convenience.
These clip-on dog collar led lights are very easy to use as you only need to clip the light weight durable lights on to your dog's collar.
Sale
Nite Ize SpotLit Dog Collar Light, Pink
HANDY LIGHT FOR YOUR KEYS OR PET'S COLLAR – This push button light attaches easily to your keychain or pet's collar using the integrated stainless…
REPLACEABLE LONG-LIFE BATTERIES – Included lithium 2016 batteries last up to 20 hours and can be easily replaced for use over and over again
AVAILABLE IN MULTIPLE COLORS – These unique lights come in a variety of colors as well as a color-changing Disc-O LED option
Last update on 2023-09-22 / Affiliate links / Images from Amazon Product Advertising API
14. Walk with your phone
This is just common sense and pretty obvious. You need to make sure that you carry your phone along when you take your pooch out for a stroll in the evening.
It might be the one thing that will save both of you during an emergency. Ensure that you have enough airtime and a fully charged battery.
It is also advisable to ensure that you put some of your smartphone features on like the navigational tools and Google map that will come in handy just in case you wander off.
15. Clear your dog with the vet
Again, this is a matter of common sense. Make sure that your dog has cleared all the necessary vaccines and is in good health before taking him out in the cold. This will help your dog avoid catching a cold and other illnesses related to the cold.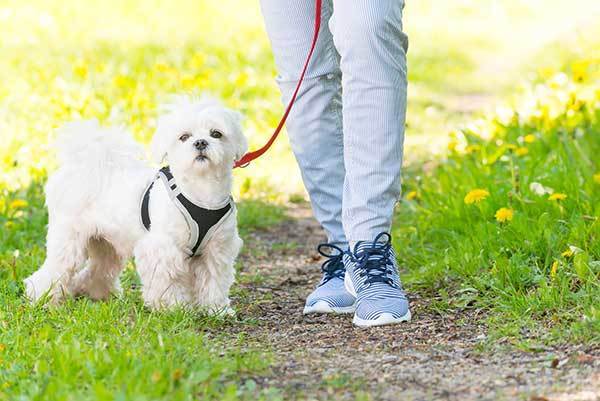 Final Word
In a nutshell, walking your dog at night doesn't have to be a scary task. Use a familiar route, make sure to get all of the aforementioned safety devices and keep your dog safe.
Keep your dog warm by dressing him up in a reflective vest. Buy him a LED collar and a reflective leash as well to make him more visible at night.
RECEIVE UPDATES ON DOG TRAINING, BREEDS, AND HEALTH + ALSO GET A FREE COPY OF OUR EBOOK 100 DOG TRAINING TIPS....