Pet parenting is one of the toughest things to do as dogs always want to run and chase stuff.
It is hard to keep an eye on them 24\7 but their safety cannot be neglected. You can use the wireless medium for your dog's protection and safety.
Here comes the Halo collar to ease this task for you, it is a wireless dog containment system with a tracking facility, information regarding this smart dog collar is given in this article and it is based on true reviews, gathered from customers using this smart dog collar.
Let's learn more about this truly amazing device by getting insights from Halo collar reviews.
What Is A Halo collar and How it Works?
The halo collar is a smart dog collar that comes with a USB-C charging cable and has a built-in battery to keep it charged for 20 hours. It comes with an adjustable strap, to perfectly fit your dog's neck.
Once you put this collar on, then simply download the Halo app and create a profile for your dog. It includes information regarding your dog's name, birthdate, breed, and photo.
Purchase a subscription plan and activate the collar. After that, connect the device to the internet and walk outside, GPS tracker will note your location on satellite.
You can pin the area to set the perimeter (virtual fence) for your dog. You can set up to 20 different virtual fences for your dog's safety if your pet loves to run in the neighborhood, simply you can change these optional parameters whenever required.
Halo collar will send prompt notifications on your smartphone if your pet dog crosses a safety zone and you can access your dog's location on "My Map" of the Halo app.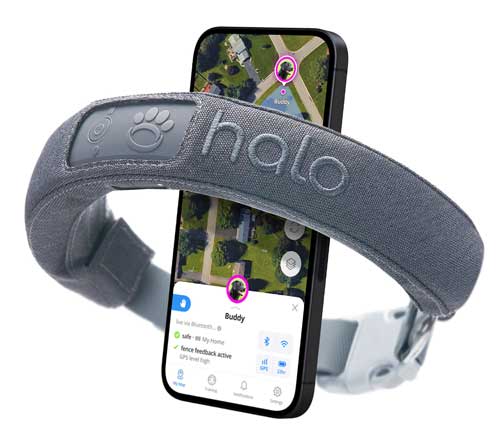 Main Features
Halo collar reviews show its impeccable features such as GPS tracking, a built-in activity tracker, and a water-resistant design, and its 21-day training program, makes it stand out from other dog collars.
1. Built-In Activity Tracker
Research shows dogs need to exercise daily. It helps them to grow healthy and keeps them physically active. A halo collar helps to monitor dogs' daily activity. It counts several walks, time spent being active or resting.
Moreover, it enables you to keep an eye on your dog's daily activities because getting enough exercise is non-negotiable. It is particularly important for dogs transitioning into old age or for those who are recovering from illness.
2. Cesar Millan 21-day training program
When a dog steps outside the limited perimeter smart dog collar sends static stimuli to stop the dog and when it turns back to a safe area it gives an encouraging message to let the dog know that he is doing a good job.
But it is essential to teach your dog how to respond to such stimuli, for this purpose halo collar offers a 21-day training program.
Training your dog for the collar's feedback and encouragement system can not be neglected. This training program will save your dog from roaming around stray.
This smart dog collar has three operating modes to keep your dog where you want, (warning, boundary, and emergency mode). Each mode has a different level of static signals and types of vibration that you can control according to your parenting style.
In a nutshell, familiarizing and training your dog with the working system of this smart dog collar is necessary and it makes you a trusted pet parent.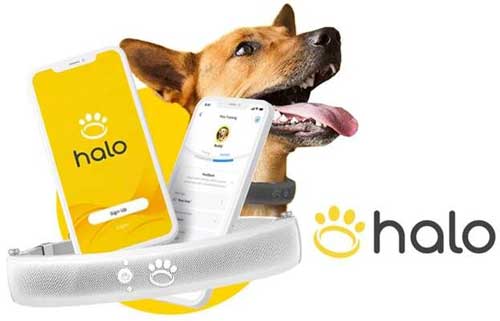 Pros
1. For Every Terrain Type:
It is easy to install on every type of terrain including grass, dirt, water, or concrete. It works everywhere and keeps track of your pet.
2. Easy to Use:
Halo collar reviews show that they didn't face any difficulty in mastering the app it comes with guidelines and a 21-day training program.
3. Training:
First, learn how to set up a virtual fence, then, users learn how to customize the feedback and teach their pets to stay within boundaries. After that, comes outside training which is the final stage after this your dog can roam around and play peacefully.
4. Portable:
It is truly portable and gives freedom from in-ground wires. You just need to set virtual fences wherever you locate or relocate.
5. Safe and Gentle Feedback:
It is safe for your lovely pet as it keeps them safe by alerting them from alarming situations. It just gives positive messages or static signals when required.
6. Accurate GPS:
With enhanced features of a GPS-enabled smart dog collar, it gives exact tracking of your dog.
7. Customer Service provides customer and tech services via Zoom sessions and comes with a one-year warranty.
Cons
1. It is quite expensive and requires a monthly subscription.
2. It is not suitable for small dogs.
Conclusion
Halo collar reviews show that it is a safe, easy, and reliable gadget for pet owners. It provides safety with its enhanced features of GPS tracking and a long-lasting battery.
Though it is an expensive containment system, but your furry friend's safety should be more important than money.