Wireless fences would be an excellent approach if you want to teach your dog about boundaries.
They will be advised to avoid crossing boundaries via programmable feedback, for instance, noises, static, and vibrations while approaching the threshold set by the dog owners. This is how you can teach your dog to respect the limits set.
While it's a valuable and helpful tool but you must consider various things while purchasing these wireless fences. Another important consideration is its subscription plan which offers plenty of other functions in halo collar.
Things to Consider Before Buying a Halo Dog Collar Halo wireless dog fence
However, there are various low-cost collars available in the market that are used for the same purpose and offer the same functions as Halo wireless dog fence. Keep in mind that not all smart collars are providing the notable features that Halo offers.
Let's take a look at some of the factors you need to consider before making a choice.
The size of your dog (halo collar comes in three sizes)
What features do you need? (all, or some particular one)
Is your dog stimuli sensitive?
Features and Benefits
The halo collars offer an extensive range of features and benefits for humans and their pet friends as well. Let's shed light on these mentioned below in detail.
1. The Halo Fence
One of the main functions of a halo collar is keeping a dog safe throughout time. In simple words, we can say it's designed to train a dog to respect the boundaries.
A dog owner knows well, how complex is to train a dog in proper manners while keeping them safe and prohibiting them to cross their boundaries. In contrast, a halo collar is making this process seamless whether it's a matter to teach your dog to stay in the designated area or keeping them safe.
2. Use halo app for free
Interestingly, you can use the free Halo app to create up to 20 unique boundaries or wireless fences to ensure that your dog has enough space to run. Moreover, the dog can explore the designated area without crossing boundaries.
3. Alerts
Moreover, there's an alert given by a halo collar to the dog when he or she gets far from the approved zone. This only works when the halo dog fence feature is turned on to basically guide the pet to get back to safety.
4. Keep track of activities
Many dog owners wonder what their dogs are involved in when they are not around them. It might be stressful to think and keep an eye on them all the time. Halo collar has a feature with which you can access with whom your dog is hanging out when you're not with them.
It also provides some health-related information to keep your furry friend safe, healthy, and happier. The activity tracker is one of the competitive features that makes it stand out from the crowd as it is now used in top activity monitoring systems for dogs.
Various activity stats you can track using the Halo app including how many hours your dog spent outdoors. However, we can say it's a really helpful tool for those who want to keep an eye on their dog's daily activities and monitoring.
5. The GPS system of Halo Collar
The main purpose of using this dog collar is a dog's safety, that's why GPS location services are considered to be one of the most notable features of it. You can rest assured knowing that you can get access to your dog easily even if it's wandering far away from the halo wireless fence.
Most people find this feature really helpful because when their dog gets lost they can easily find using this smart collar which only takes a few minutes to get to him.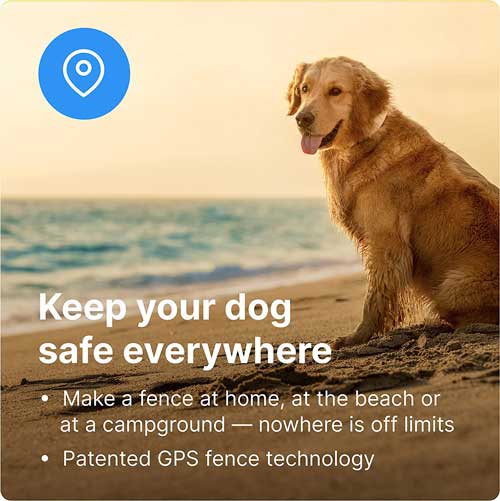 How Does this Halo Wireless Dog Fence Works?
This innovative dog fence is smart, simple yet effective to use. By supporting Halo with your dog, you can easily get access to it by using the GPS tracking system shown on the Halo app.
You can find the location of your dog within a few steps no matter if your dog is out of the zone of wireless fence. If your main concern is worrying about your dog's getting away from the halo fence then you must know that with this dog fence, you can take it back to safety.
Final Consideration
As we know technology is evolving faster than ever before, and almost every digital technology is available wireless. So why not use a wireless dog fence?
With a lot of benefits, we've mentioned above you can recognize its effective use in your dog's safety. As the fences with wires are too complicated to set up and use. Most people are finding the solutions to get rid of the wires, in such cases using wireless dog fences would be the best option.