Travelling with dogs is becoming a common phenomenon, as many dog owners appreciate the fact that their dog deserves a holiday too and should not be left at home all alone.
However, many dog owners are still worried about travelling with their pooch.
Problem-free pet travel is still possible with some early preparation and the following tips.
Whether you are travelling across the country or taking a short road trip, here are tips on how to travel with your dog stress-free.
1- Acclimatize Your Dog to Longer Road Trips Before You Leave
Some dogs can get sick on long road trips so it is wise to take you dog on shorter trips to acclimatize them to it before you leave for the longer trips.
It is also advisable not to feed the dog just before you leave to avoid him getting sick or vomiting in the car during the journey.
2- Plan and Pack for Your Dog, Too
Just like you, your dog enjoys the comforts and conveniences of home. Therefore, plan and pack for your dog, too.
Bring their food, toys, bedding, and brushes with you. Pack his treats, water, prescriptions, and a copy of his medical records.
This is not the time to play around with your dog's digestive tract. Don't let your dog drink just any water – the sudden change of diet could give him diarrhea.
Keep your dog's food, treats and water constant, and feed him at the same time you would feed him at home.
Don't forget to carry a recent picture of your dog with you. A recent photo of your dog will be valuable if your dog unexpectedly goes missing.
3- Check Your Pet's Identification Tags and Microchip
Before you leave, make sure that your dog has identification tags with relevant details and a valid microchip.
No one expects their dog to go missing during a journey, but it can happen, and you want to increase the chances of finding your dog.
A pet microchip has a valid registration number that can be linked to your contact details. Make sure your microchip provider has your cell phone number to increase the chances of reuniting with your dog. Just in case.
4- Bring a Doggy First Aid Kit with You
As you pack and plan for your pet, remember your dog may need first aid while you are on the road.
Be sure to pack a basic first aid kit that includes bandages, cotton wool, gauze and hydrogen peroxide. Always try to contact an animal welfare professional before trying to treat your dog for suspected exposure to toxic materials.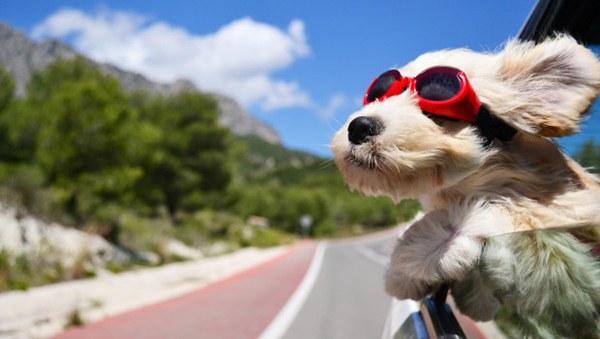 5- Make Sure Your Dog is fully Vaccinated
Update your dog's vaccinations and based on your destination and whether you dog will be in contact with other pets, your vet might recommend more vaccinations.
Contact your veterinarian before you hit the road to ensure the vaccinations are still effective.
6- Take Frequent Breaks
A pet's legs need to be rested and stretched as much as yours do. Your dog also needs food, water and potty breaks so be sure to take time for breaks.
Having your dog lie around as you refresh for the next part of the journey is not recommended, so be sure to walk him around before you jump back into the car.
7- Consider Using Sedatives
If your dog experiences anxiety in an unusual setting, consider administering a sedative to prevent trauma and a stress-induced potty incident.
Further Reading: How To Sedate A Dog: A Guide To The Different Situations And Methods Dog Owners Can Face
8-Keep Them Safe on Your Travels
Most airlines require dogs and other animals to be in a crate or carrier. If traveling by road, keep your puppy in a secured carrier for their ultimate protection.
Just like you, pets can be injured if the vehicle makes an abrupt movement. Also, dogs may do something unexpected, but when they are in a carrier, they are unlikely to cause an accident.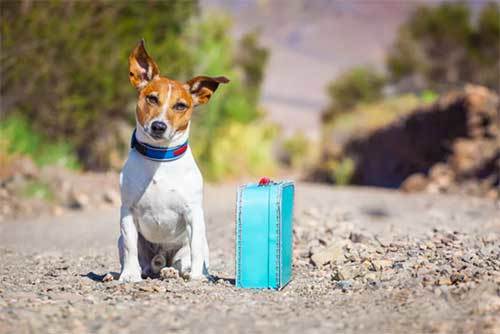 9- Always Keep an Eye on Your Dog
Just as you are excited exploring a new destination, your puppy is as excited too. Keep your pet on leash during the journey since if they spot something exciting, the usual "come" won't call your pet back.
10- Be Extra Cautious
Regardless of how well you think you know your dog, you don't know how he will react if he's dazed by foreign sounds or stimuli.
A dog left loose in the vehicle may seek refuge under your legs. An overwhelming desire to pursue a pleasant smell may inspire your loose pet to jump out of the window.
Be extra cautious to ensure the safety of your pet – and yours, too!
Stress-free travel with your dog is possible with early preparation and the above tips.
For the ultimate guide to stopping your dog from barking, digging, aggression, chewing, jumping, pulling on the lead, whining, chasing cats and people, plus how to solve a large variety of other dog behavioral problems, see: