The sound of thunder and the flash of lightning can be alarming and unexpected for many animals – even many adult humans remain scared of thunderstorms.
The distress of a pet dog in a thunderstorm is a difficult thing to experience because we can feel powerless to help. We can't stop the storm, we can only try and soothe and calm the animal.
It is important that we ease their suffering as best we can to avoid any health issues.
Thankfully, there are tools that can help.
Why is it so important that we find the best calming aids for thunderstorms?
Thunderstorms can have a negative impact on the physical and mental health of a dog.
It is possible to help train a dog to be a little calmer at the sound of thunder. We can use some form of association with treats and positive stimuli. Yet, there are other issues to contend with.
The stress of the storm can be a problem for mental well-being and blood pressure of dogs. This is a problem with older animals with heart issues.
There is also evidence that atmospheric energy during storms affects them in ways we hadn't appreciated. They can feel it in their fur and joints, and they don't like it.
This is especially true for those with joint conditions. Others suffer with ear issues, like we might in a plane.
Therefore, you need to learn how to calm your dog down in a storm.
Top tips on how to calm your dog during thunderstorms using natural ingredients
These problems can lead many owners in a panic as they search for solutions to the question of how to help my dog during a thunderstorm.
Thankfully there are plenty of different tricks and options available that can make a big difference.
Don't turn to tranquilizers and prescription drugs to sedate pets in a storm. This could lead to further issues and doesn't help with any positive reinforcement during the event.
There are better, natural options:
The first place to start is with some treats with natural calming agents
This treats offer great, safe ingredients in a chewable form that will soothe a dog while keeping him distracted.
The following products are all great options.
1. Zesty Paws Calming Soft Chews for Dogs
Zesty Paws is a name that many pet owners trust, so there are high expectations for this formula.
These Stress & Anxiety chews contain a combination of Suntheanine, Organic Hemp, Valerian Root and L Tryptophan.
This is an all-natural solution that promote calmer behavior without acting as a sedative.
Zesty Paws Calming Chews for Dogs – Composure & Relaxation for Everyday…
America's #1 Selling Dog Supplement Brand on Amazon*
A formula for natural anxiety – Zesty Paws Calming Bites are turkey flavored chewable supplements with some organic ingredients that help dogs with…
Features Suntheanine – These calming treats contain 30mg of Suntheanine per chew, which is a form of L-Theanine that promotes relaxation with no…
Last update on 2023-10-04 / Affiliate links / Images from Amazon Product Advertising API
2. Particular Paws Dog Calming Aid
This is another pack of soft chews with an impressive natural formula.
This time the manufacturers use Melatonin, L Tryptophan, Chamomile Flower, Passion Flower and Thiamine Mononitrate.
The use of Melatonin and Passion Flower are interesting because of the way they reduce muscle tension.
Last update on 2023-10-03 / Affiliate links / Images from Amazon Product Advertising API
3. PawPaws Anxiety Relief/Calming Soft Chews for Dogs
This pot of little chews takes a similar approach with Chamomile Flower, Passion Flower, Ginger Root and L-tryptophan.
This shows that there are certain tried and tested natural ingredients to watch out for.
This travel tub is also great for trips away, when anxiety may be raised.
4. NaturVet Quiet Moments Plus Melatonin
These supplements will be popular with many dog owners because they contain Chamomile, Thiamine Mononitrate, Passion Flower, Ginger, L-Tryptophan and Melatonin. This is pretty much as comprehensive a list as you can get.
Last update on 2023-10-03 / Affiliate links / Images from Amazon Product Advertising API
5. Veterinary Naturals Dog Calming Treats 'Hemp & Harmony' Soft Chew
The difference with this option is the focus on the hemp.
The full list of ingredients is Hemp Oil, Organic Chamomile, Valerian Root, L-Tryptophan and Organic Ginger.
That hemp oil is the star because there is 20mg of FDA-approved oil per serving – more than many other products.
Veterinary Naturals Dog Calming Treats 'Hemp & Harmony' Soft Chew –…
NEW & UNLIKE ANYTHING ELSE ON THE MARKET – Hemp & Harmony chicken flavored soft chews are created with the best natural and organic ingredients to…
HEMP OIL WORKS WONDERS WITH ANXIETY PREVENTION – The therapeutic benefits of hemp oil make it easier for the body to calm down, relax and relieve…
PERFECT FOR HYPERACTIVITY, RESTLESSNESS, STRESSFUL SITUATIONS – Hemp & Harmony also contains Theanine, Tryptophan, Organic Chamomile, Organic…
Last update on 2023-10-03 / Affiliate links / Images from Amazon Product Advertising API
6. Project Paws Advanced Calming Supplement for Dogs
Here dogs can benefit from Organic Chamomile, Organic Passionflower, Organic Ginger, GABA, L-Tryptophan and Vitamin B1. The latter is an unusual addition here, and designed to assist the regulation of serotonin.
This grain free product is also turkey flavored for added appeal.
Supplements and chewable aids are just the start.
These tips on how to calm your dog during thunderstorms using natural ingredients shows that there are many options available here.
We really don't need to turn to drugs and chemicals just because they are quick and available. A good vet will provide the natural treats mentioned above.
A good pet store will supply many of these top products, and other great solutions.
Still, there are other ways you can help. These chewable herbal products can be part of a deeper sensory experience.
Physical contact never fails
Ours pets need reassurance as much as possible during a thunderstorm. These treats help to calm them, but cuddles and reassuring words also help.
Physical contact through stroking and rubs offers that close contact so they know they are safe and not alone.
There are even some dogs that respond well to special compression vests. These thunderstorm shirts simulate that contact when owners can't be there the whole time.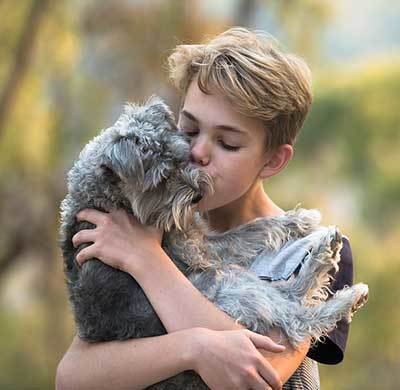 Finally, there is the potential of music
Calming music isn't just for humans. Many of us will turn to soothing playlists when we feel stressed out. There are meditation apps and online playlists with carefully crafted sounds that help us in times of anxiety.
We are just beginning to understand the benefit of binaural music for our own mental health, so we shouldn't discount the idea of healing music for dogs.
Dogmusic.com has a selection of music designed for dogs to help with anxiety problems. Thunderstorms definitely count. Some pups are known to relax so much that they fall asleep.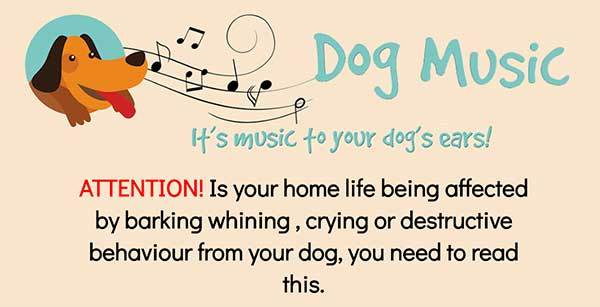 Choosing the best aids for calming dogs in a thunderstorm
There is no perfect solution for every animal. Brands can claim to be foolproof for any breed or problem, but it depends on the dog.
You may have to go through a trial and error process to find the best solution to the problem. Your dog may not have the right reaction to the music, or may dislike the flavor of the chews.
Don't forget that any pup with severe anxiety issues may need further help from a professional. Do what you can to ensure that the next thunderstorm doesn't upset them so much.
Checkout Our Favorite Dog Products
1. BEST PUPPY TOY
We Like: Snuggle Behavior Toy with Heart Beat & Heat Pack – Ideal toy for new puppies.
2. BEST DOG TRAINING PROGRAM
We Like: Doggy Dan The Online Dog Trainer – Stop any dog problem and raise the perfect puppy with The Online Dog Trainer.
3. BEST DOG DNA TEST
We Like: Embark Dog DNA Test – Embark screens for over 250 dog breeds + tests for 170+ genetic diseases including MDR1 drug sensitivity, glaucoma, degenerative myelopathy, and dilated cardiomyopathy, some of the most common adult-onset diseases in dogs.
4. BEST DOG PUZZLE TOY
We Like: Outward Hound Interactive Puzzle Toy – Every dog loves chasing squirrels at the park. The Outward Hound Hide-a-Squirrel Puzzle Toy gives your dog the same feeling as though he was outdoors chasing live squirrels.
5. Best Calming Treats for Dogs
We Like: FurroLandia Hemp Calming Treats – These soft chews will calm your dog so it can peacefully endure stressful situations, such as long car trips, visiting unfamiliar places, or hearing Thunder. Ideal for all dog breeds & sizes.
RECEIVE UPDATES ON DOG TRAINING, BREEDS, AND HEALTH + ALSO GET A FREE COPY OF OUR EBOOK 100 DOG TRAINING TIPS....