You may be wondering "Are Chia seeds good for dogs?" Or "can a dog eat Chia seeds?"
Well, this is exactly what we are going to discuss in this article. You'll also learn how to make tasty Chia seeds recipes and treats for your furry friend.
So, here's everything you need to know about Chia seeds for dogs.
Can Dogs Eat Chia Seeds?
The simple answer is Yes! Chia seeds are a great source of protein, antioxidants and other nutrients for dogs. They are rich in dietary fiber and can do wonders for the dog's digestive system.
Chia seeds have a variety of health benefits for canines that we'll find out later in this guide. In fact, many veterinarians recommend Chia seeds for dogs, so you don't have to worry about feeding them to your dog.
Now dubbed a "miracle food", Chia seeds have for long been considered a superfood. The good news is that they are beneficial for dogs as well.
The fatty acids present in Chia seeds can help maintain the health of your dog's coat, particularly if your pet is allergic to fish and fish oil.
What Exactly Are Chia Seeds for Dogs?
Chia seeds for dogs refer to the same seeds that we humans love. These small black seeds are rich in fiber, protein and fatty acids.
Chia, also known by its scientific name Salvia Hispanica, is native to Central America and southern Mexico.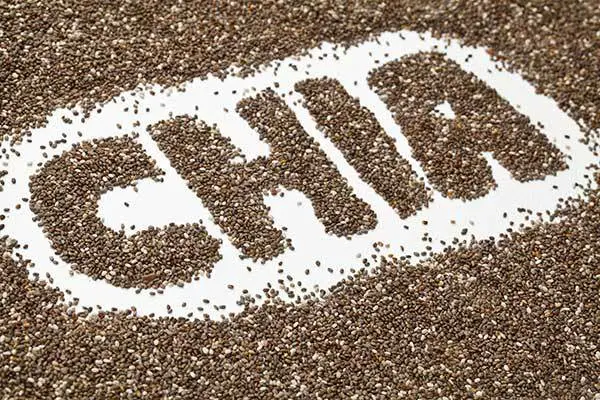 Originally domesticated by Aztecs and Mayans, Chia became an integral part of their diet as far back as 2,600 BC. So prized was it that it was sometimes used as a currency as well.
Aztec warriors allegedly sustained themselves on Chia seeds on a daily basis. The seeds are known to boost one's energy levels and enhance endurance.
ALSO READ: Can Dogs Drink Orange Juice? Is It Good for your Dog?
Will Chia Seeds Hurt Dogs?
Can a Dog Eat Chia Seeds? The quick answer is yes!
Dogs can eat Chia seeds. While it is generally suggested that canines should not eat seeds since they can be unsafe or toxic for them, seeds like flax and Chia are safe for dogs.
Unlike flax seeds, however, Chia seeds do not have the same storage requirements since they do not spoil easily and can last for many years.
Moreover, they do not have to be extracted or ground. They are safe in their natural state, but it's generally recommended to soak Chia seeds before giving them to your dog.
Can My Dog Eat Chia Seeds? What Are the Precautions?
The short answer is yes! There is usually no risk associated with feeding Chia seeds to dogs, but there are numerous benefits.
As a pet parent, the only precautions you should take are to monitor the quantity your dog eats and to introduce them slowly since these seeds are high in calories and fiber.
PetHonesty 10 in 1 Dog Multivitamin – Glucosamine Essential Dog Supplements…
10 BENEFITS IN 1 DAILY CHEW – Our 10 in1 Multivitamin chews combine a well-rounded blend of essential vitamins and supplements for dogs' overall daily…
JOINT HEALTH WITH GLUCOSAMINE – These soft chews have high amounts of glucosamine and other joint support ingredients that may help reduce joint…
HELP IMPROVE DIGESTION AND SKIN – Our chews contain 1 Billion CFU probiotics and pumpkin, which help keep your dog's digestive system and digestive…
Last update on 2023-05-27 / Affiliate links / Images from Amazon Product Advertising API
Benefits of Chia Seeds for Dogs
Chia seeds can do some great things for your dog's overall health.
Here are some of the reasons why you should make Chia seeds a part of your pet's regular diet:
1. Chia seeds are a great source of Omega-3 fatty acids. Adding Chia seeds to your dog's regular diet can help boost his cardiac health by boosting the immune system and strengthening the cells of the heart.
2. Omega-3 fatty acids also enhance brain function by increasing the rate of transmission of signals by myelin sheaths, which ultimately increases memory and boosts mental performance in dogs and other animals.
3. Omega-3 fatty acids also help to reduce inflammation in the body. Canines with osteoarthritis can benefit from enhanced mobility and less pain in the joints with regular consumption of Chia seeds.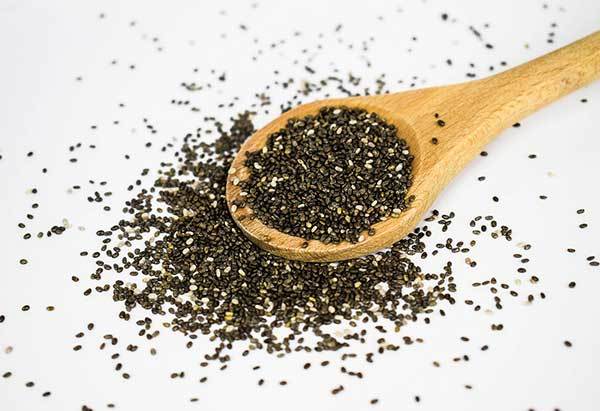 4. In addition to omega-3 fatty acids, Chia seeds are rich in dietary fiber, which helps to boost digestion and absorption of essential nutrients.
5. Chia seeds contain more calcium than milk. Along with phosphorous, calcium helps with bone development while preventing health problems like hip dysplasia.
6. Although Chia seeds are not the main source of protein for dogs (that's what meat is meant for), they are a great source of plant-based protein. The collective protein from meat and Chia seeds can help protect muscle health and build muscle mass.
7. Since Chia seeds absorb a lot of water. Therefore, they can help your dog to feel full and satisfied for an extended period of time. This is particularly important for dogs that tend to overeat and those that need to lose weight.
8. Chia seeds also promote natural insulation function, glucose tolerance and blood sugar regulation for prediabetic or diabetic dogs.
How Much Chia Seeds To Give To Your Dog?
Although Chia seeds can be a great addition to a dog's overall diet, it's vital to feed the right amounts.
⚠️ You should be extra careful with the amount you feed your dog at any given time.
Small dogs should eat a few teaspoons, but larger dogs can safely consume a couple of teaspoons per day.
Chia seeds have a high amount of calories, so it's important to feed them to your dog in moderation.
It is recommended to start small and increase the amount slowly. Give around half of a tablespoon for every 20 lbs. This implies around one teaspoon for smaller dogs and two teaspoons for bigger dogs.
Generally, treats should not exceed 10 percent of your dog's daily caloric requirements.
How To Serve Chia Seeds To Dogs?
Mix organic Chia seeds with squashed fruits/vegetables in your dog's normal diet.
You can also give Chia seeds jelly to your dog if you have soaked them in water.
Chia Seed Dog Treats Recipe
You may also be asking "can dogs eat Chia seeds pudding?" The simple answer is yes.
If you are looking for a tasty snack to give to your dog, you can prepare it.
Here's a simple Chia seed dog treats recipe to try at home.
Chia Seeds Pudding for Dogs
Makes Two Tablespoons (2Tbsp)
Requirements:
2 tablespoons Chia seeds
1 cup of water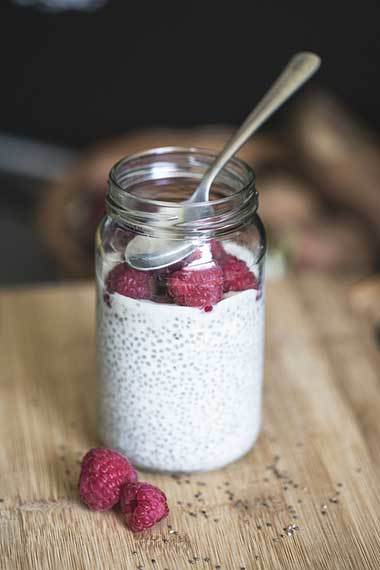 Method:
1. In a sizeable bowl, mix the seeds with the liquid (water or apple juice) and whisk them with a whisk or fork.
2. After some time, whisk the mixture again to ensure the seeds don't bind together at the bottom of the bowl.
3. Leave the gel for around 10 to 15 minutes, allowing the Chia seeds to absorb the water. Two Tbsp of Chia seeds can be added to one cup of water (juice) to make a pudding.
4. Add the Chia seeds pudding to your dog's meal and serve.
ALSO READ: Can Dogs Eat Cashews? Is It Safe to Share?
Any Potential Side Effects of Chia Seeds for Dogs?
Are Chia seeds bad for dogs in any way? No, not really.
There are no harsh side effects of Chia seeds for dogs.
However, make sure you are conservative when adding Chia seeds to your dog's meals. Doggie digestion is sometimes tricky, so it's important to start small and increase the amount gradually.
Chia should never be a replacement for your dog's complete diet. For more details, talk to a professional vet.
ACANA® Singles Limited Ingredient Dry Dog Food, Grain-free, High Protein,…
Limited Ingredient Diet Formula: 65 percent of each recipe is from only one animal source for diet-sensitive or choosy dogs
Grain-Free and High-Protein: High in protein and full of key nutrients with fresh or raw animal ingredients, whole vegetables, fruits, and botanicals
Made in the USA: Formulated in our Kitchen using only ingredients from trusted sources
Last update on 2023-05-28 / Affiliate links / Images from Amazon Product Advertising API
Conclusion: Can Dogs Have Chia Seeds?
So, can you feed Chia seeds to dogs?
The answer is yes. You can feed Chia seeds to your pooch without worry. However, we recommend soaking Chia seeds in water before giving them to your dog.
Considered as a superfood, Chia seeds are high in fiber and rich in omega-3 fatty acids, providing dogs with the essential nutrients they need to stay active and avoid digestive issues.
Small in size but huge in benefits, it is, however, important to limit the amount of Chia seeds you give to your dog at one time.
ALSO READ: Can Dogs Eat Sunflower Seeds? Are Sunflower Seeds Bad for Dogs?
Checkout Our Favorite Dog Products
1. BEST PUPPY TOY
We Like: Snuggle Behavior Toy with Heart Beat & Heat Pack – Ideal toy for new puppies.
2. BEST DOG TRAINING PROGRAM
We Like: Doggy Dan The Online Dog Trainer – Stop any dog problem and raise the perfect puppy with The Online Dog Trainer.
3. BEST FOOD FOR DOGS AND PUPPIES
We Like: Victor Super Premium Pet Food – Ideal for growing puppies and pregnant or lactating females. Also provides sustained energy for sporting dogs and dogs with high physical demands.
4. BEST DOG DNA TEST
We Like: Embark Dog DNA Test – Embark screens for over 250 dog breeds + tests for 170+ genetic diseases including MDR1 drug sensitivity, glaucoma, degenerative myelopathy, and dilated cardiomyopathy, some of the most common adult-onset diseases in dogs.
5. BEST DOG PUZZLE TOY
We Like: Outward Hound Interactive Puzzle Toy – Every dog loves chasing squirrels at the park. The Outward Hound Hide-a-Squirrel Puzzle Toy gives your dog the same feeling as though he was outdoors chasing live squirrels.
6. Best Vacuum to Tackle Pet Hair
We Like: ORFELD Cordless Vacuum – Engineered for homes with pets. With features and tools that dig out dirt, hair and allergens everywhere your pet gets.
RECEIVE UPDATES ON DOG TRAINING, BREEDS, AND HEALTH + ALSO GET A FREE COPY OF OUR EBOOK 100 DOG TRAINING TIPS....