Gingerbread is one of the most common holiday delicacies. It's a popular treat, especially during the Christmas season.
And since holidays are excellent occasions for family get-togethers, rules on food consumption are normally dropped. It's usually a time when many of us binge on sugary and even spicy foods with careless abandon.
Therefore, it's not unusual to come across pet owners freely offering human foods to their furry, little companions without much regard to the potential dangers such foods may cause. But can dogs eat gingerbread?
The simple answer is no; dogs shouldn't eat gingerbread. It doesn't matter how passionately they beg for it on the dinner table, offering gingerbread to your doggy comes with immediate and long-term health issues.
What Is Gingerbread Made Of?
As the name implies, this is a type of bread that's flavored with ginger. It may also be flavored with cloves, cinnamon, or nutmeg.
To improve its taste, gingerbread is usually sweetened with sugars, honey, or molasses.
In most cases, gingerbread appears as a soft, moist bread. However, it can also be made into something crispy. So, can a dog eat gingerbread?
The following section shall highlight some common dangers the bread could have to your dog.
What Could Possibly Go Wrong?
As a pet owner, you may have asked yourself this question at one point or another – can my dog eat gingerbread?
Though the obvious answer is a No, you should further understand the potential dangers of offering gingerbread to your dog.
As you probably already know, gingerbread is high in sugar content. Like humans, dogs also suffer the same consequences of high sugar content in their blood. Therefore, foods like gingerbread could easily expose them to obesity, diabetes, and dental issues.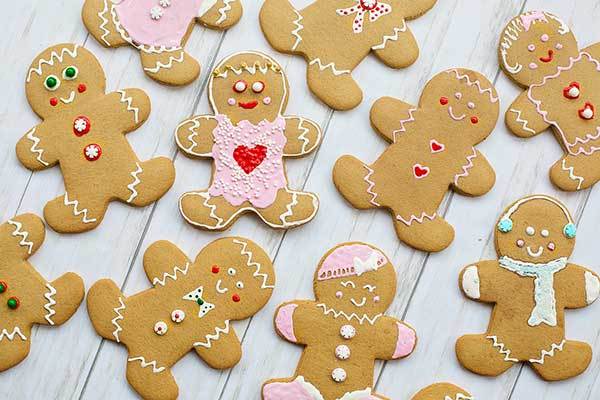 There are other potential risks of offering gingerbread laced with excess sugar to your dog.
1. Digestive Issues
The high sugar content in gingerbread may also cause an upset stomach.
Remember that your dog's gut contains healthy bacteria as well as other microorganisms. These bacteria help in food digestion.
However, excess sugar causes an imbalance in these micro-organisms, thereby impairing their functions. The results are an upset stomach, nausea, vomiting, and diarrhea.
2. Toxicity
Toxicity is another potential danger of the excess sugars present in gingerbread.
This commonly results from the sweeteners that are often added to the bread. Notorious mentions include the artificial sweetener, xylitol, as well as chocolate.
First, the theobromine substance that's present in chocolate is associated with high levels of toxicity. Experts often recommend this substance as a mild diuretic. It also stimulates the heart, dilates blood vessels and relaxes muscles.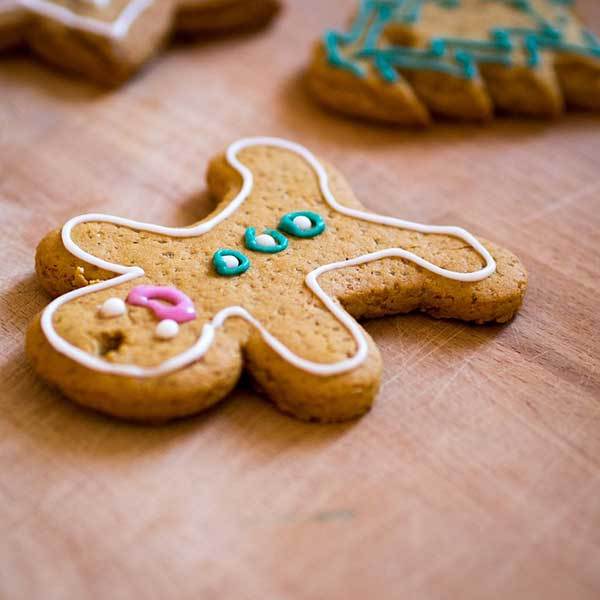 However, dogs aren't able to digest this substance. So, when you offer a chocolate-flavored gingerbread to your pooch, the consequences can be life-threatening.
Common effects include excessive urination, vomiting and diarrhea, elevated heart rate, seizures and muscle spasms, irritability, and increased thirst sensation.
Remember, consequences are usually more severe when it comes to the dark and semi-sweet chocolate. No wonder chocolate commonly appears among the top human foods unfit for dogs. And since it's a significant component of gingerbread, it implies that the bread isn't fit for your pooch either.
On the other hand, xylitol can cause hypoglycemia in dogs. It can also lead to liver degeneration. These are also severe health conditions you wouldn't wish on your dog.
Greenies Gingerbread Flavor Teenie Dental Dog Treats, 6 oz. Pack (22…
Contains one (1) 6 oz. 22-count pack of GREENIES Gingerbread Flavor TEENIE Dog Dental Chews
The unique texture of GREENIES Dog Chews helps clean down to the gumline to fight plaque and tartar and freshen breath, making these Christmas dog…
GREENIES Treats for Dogs are veterinarian recommended for dental care and accepted by the Veterinary Oral Health Council (VOHC) for helping control…
Last update on 2023-12-03 / Affiliate links / Images from Amazon Product Advertising API
3. Changes in Metabolism
Another common effect of excess sugar is increased insulin secretion.
Excess insulin levels in your dog's body is another potentially life-threatening scenario. It could lead to obesity, muscle degeneration, and sluggishness.
Excess insulin also triggers over-secretion of other hormones within the body, thereby complicating the dog's hormonal balance even further.
But sugar isn't the only notorious ingredient of gingerbread that makes it unfit for dogs. Other additives and toppings could be just as toxic.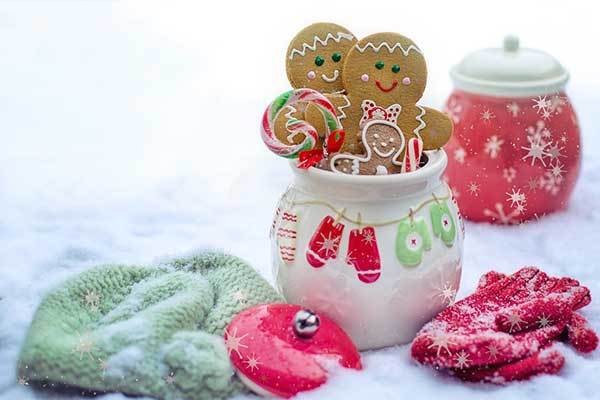 For instance, gingerbread also contains a spice known as nutmeg. Nutmeg contains a compound called myristicin.
This compound can severely interfere with your dog's neurological functions. Symptoms of myristicin exposure include delusions, hallucinations, nausea, dry mouth, and heart palpitations.
The unusually high fat content in gingerbread is linked to pancreatitis, heart disease, obesity, and other weight-related issues. It's even worse, considering most of these are trans fats.
Sale
Fruitables Biggies Dog Biscuits – Crunchy Dog Biscuits Made with Pumpkin…
BIG TASTE + BIG CRUNCH – Your dog will agree, bigger really is better! Biggies feature big taste and big crunch in a healthy biscuit your dog will…
REAL BACON AND APPLE – Made with real healthy ingredients such as bacon and apple, our oven-baked dog treats are both healthy AND delicious. No…
PACKED WITH FLAVOR – Fruitables Biggies are packed with mouthwatering flavor!
Last update on 2023-12-03 / Affiliate links / Images from Amazon Product Advertising API
When Should I Be Worried?
Like most human foods, gingerbread is more dangerous to your dog if consumed in large quantities. Therefore, you shouldn't panic if your canine only had a bite. In fact, your dog could actually benefit from occasionally snacking on gingerbread.
Ginger itself contains gingerol, a substance known for its vast medicinal benefits.
Gingerol can help reduce nausea, fight flu, and relieve indigestion. Its antioxidant and anti-inflammatory benefits can help prevent and fight off a host of diseases.
The anti-inflammatory benefits are great for dogs suffering from joint stiffness and osteoporosis.
Many studies have cited ginger's ability to reduce the stiffness and pain associated with osteoporosis. These benefits are enhanced if you combine the substance with cinnamon, sesame oil, and mastic.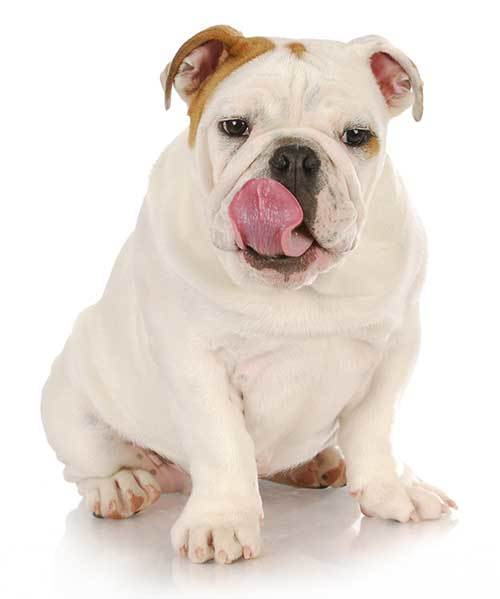 Another common benefit of ginger is its pain-numbing effects. It's especially excellent for exercise-induced pain and in fighting progressive muscle degeneration. So, that makes it a perfect treat for hyperactive as well as very young and aging dogs.
Ginger has also been shown to contain anti-diabetic properties. That makes it a special recommendation for dogs suffering from type-2 diabetes and heart disease.
There are many other health benefits of ginger, including treating chronic indigestion, relieving menstrual pain, and preventing cancer.
But before you get all too excited, remember we mentioned that ginger isn't the only component of gingerbread. So, its potential health benefits are easily overshadowed by the toxic additives. And you should be very concerned if your dog consumed a lot of gingerbread.
Also, remember that gingerbread comes in various forms. You could have it in moist form, in snaps, or even in cookies. Which brings us to the question, can dogs eat ginger snaps? What of biscuits, can dogs eat ginger biscuits?
Like the moist form of the bread, ginger snaps or ginger cookies aren't great for your canine. That's due to the potentially harmful ingredients that make up ginger cookies.
For example, ginger cookies contain flour, sweeteners like sugar, and various spices. That's already a deadly combination for your pooch.
Though they go by the name ginger snap or ginger cookie, the actual amount of ginger in them is often negligible. And even when it's there, it's usually the artificial ginger.
However, there is a saving grace to ginger snaps. First, they contain substantially low sugar content. That would come as good news, were it not for the other potentially harmful additives.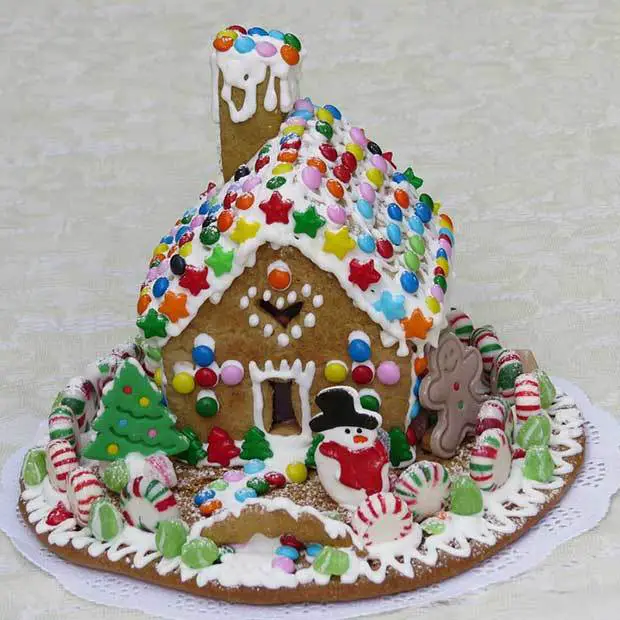 Another great thing about ginger snaps is that they're reasonably small and crunchy. Therefore, they wouldn't present choking dangers to your pooch.
In a nutshell, we'd say ginger snaps and ginger cookies are the lesser evils when considering offering gingerbread to your dog. If you can, avoid anything to do with gingerbread.
But what if my dog ate a bag of gingerbread cookies? And what if my dog ate gingerbread house?
However, the most obvious signs are dry mouth, abdominal pains, vomiting, and diarrhea. So, what to do if my dog eats gingerbread?
A quick fix would be to give your dog plenty of water and get him to relax. However, your best bet is to consult a vet and have them recommend the best remedy.
What If My Dog Just Can't Resist Gingerbread?
Like humans, canine cravings start small but then develop into full-blown addictions. So, what if your pooch has developed a love affair for gingerbread?
The good news is that he can benefit from some ingredients of gingerbread — most of these benefits we've already highlighted. But the bad news is the many potentially-toxic effects of gingerbread, most of which we've also already highlighted.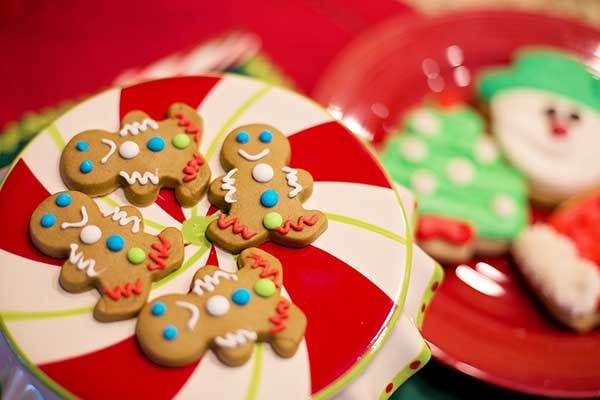 Another piece of bad news is that addiction could lead to incidences of binging. That's worse if the dog eats gingerbread cookies.
These cookies contain a spice known as anise. Though it's known for its pleasant taste, the spice is highly addictive and could have catnip-type effects on your pooch.
As a regular pet owner, you may not accurately determine when gingerbread is beneficial to your dog, and when it's toxic.
Therefore, your best bet would be to offer your canine dog-safe gingerbread treats. Well, there are many products labeled as "gingerbread dog-friendly treats" out there.
But for maximum safety, go for homemade gingerbread dog treats. One benefit of making gingerbread dog treats at home is that you can easily eliminate the additives considered harmful for canines. Also, you can ensure the bread is gluten-free, further reducing potential side effects.
Sale
Last update on 2023-12-03 / Affiliate links / Images from Amazon Product Advertising API
Gingerbread Cookie for Dogs Recipe
Ingredients:
1 1/2 cups of (180g) all-purpose flour
1/2 teaspoon of ground cinnamon
1 tablespoon of ground ginger
1/4 teaspoon of ground cloves
1/4 cup of water
1/4 cup of molasses
2 tablespoons of vegetable oil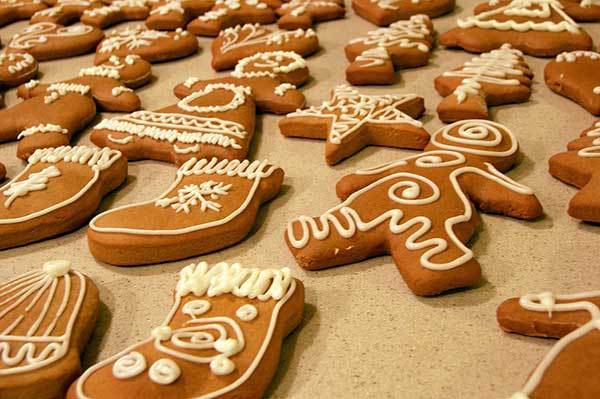 Instructions:
1. Preheat the oven, targeting a temperature of 325°F.
2. Use a silicone baking mat or a parchment paper to line the baking sheet.
3. Whisk together all the dry ingredients in a medium bowl.
4. Whisk together water, oil, and molasses in another bowl.
5. Mix the liquid and the dry ingredients, and stir to an even consistency.
6. Roll your dough to ¼-inch thick before cutting shapes out of it.
7. Allow the shapes to bake for around 20 minutes, then allow your baked cookies ample time on the baking sheet so that they may cool.
So, Can Dogs Eat Gingerbread?
Gingerbread is as harmful as the artificial ingredients added to it. So, you shouldn't offer it to your dog.
If you must give gingerbread to your dog, you should insist on the healthier alternatives such as home-made ginger treats.
And if you don't have the time to prepare a healthier gingerbread treat for your dog at home, you can check out some options here.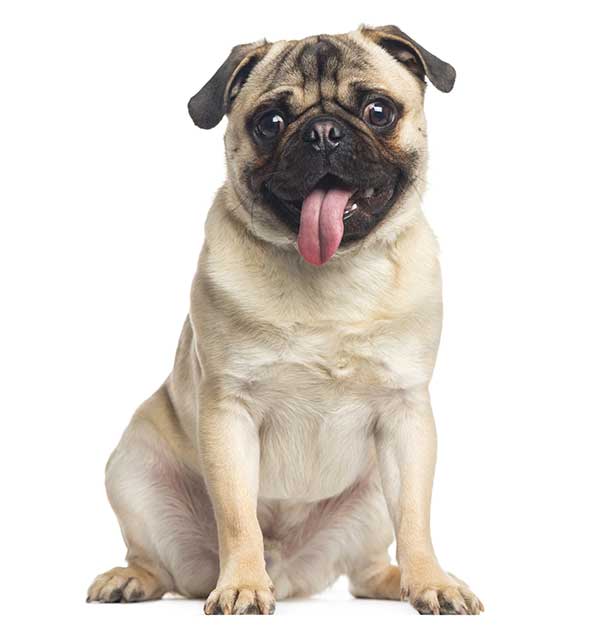 Checkout Our Favorite Dog Products
1. BEST PUPPY TOY
We Like: Snuggle Behavior Toy with Heart Beat & Heat Pack – Ideal toy for new puppies.
2. BEST DOG TRAINING PROGRAM
We Like: Doggy Dan The Online Dog Trainer – Stop any dog problem and raise the perfect puppy with The Online Dog Trainer.
3. BEST DOG PUZZLE TOY
We Like: Outward Hound Interactive Puzzle Toy – Every dog loves chasing squirrels at the park. The Outward Hound Hide-a-Squirrel Puzzle Toy gives your dog the same feeling as though he was outdoors chasing live squirrels.
4. Best Bone Broth for Dogs
We Like: (Solid Gold – Human Grade Bone Broth for Dogs) – Simmered Beef Bone Broth With Turmeric Provides A Nutrient-Dense And Flavorful Addition To Your Dog's Meal + Rich In Natural Collagen From Beef Bones.
5. Best Multivitamin for Dogs
We Like: PetHonesty 10-For-1 Multivitamin – 10 Benefits in 1 Daily Treat – These Multivitamin Snacks combine a well-rounded blend of the most essential vitamins and supplements including glucosamine, probiotics, vitamins and omegas, for dogs' overall daily health.
RECEIVE UPDATES ON DOG TRAINING, BREEDS, AND HEALTH + ALSO GET A FREE COPY OF OUR EBOOK 100 DOG TRAINING TIPS....