Most dog owners keep wondering "Can dogs eat mango?"
Well, the simple answer is yes, dogs can eat mango. Your canine friend can eat a number of different fruits and mango is one of them.
The mango is a delicious tropical fruit that both humans and dogs enjoy.
Mangoes taste heavenly and they are also very nutritious. Who would say no to a mango treat right from the fridge on a hot summer day?
Nutritionists recommend that mangoes should form part of our diet and some of us do follow that religiously. What about your furry friend though? Can dogs have mango as well? Is it safe to eat?
Well, read on to find out!
Are mangoes safe for your dog to eat?
Yes, your dog can eat mangoes. However, you need to make sure that you only feed him the yellow, fleshy part.
Kindly do not allow your canine friend to eat the mango seed. The ultimate reason for this is because of your dog's digestive system.
Your little pooch can't digest mango seeds hence it can be very dangerous for them to swallow. Furthermore, the mango seed contains cyanide which is very poisonous and toxic to dogs.
Just to keep your dog safe, make sure you do not expose the mangoes at a place where your dog can easily come and pick one. Keep them out of reach and let your dog have some only when you prepare the snack for them.
Can dogs eat mango skin?
As I have already mentioned, dogs generally have a sensitive digestive system. Mango skin can be quite difficult for your dog to digest.
So just like the mango seed, your dog should not be allowed to eat any of the mango peelings. The reason is that mango leaves and skin are likely to cause gastrointestinal blockages. This is very dangerous for your dog.
What should you do in case your dog swallows the hard mango seed?
The one thing that you should not do when your dog swallows the mango seed is panic.
Please try not to panic so that you focus on helping your canine friend.
If the mango seed is stuck in your dog's throat or digestive tract, they are likely to start coughing and gulping for air. Your dog may also refuse to eat or even take any fluids. This will alert you that the mango seed is likely stuck in his esophagus or intestines.
In such a case, you need to have your vet on speed dial. Your vet is a professional and is better placed to advice you on what to do or better still he is well equipped to safely remove the seed from your dog's intestines, stomach or esophagus.
The other risks that come with your dog eating or chewing the mango seeds, leaves or skin is that they may cause your dog to have tooth damage. The mango seed in particular has a very hard outer cover.
As a responsible pet owner, you should not feed your dog any mango leaves.
Mango leaves may have profound benefits for humans but they add no nutritional value to your dog's diet.
You have definitely come across some articles that recommend mango leaves because of their benefits to human beings. However, when it comes to dogs, it is a whole different story. Mango leaves have nothing of value to add to your dog's diet.
Last update on 2023-06-08 / Affiliate links / Images from Amazon Product Advertising API
Can dogs eat dried mango?
Honestly speaking, dried mangoes are a no-go zone for your dog. They have a very sensitive digestive system and therefore may experience difficulties in digesting the dried mangoes.
The slices in dried mangoes are quite tough and hard for your dog to chew. This may end up causing your dog to choke and you don't want such kind of unnecessary trouble.
How much mangoes can your dog eat?
Having confirmed that dogs can eat this delicious tropical fruit, the next equation to solve would probably be how much fruit can your dog eat?
You can feed your dog small slices of mango daily. However, you need to be wary of the quantity of mangoes you feed your furry friend.
Avoid giving your canine friend too many mangoes because it may lead to diarrhea or even cause a terrible stomach upset for him.
👉 There are some canines that are just born allergic to mangoes. It is for this reason that it is recommended for you to start off by feeding your dog tiny amounts of mango slices so that you see how they react before you can add them some more.
This is actually true considering the fact that it is not very so often that dogs eat mangoes.
As a pet owner, you must be aware that if your pet is new to a certain food, you need to slowly introduce her to it, more like weaning period in babies. There is a lot of uncertainty with how their digestive system will adopt to the new food.
Therefore, start and proceed with moderation. If you realize that your dog is not allergic to mangoes then you are good to go. You can feed them some slices of mango every now and then as a treat.
Sale
WOPET Automatic Pet Feeder Food Dispenser for Cats and Dogs–Features:…
FEED YOUR PET WHILE YOU'RE AWAY – Schedule up to 4 automated feedings per day using the built-in programmable timer.Program each meal time with a…
CONTROL PORTION SIZE OF EACH FEEDING – Dispense anywhere from 2 teaspoons to 4.5 cups dry food per feeding to sustain any size animal.You can program…
RECORD A CUSTOM MESSAGE FOR YOUR PET – Keep your pet excited about meal times! Press and hold the mic button for three seconds to begin recording a…
Last update on 2023-06-07 / Affiliate links / Images from Amazon Product Advertising API
What are the benefits of mangoes to your dog?
You should give your dog some good mango treats because this fruit has a number of profound benefits which include:
Mangoes are a rich source of vitamin A, potassium, vitamin B6, Vitamin C and E. These vitamins all have a role to play in your dog's body.
Vitamin A improves your dog's eyesight and Vitamin B6 lowers the risk of your dog suffering from common ailments like hip dysplasia.
Mangoes are also a great source of pectin, flavonoids like beta-carotene and alpha-carotene in dogs. They are also very rich in carotene and quercetin which are powerful antioxidants when it comes to fighting cancer.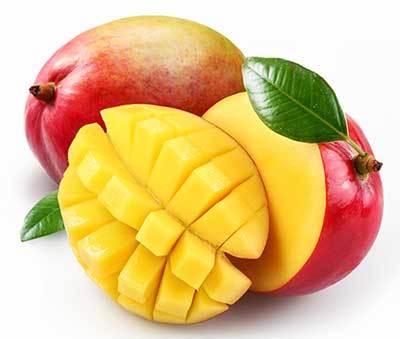 This tropical fruit is a good source of fiber as it helps your dog to have a smooth digestion process. It softens their stool and makes easy when your dog is having some constipation issues.
Mangoes are also known to lower cholesterol levels and help to boost the immunity system of your dog.
It is a good source of energy and because it is a healthy natural treat, you can give it to your dog to help him get his energy levels up in no time.
If your dog is diabetic, mangoes can help him stabilize his insulin levels. Talk to your vet before giving your canine friend some mangoes if he is diabetic.
How can your dog eat mangoes?
Let me assume that you do not grow your own mangoes and you are getting them from the grocery store. Either way, the first thing that you ought to do before giving your furry friend his mango treat is to wash the fruit thoroughly with clean water.
It is very possible that the mango fruit you are buying from the grocery store may have some chemicals and pesticides sprayed on them to preserve them by the farmers.
It is therefore strongly advised that if you are getting any mangoes from the store and not growing them yourself, make sure that you wash them to get rid of the chemicals which may be harmful or even toxic to your dog.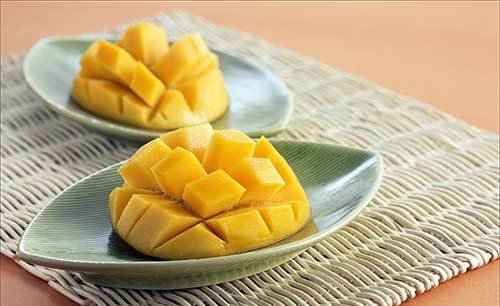 Pit and peel the mango:
After you have washed the fruit, the next step is to remove the mango pit. The ultimate reason being, it has the potential of blocking your dog's digestive system track.
It can be fatal and can even end your dog's life. The mango seed contains chemicals which as mentioned earlier can be hazardous to your dog.
Besides removing the mango pit, you need to remove the mango peel before giving the fruit to your dog.
Just like the mango seed, the mango skin and even the leaves are very hard for your dog to digest. It can easily cause gastrointestinal issues and blockages.
Healthy 12 in One by Ready Pet Go! | Glucosamine for Dogs | Multivitamin…
A Healthy Dog is a Happy Dog: Ready Pet Go! Multivitamin Chews are delicious chewables with essential vitamins, minerals, and nutrients that your…
All-in-One Nutrition for Dogs: Formulated with Glucosamine for dogs, these natural dog treats come in delicious Chicken, Cheese & Bacon flavors. Keep…
Promoting healthy heart, kidney, and bladder: Our dog multivitamin with extensively researched CoQ10, Folic Acid and B-Complex helps protect dogs…
Last update on 2023-05-28 / Affiliate links / Images from Amazon Product Advertising API
Can dogs eat mango ice-cream?
This is a question that most dog owners have no answer to. Is it okay to give some mango ice-cream to your dog?
The answer is not a simple yes or no in this case. However, just like humans, most dogs can't handle much lactose which is present in dairy products.
It is not a very good idea to give your dog too much sugar. This is because, dogs are likely to suffer from obesity if not fed the right foods.
According to study, most dogs in America are obese, actually up to 35% of canines. This raises eyebrows on the kind of diet we put our dogs on. Mango ice-cream might not be too healthy of a treat for your dog.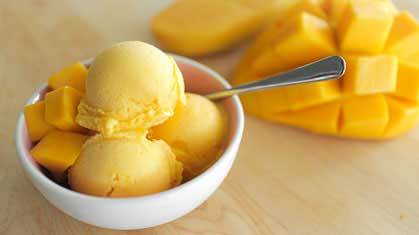 Can my dog take some fresh mango juice?
The answer is yes! You can give your furry friend a bowl of fresh mango juice if it is a treat he loves, which I bet he does.
However, when you are making the juice, make sure that it is 100% fresh mango juice with no artificial sweeteners or additives.
Natural mango juice is a healthy option to have on your dog's feeding plan. You can give it to him once in a while, it is perfectly okay.
ALSO READ: Can Dogs Eat Dragon Fruit? What You Need To Know!
Can my dog take frozen mango?
If you have an option between giving your dog some fresh or frozen mango, then it is advisable to give him fresh mango. Any organic food is always a better option than frozen food.
The reason being frozen mango may contain less vitamins and minerals as compared to what fresh mango fruit has to offer. There are also high chances of preservatives and artificial sweeteners being contained in already pre-packed mango treats for your dog.
What is the final verdict: Dog food secrets?
The final verdict is that dogs can eat mangoes. The only precondition is that you need to give your dog this healthy treat in moderation.
Further, I would strongly recommend that you try out the Dog Food Secrets book. They have unearthed some dog food secrets which these greedy multi-billion dollar companies will go to extra lengths to keep hidden from you.
The reason you should consider the Dog Food Secrets book is to help you find out how to prevent early death of your dog. This can be as a result of the contents of these commercial foods that we keep feeding our dogs. Every dog is now at risk of an early death.
According to research, the current system can cut short the life of your dog by up to 8.3 years.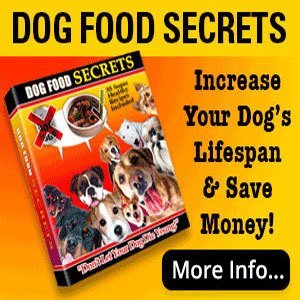 According to the customer reviews online, one customer Justin Kyle says this Dog Food Secrets book helped his own dog and he is grateful for the same. He says that even as his dog approached old age, he actually looked much younger and vibrant courtesy of the program.
Instead of walking he actively runs, instead of sleeping and drooling, his aging dog is always alert. Kyle is one of the many satisfied customers of the Dog Food Secrets book.
If you are a dog owner who loves his dog and would not want to lose your canine friend to an early death then this book is for you.
ALSO READ: Can Dogs Eat Watermelon? A Complete Guide to Watermelon For Dogs
Conclusion
In a nutshell, the kind of diet that we feed our dog will determine the overall life expectancy as well.
You can give your dog healthy mango treats in moderation. As I already mentioned, too much of this fruit is not good for your dog. This may cause stomach upsets, and even diarrhea.
Make sure to remove the mango seed and the peelings before slicing it up for your dog. Only give him the fleshy part of the mango.
The mango seed can choke your dog and even cause gastrointestinal issues. Call your vet immediately in case this happens.
Mango is a healthy fruit with plenty of health benefits for your dog so make sure that you include it in his diet.
RECEIVE UPDATES ON DOG TRAINING, BREEDS, AND HEALTH + ALSO GET A FREE COPY OF OUR EBOOK 100 DOG TRAINING TIPS....