Most dog owners struggle to find answers to this question. "Can dogs eat peanut butter?" "Is peanut butter safe for dogs?"
Well, the answer is a simple "YES!" Your dog can eat peanut butter; however, you need to be very careful when giving it to him.
Dogs can be manipulating I know. You must have probably noticed that your dog seems to be on his best behavior when you are holding a jar of peanut butter. You are not alone in this, most dogs really love this yummy treat and just can't get enough of it.
It's an undisputable fact that peanut butter has a number of health benefits, but we need to ask ourselves this question, is it really safe for dogs?
You need to understand a number of health facts before you offer your furry friend a spoon of peanut butter. In fact, there are certain facts that once you discover about peanut butter, they could help save your dog's life.
So let's dig in.
Avoid peanut butter that contains a monster called Xylitol
Xylitol plus dogs equals a toxic combination.
Xylitol poisoning has been on the rise and the way to go is to avoid dog treats and peanut butter that contains this ingredient that is toxic to dogs.
Xylitol is generally safe for us humans, and you have probably consumed it without knowing. Xylitol can be found in a number of sugarless gums, baked goods, mint gums and even some toothpaste.
According to research, Xylitol has been found to be more toxic than even chocolate when it comes to dogs.
In the recent years, there have been a lot of cases about Xylitol poisoning in dogs. Dog owners have definitely not giving their dogs sugarless gums or even toothpaste. The culprit behind it definitely has to be peanut butter!
There has been a lot of craze going around, with many dog owners trying to keep their canine friends on low sugar intake. This made a lot of peanut butter manufacturers to start using xylitol instead of sugar. This may be perfectly okay for us humans, but it is really toxic to your dog.
The good news is that you can easily avoid xylitol by checking the label of the particular peanut butter that you intend to purchase.
What are the symptoms of Xylitol poisoning?
When a dog consumes xylitol, it goes and causes a rapid discharge of insulin in his body.
This in turn causes a sudden drastic drop in blood sugar levels, a condition that is normally referred to as hypoglycemia.
This can be life-threatening if the condition is not treated as soon as possible.
You will notice that the symptoms also alleviate in a span of between 10 to 60 minutes after your dog has consumed xylitol.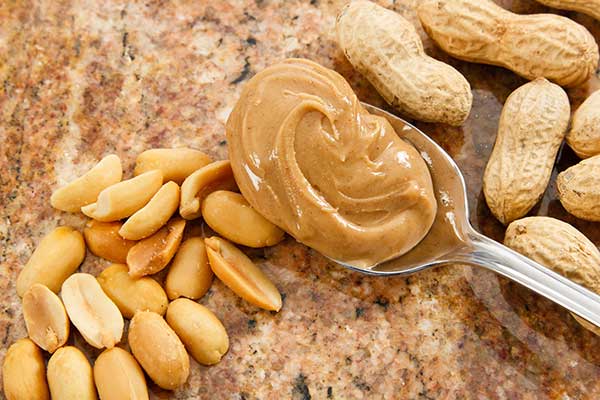 Some of the symptoms include:
Weakness at the joints.
Your dog may faint.
Staggering.
Vomiting.
Poor coordination.
Acute seizures.
The best thing that you can do for your dog if you suspect Xylitol poisoning is to take him to the veterinarian as soon as you possibly can.
Never take xylitol poisoning lightly or even assume that it will pass with time. You will be shocked that even a small amount of this ingredient can be deadly poisonous to your dog.
Sale
Old Mother Hubbard by Wellness Classic P-Nuttier Natural Dog Treats,...
LARGE CRUNCHY TREATS: These all natural large crunchy dog biscuits are made with a taste of peanut butter, apples, carrots, and molasses for a treat...
Crunchy texture helps clean teeth as your pup chews
Made in North America using only the finest globally sourced ingredients and no added artififcial preservatives
Last update on 2023-10-03 / Affiliate links / Images from Amazon Product Advertising API
What are some of the peanut butter brands that contain xylitol?
Following the recent incidents of xylitol poisoning, most peanut butter companies that had substituted sugar with xylitol have made the switch back to natural ingredients.
However, there are still some other brands that still continue to use this dangerous ingredient. Some of them include:
Krush Nutrition, Nuts 'N More, P28 Foods, Protein Plus PB.
Always remember to check the label of your peanut butter before you make your purchase.
Unfortunately, there are companies that change ingredients all the time. You may find that there are peanut butter brands that were safe a year ago but are no longer so.
Kindly make sure that you check your ingredients just to make sure that xylitol is not among them.
Other foods and snacks that may contain xylitol include:
Sugar free gum like Orbit, Mentos and others.
Lozenges for the throat and hard candies.
Breath strips.
Many chewable vitamins.
Toothpaste and mouthwash.
Certain yogurts and protein bars.
Always keep in mind that some of these products do contain traces of xylitol that can be harmful to your dog's health.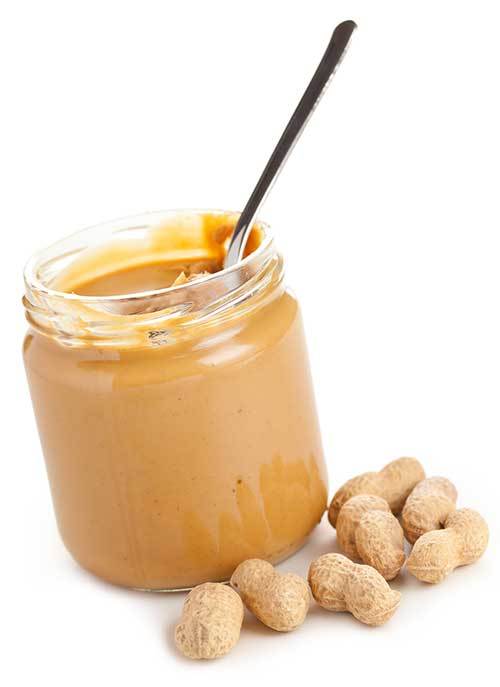 Other dangers of peanut butter: Is peanut butter OK for dogs?
Your peanut butter may not contain xylitol, that is really good, but are there other additional dangers that you ought to be aware of?
The answer is yes! Here are some of the additional dangers of peanut butter.
1. Excess sugar
Always remember that no xylitol equals more sugar. Most peanut butter companies load their products with white sugar which can equally be harmful to your dog.
White sugar is the culprit behind yeast infections, bacteria, parasites and even cancer in extreme cases. All these illnesses feed on white sugar. The more your dog is exposed to excess sugar, the higher the risk of developing some of these ailments.
Remember that excess sugar consumption is also the leading cause of conditions like diabetes, food allergies and premature aging.
The most unfortunate bit is that most peanut butter brands that do not contain xylitol do contain lots of white sugar.
NUTRO Crunchy Dog Treats with Real Peanut Butter, 16 oz. Bag
High Quality Ingredients: High-quality protein is the foundation of each NUTRO Crunchy Dog Treat, and they're made with real, recognizable...
Low-Calorie Treats: Each NUTRO Crunchy Treat is only 5 calories per treat so that you can treat often without worry
For Treating and Training: NUTRO Crunchy Treats are a great way to train your dog, reward good behavior, or treat in a moment of bonding
Last update on 2023-10-03 / Affiliate links / Images from Amazon Product Advertising API
2. Presence of Aflatoxins
Peanut butter contains aflatoxins which are naturally occurring mycotoxins which are usually produced by fungus called Aspergillus.
The most unfortunate bit is that mycotoxins are also known to be carcinogenic.
According to studies, mycotoxins have been shown to be toxic to the liver. This exposes your dog to liver cancer by ingesting aflatoxins contained in peanut butter.
3. Allergies
Dogs just like people can also be allergic to peanut butter. Even though peanut butter allergies are less common than in human beings, they still do exist and this is something that most pet owners need to be aware of.
The most probable symptoms of an allergic reaction in your dog include:
Itching.
Skin irritations.
Chronic ear infection.
Sudden weight loss.
Diarrhea.
Vomiting.
Thinning coat.
4. Excess Fats
As peanut butter is produced, manufactures need to make sure that the same has a longer shelf-life.
This is the reason why the process often results in high amounts of trans-fatty acids being loaded in the peanut butter. This can be really toxic to your dog so you need to be careful on the amount of peanut butter that you let your dog ingest on a daily basis.
5. Excess Calories
It comes as no surprise that peanut butter is not considered as a low-calorie food.
This essentially means that if your canine friend has weight issues, then I would advise you to steer clear of this yummy treat.
Avoid peanut butter if your dog is overweight lest you risk him becoming obese.
Healthy Facts about Peanut Butter
There are two sides to every coin. Peanut butter also has profound health benefits to your dog.
It would therefore be quite unfair to enlighten you on the negative impacts of peanut butter on your dog and fail to tell you some of the health facts about this yummy treat.
When you give it to your dog in moderation, peanut butter can be a healthy treat.
1. It is a great source of protein
Generally, peanut butter has long been known to be an incredible source of protein.
Protein is an important part of your dog's diet and it has a number of important roles it plays in his body. It helps to build and repair muscles and tissues.
Furthermore, your dog needs protein together with carbohydrates to have a stable supply of energy and a great immunity support system. Without enough protein, your dog's body will not be able to function normally.
 

View this post on Instagram

 
2. Presence of healthy fats
Not all fat that is contained in peanut butter is unhealthy fat. Peanut butter can also be a great source of healthy fats that are necessary to help maintain your dog in the best possible state of health.
This helps to reduce the risk of your dog dealing with unhealthy immunity systems and even chronic illnesses like diabetes.
Other issues like skin irritations, dry and flaky coats can be as a result of absence of healthy facts in your furry friend's diet. Peanut butter can therefore be a solution to this problem.
You only need to be cautious because yes too much of something can be poisonous as the saying goes. Too much of these fats even though they are classified as healthy fats, can still be the cause of the additional weigh in your dog.
This can easily lead to obesity if you are not careful. I would recommend that you consult your veterinarian for advice on what amount of peanut butter you can give your little pooch.
3. Great source of vitamins and niacin
Peanut butter also contains vitamin B and E with substantial amounts of niacin.
Niacin is important for both humans and dogs alike. It can be found in most foods yet there are many dogs that lack this important vitamin. Peanut butter helps supply your dog with this important vitamin while adding taste to his meals.
 

View this post on Instagram

 
Which is the best peanut butter?
When you are looking to purchase peanut butter, make sure to go for the one that has no xylitol in it. Make sure that you check all the ingredients listed and confirm the same.
It is advisable that you should be able to recognize all the ingredients listed on the product.
Unsalted peanut butter:
Sodium chloride can be a big issue to dogs. When you are shopping for peanut butter, I would advise that you look for one that is unsalted.
There are some brands that contain a really high amount of salt, which might be quite unhealthy for your dog to consume.
Go for all natural and organic peanut butter:
I will always recommend that you go for all natural and organic products.
The reason being, if the product is not natural, then there is a very high probability that the ingredients have been grown using herbicides and pesticides.
The last thing you want is to treat your puppy when such things cause allergic reactions in his body.
Bark Bistro Company, Superberry Snoot, 100% Natural Dog Peanut Butter,...
✔️ PAWSOME NATURAL PEANUT BUTTER 4 DOGS - SUPERBERRY SNOOT -peanuts, strawberries, blackberries, blueberries, honey. No hydrogenated oil, palm...
✔️DOG TREAT that they love licking from a spoon or right out the jar. You can add on top of sliced bananas or apples.
✔️ TREAT YOUR DOG by making BUDDY BUDDER baked dog treats and/or use to make frozen treats with a silicone mold.
Last update on 2023-10-03 / Affiliate links / Images from Amazon Product Advertising API
Homemade Peanut Butter:
Surprised? Yes! You can opt to make your own homemade peanut butter.
Many dog owners prefer to do this because only then you can be sure of all the ingredients that have gone down in the making of the product.
This could be a great idea because after all it doesn't contain any white sugar or xylitol that can potentially harm your dog.
Best Peanut Butter Dog Treats
1. Smartbones Peanut Butter
Smart bones peanut butter is a great snack that your dog will obviously enjoy.
Loaded with healthy crude fat, protein, fiber and essential vitamins, it is a healthy option for your furry friend.
You need not worry because this peanut butter treat has no xylitol and white sugars that can be health hazards to your dog.
They are really tasty rawhide-free dog chews that have been made using real peanut butter. However you need to make sure that you give your dog this treat with moderation. Too much of it may cause diarrhea which is the last thing you want.
2. Milk-Bone Peanut Butter Dog Treat
Milk-Bone Peanut Butter Dog Treat is one of those yummy treats that will always have your dog's tail wagging in delight.
Available in different peanut butter flavors like peanut butter and bacon, peanut butter and honey and plain peanut butter. It has an awesome crunchy texture that helps to clean your dog's teeth and gives him a fresh, clean breath.
This is a very healthy snack as it also comes fortified with 12 vitamins and minerals essential for your dog's growth.
The fat content is low in this yummy peanut butter dog treat hence you need not worry about your dog putting on extra weight.
They are a great treat to use in rewarding your dog during obedience training sessions.
Milk-Bone Peanut Butter Flavor Dog Treats, Small Biscuits, 7 Pounds
Contains (1) 7 pound box of naturally and artificially flavored dog biscuits in 3 flavors: Peanut Butter, Peanut Butter & Bacon, and Peanut Butter &...
Wholesome and tasty dog treats produced in Buffalo, New York, USA — now with even MORE peanut butter flavor compared to the Milk-Bone Peanut Butter...
Crunchy texture helps freshen breath and reduce tartar build-up, perfect for sloppy doggie kisses
Last update on 2023-10-03 / Affiliate links / Images from Amazon Product Advertising API
3. Three Dog Bakery Beg-Als Baked Dog Treat
What I absolutely love about this yummy dog treat from Three Dog Bakery is the pure dog ingredients that are used in making them. This creates the natural aromas and different flavors that your dog will fall in love with.
Three Dog Bakery is known for its mission to create yummy, wholesome and natural dog treats for your dog. You will never be disappointed when you purchase this yummy peanut butter dog treat for your furry friend.
Three Dog Bakery Beg-Als Baked Dog Treat are very nutritious and also contain antioxidants that are important to your dog's health.
Available in round shapes hand-made by qualified chefs, these treats contain no artificial flavors or ingredients. They are crunchy and have no preservatives.
Last update on 2023-10-03 / Affiliate links / Images from Amazon Product Advertising API
4. Bil-Jac Gooberlicious Dog Treats- Peanut Butter Flavor
Bil-Jac Gooberlicious Treats are simply delicious and yummy treats made with actual peanut butter.
They are soft, moist and simply irresistible. They are made with chicken liver, chicken and natural peanut butter flavor. These are perfect to use as a training reward treat.
Bil-Jack Gooberlicious Dog Treats-Peanut Butter flavor come in a resealable pouch hence can be kept fresh for a long time even after you first open it.
I can guarantee you that based on the satisfactory customer reviews online, your dog will absolutely love this yummy peanut butter treat.
Bil-Jac Gooberlicious Soft Treats for Dogs - Puppy Training Treat Rewards,...
MADE WITH REAL CHICKEN: Bil-Jac dog treats are made with real chicken liver as the 1st ingredient. Resealable double zipper pouch ensures the chicken...
PUPPY TRAINING TREATS: Use these small dog training treats as rewards while training or as snacks to show love and affection.
NO FILLERS: Gooberlicious small dog snacks contain no fillers, soy or added rendered fat to offer a healthy, limited ingredient soft reward treat that...
Last update on 2023-10-03 / Affiliate links / Images from Amazon Product Advertising API
5. Pet Qwerks Flavorit Peanut Butter Flavor
Do you have an aggressive chewer who just loves a peanut butter treat? Then this is just the treat for him.
Pet Qwerks Flavorit Peanut Butter Flavour Infused Nylon Backbone is an amazing treat that is a chewable treat for your dog.
It is made with tiny treat cells that can easily be filled with peanut butter or even cream and cheese. It all depends on what your dog prefers.
The tiny flavor cells are made to spread just enough peanut butter because well, it is also true that too much of something is not good hence moderation is key.
It helps to massage your dog's gums and also helps to remove plaque on his teeth.
If your dog is quite a chewer, it helps to satisfy your dog's urge to chew while entertaining him with a healthy peanut butter treat. You need to get your dog this treat as it helps to keep at bay any destructive behavior that your dog might engage into when bored.
So go ahead and give your four-legged friend a treat of his life!
Sale
Pet Qwerks Flavorit BarkBone - Fillable Dog Bone for Moderate Chewers -...
BarkBone Nylon Flavorit Dog Bones are designed with a classic bone shape of durable nylon and patented flavor cells to allow fillable treat spreads to...
Delicious allergen-free peanut butter flavor infused to the core of every bone, releasing long lasting flavor & scent as your dog chews.
Made with premium artisan nylon, these dog bones work best for determined & aggressive chewers. Pet Qwerk BarkBone chewing style varies by material,...
Last update on 2023-10-03 / Affiliate links / Images from Amazon Product Advertising API
6. Pampered Pets Organic Peanut Butter Treats
Pampered Pets Organic Peanut Butter Treats are great, yummy snacks for your dog that are just perfect for training.
They are made with organic oatmeal, peanut butter and flax seeds that are healthy and nutritious for your dog.
They have no artificial flavors or additives, no preservatives or added salt hence the perfect treat for your furry friend.
The base ingredient used in making this is oatmeal. This makes the treat easier to digest than other treats made using corn and wheat.
This peanut butter treat can easily break apart and it really doesn't matter the breed or size of your dog. It is suitable for all breeds, age and sizes.
Pampered Pets Organic Peanut Butter Treats are an amazing way to reward your dog during training and you can also sprinkle some on top of his food just to entice him to eat his meal. Trust me, it works!
Pampered Pets USA Organic Peanut Butter Honey Dog Treats, 4 lbs - Made in...
USDA CERTIFIED ORGANIC: Made with organic oatmeal, peanut butter and flaxseeds. Our base ingredient is oatmeal, making these treats easier to digest...
HEALTHY, TASTY & NATURAL: Our homestyle, soft, oven-baked dog treats are made in the USA using the same natural, healthy and wholesome ingredients you...
PERFECT TRAINING TREAT: Treats easily break apart, so they can be enjoyed by dogs of all breeds, ages and sizes. Try sprinkling them over your dog's...
Last update on 2023-10-03 / Affiliate links / Images from Amazon Product Advertising API
7. KONG-Snacks-All Natural Dog Treats
KONG peanut butter treats are available in this delicious flavor that is highly nutritious and thus a wholesome treat for your dog.
All the ingredients are all natural and doesn't contain any soy or corn. The flavor is one that your dog can't resist. It is also made available in different sizes hence suitable for any kind of dog breed and size.
It is very ideal for rewarding your canine friend during your obedience training sessions. Always bear in mind that positive reinforcement is always the best when it comes to dog training.
Just like little kids, dogs also love to be pampered, praised and applauded for all the things that they do right.
Kong snack with a peanut butter treat is all you need to make your dog's training sessions and extended play a small piece of heaven for him.
KONG - Snacks - All Natural Dog Treats Classic Rubber Toys - Peanut Butter...
Delicious Flavors: Irresistible and delicious dog treat biscuits to engage and delight your dog. Available in a range of flavors and sizes
Stuff Your KONG Toys: Great for stuffing into treat dispensing dog toys like KONG Classic and other KONG rubber toys to extend play
All Natural: KONG uses high quality, all-natural ingredients. This treat does not contain wheat, corn or soy
Last update on 2023-10-03 / Affiliate links / Images from Amazon Product Advertising API
8. Nylabone Dura Chew Barbell Peanut Butter Flavor
Nylabone Dura Chew Barbell, Peanut Butter Flavor is an amazing yummy treat for your dog that will rock your dog's world.
We all know that dogs naturally love to chew, therefore this treat makes it easier for your dog to chew boredom away.
The beauty about Nylabone Dura Chew Barbell Peanut Butter Flavor is that there are many different sizes, flavors and textures.
Dogs just like humans also have their own tastes and preferences of certain things. All you need is to find out what works for your dog, what they really love and stick to that. It also offers practical dental care solutions for your dog.
As he goes about chewing the delicious dental chew treat, it helps remove any plaque in between his teeth. If you need a great way to reduce dog anxiety, boredom or even get rid of your dog's destructive behavior, then this treat is for your dog.
So go ahead and get your dog a Nylabone, you will thank me later!
Sale
Nylabone Barbell Power Chew Durable Dog Toy Medium up to 35 lbs.
MADE OF DURABLE NYLON - Long lasting dog chew toy challenges even the most aggressive chewers and discourages destructive chewing
PROMOTES DOG DENTAL HEALTH - Ridges and nubs help prevent plaque and tartar buildup as dogs chew
MADE IN THE USA - Dog chew toy is proudly made in the United States
Last update on 2023-10-03 / Affiliate links / Images from Amazon Product Advertising API
Conclusion
In a nutshell, we have seen that peanut butter is totally okay for dogs to eat if in fact it does not contain Xylitol and other artificial flavors and additives.
However, just like any other dog treat, you need to give it in moderation. It should not serve as a meal replacement.
You can use it to reward your dog here and there or even during dog training however do not let your dog skip meals. This is a precaution you need to take especially if your dog suffers from those health conditions like obesity, diabetes or food allergies.
If you can make homemade peanut butter, it's better for you because at least you can be sure of all ingredients you used.