Can German Shepherds Swim?
Yes, German Shepherds can swim. However, unlike many other dog breeds, swimming does not come naturally for a German Shepherd. Instead, the dog needs to be subjected to proper training for him to emerge as an adept swimmer.
This means that a German Shepherd swimming ability depends on how rigorous and vigorous the trainings are.
But even though the dog is not a natural swimmer, the saving grace is that are renowned for their athletic ability and ease of training.
They easily obey commands and have a memory sharp enough not to easily forget the swimming skills imparted on them.
Of course, these skills need to be imparted when the dogs are still young as then, they are far easier to train than adult dogs.
This post shall delve deeper into the swimming ability of a German Shepherd and how you can effectively assist the dog in honing his swimming abilities.
Where Did German Shepherds Come From?
The German Shepherd, as the name suggests, traces its roots way back to Germany in 1899 where they were originally used for herding sheep. That is how the name shepherd was arrived at. The dog breed is classified as between medium and big in terms of size.
German Shepherds go with various names depending on where they are bred. Officially, the breed is known as the German-Shepherd Dog, or GSD.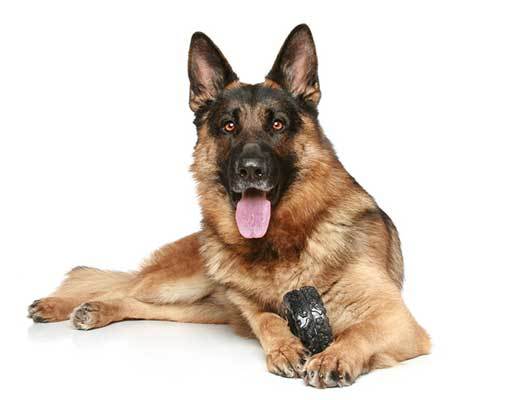 In Britain, the dog was also known as Alsatian from the period post the First World-War, up until the late 70's when the name Alsatian was dropped and German Shepherd picked up again.
German Shepherds are closely related to the wolf in appearance. In fact, it is easier to confuse the two animals, especially in regions where wolves are not very common.
In terms of color, German Shepherds are either red/black or tan/black. However, you are also likely to find German Shepherds of rarer color shades such as pure-black, liver, pure-white, blue, silver, panda and sable.
The height of male German Shepherds is somewhere between 24 and 26 inches at the withers, while that of females is between 22 and 24 inches.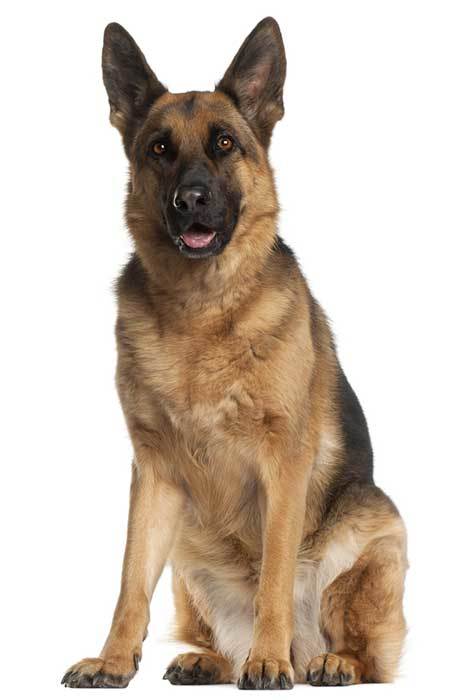 You will also notice their elongated body and tail, with a bushy tail that stretches up to their hock. Their heads are dome-shaped with long square-cut muzzles.
They have a black nose, medium-sized brown eyes and like most other members of the canine family, their jaws are very strong.
When a German Shepherd is immobile, their relatively large ears stand erect, are parallel to one another and normally open near the front. However, they open pull back their ears when in motion.
Though German Shepherds have gone significant changes as a result of uncontrolled breeding, the dog has kept much of his prominent features.
For instance, the dog has never lost its remarkable ability to effectively herd sheep and other cattle. And as we had already mentioned, these dogs are also very intelligence dogs.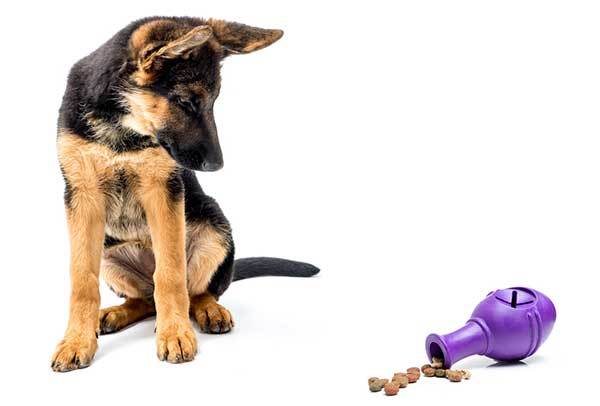 Their intelligence, plus their athletic abilities, ease of training, loyalty and obedience has made them very popular in various other domains.
They are now used by the police and the military, in search and rescue missions as well as for disability assistance. In fact, their high intelligence has seen them appear in quite a few movies and films.
Now, away with the general overview of this iconic dog breed, do German Shepherds like to swim? The following sections shall expound further on that.
Can German Shepherds Swim Naturally?
As mentioned previously, swimming is not a German's Shepherds inherent ability.
However, these dogs are known to be very playful, athletic and full of energy. If you have a swimming pool in your home, you may have noticed that your German Shepherds appears to be so taken by it.
He might often jump in the shallows and splash for a few minutes before rushing out. That is a perfect sign that even though your dog is not naturally given to swimming, he has a strong desire to learn. You can capitalize on that and easily train your German Shepherd to swim.
Training a German Shepherd to swim may not be very difficult compared to training other dogs. This is because the shepherd is highly obedient and has a very sharp intelligence.
He will rarely forget the tricks he learns during his routine swimming classes. Even better, his athletic ability and agility will easily kick in, adding to the dog's endurance and tenacity while in water.
When he turns professional, your German Shepherd will be able to stay afloat remarkably longer than most dog breeds of the same size can.
He will also be able to easily swim to safety even during catastrophic flooding situations. Another thing to remember is that German Shepherds swim with all their four limbs, not just the fore or the hind limbs.
Therefore, before enrolling your dog for any swimming lessons, ensure he is of perfect health and that there are no sore limbs. That will easily help prevent situations like drowning.
How to Train Your German Shepherd To Swim?
If you would like to know how long can a German Shepherd swim?, or how fast can a German Shepherd swim?, the answer lies in how effectively you train your dog to swim.
First and foremost, you are going to need some special training gear even before you commence with the training.
The following are some of the things you might need;
1. Dog Swimming Collar
This specialized swimming gear serves two purposes. It helps you spot your dog when he is in water, especially in large pools where he may have wandered too far from your sight.
A dog collar also offers makes it easier to grab your German Shepherd especially when he is drowning.
BENCMATE Protective Inflatable Collar for Dogs and Cats – Soft Pet Recovery…
✅ 【COMFORTABLE FOR YOUR PET】 – While wearing the BENCMATE Collar, the inflatable function and the soft outside material will let your dog wear…
✅ 【DESIGNED TO LAST】 – The protective collar is not just soft and washable but also featured scratch and bite resistance. It will not mark,…
✅ 【PROTECTIVE AND GENTLE CARING】 – The dog cone alternative after surgery is designed to protect your pets from injuries, rashes, and…
Last update on 2023-09-22 / Affiliate links / Images from Amazon Product Advertising API
2. Life Jackets
The life jacket you get for your shepherd serves the same purpose as life jackets for humans – it keeps your dog afloat and prevent him from sinking and drowning.
ASENKU Dog Life Jacket Pet Life Safety Vest for Swimming Boating, Dog Shark…
HIGH GRADE FABRIC – Fabric of the dog life jacket consist of high grade polyester oxford nylon outer and foam inner. Accordingly, the dog life vest…
WATER SAFETY – With the dog water life jacket you needn't worry about your dog will be in danger while swimming because the under-chin front float can…
BETTER FIT – ASENKU provides 6 sizes for you to choose (from XS to 2XL). Sizing guidelines may differ dog to dog, so please choose the most suitable…
Last update on 2023-09-22 / Affiliate links / Images from Amazon Product Advertising API
3. Dog Goggles
They are meant to shield your dog's eyes from coming into contact with water. Remember, his eyes are highly sensitive to water.
PETLESO Large Dog Goggles Eye Protection Pet Goggles Sunglasses for Medium…
Dog Goggles : Protect your pet's eyes from UV rays, dust and debris, this doggles can do the job and be a good partner when walking, cycling or car…
Comfortable to wear: No pressure to dog nose and eyes, specially-made lens shape to fit and make dog comfortable wearing feeling.
Cool style: Fashion pet goggles would be perfect to dress up your pets in an attractive look.
Last update on 2023-09-22 / Affiliate links / Images from Amazon Product Advertising API
4. Swimming Leash
You might consider going for a swimming leash if you do not wish to get wet. These leashes are more ideal in small pools where you easily use them to monitor your dog.
When tying a swimming leash, ensure you tie it tight enough to prevent the leash from coming off the dog's neck, and loose enough to prevent your dog from suffocating.
Generally, it is important to get your German Shepherd swimming gear that perfectly fits him. Very close-fitting gear may feel uncomfortable while loose-fitting gear could come off and compromise the safety of your dog while in the pool.
Last update on 2023-09-21 / Affiliate links / Images from Amazon Product Advertising API
Once you have the requisite gear, it is time to hit the pool. When you are only starting, the dog may be a bit nervous so it is important to take baby steps.
Start off with shallow water where the dog does not need to begin paddling immediately. You may also consider still water. Water with heavy currents and waves might scare away your shepherd and cause him to bolt out of the training.
Also, when entering the pool, make sure the toes of your German Shepherd touch the water and observe how he reacts before proceeding to submerge the rest of his body.
If he shows some nervousness, pat and brush him gently to alleviate his fears. And when you are starting off, you will also need to be in water. Avoid leash-training when your dog is still a rookie swimmer.
The reassurance he gets when you are close by will make him more interested to learn. You might also want to check his limbs and ensure they are not only kicking but also covering ground.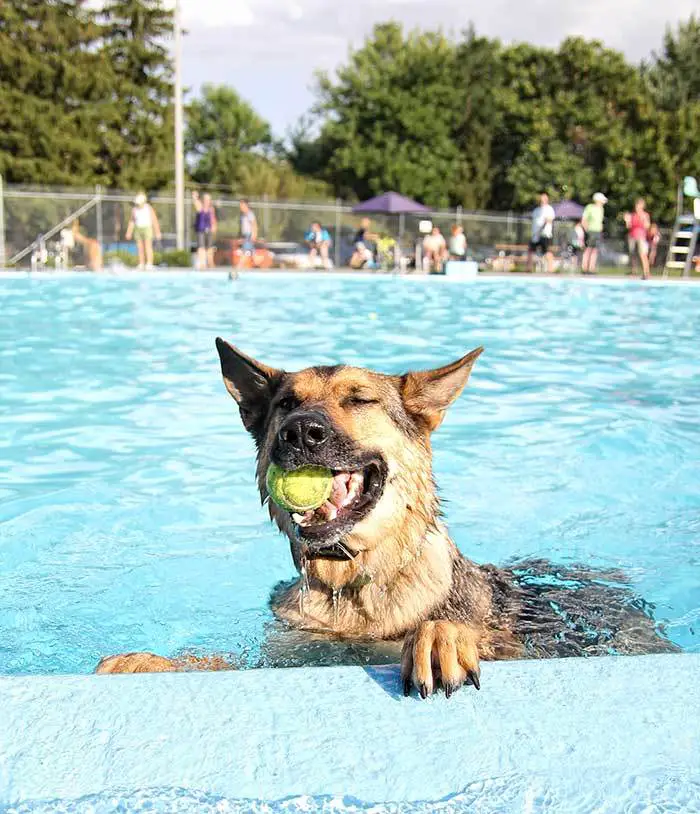 For every successful training class, crown it by offering your GSD a nice treat. You will be surprised at how much he will increasingly become interested in swimming.
As time goes by, you might consider making the swimming lessons more fun-filled. Since your German Shepherd probably already loves to play fetch, why not get him some doggy toys and relish the fun as you teach him to swim?
Just be sure the toys are not heavy enough to sink to the bottom of the pool. Also, the toys should not be so small that your dog might swallow them, or too big that he may find it difficult to retrieve them.
But even after taking all these precautionary measures and diligently training your dog to swim, you may be still wondering, do German Shepherds like swimming?
And the answer is yes, they will develop a very strong liking for water and will surely love to swim. They will enjoy it a lot better if the both of you go for swimming.
What Features Make It Easy For A German Shepherd To Learn Swimming?
1. Mental and Psychological Characteristics
German Shepherds are loyal, obedient, intelligent and have a sharp memory. But how do these mental traits help with swimming?
Well, first, swimming lessons are characterized by lots of commands. In order for your GSD to master swimming skills, he will need to carefully listen and follow your commands. That is how loyalty and obedience come in.
Then once these commands have been learnt, they will need to be remembered at all times.
For instance, if your dog associates the word "SWIM" with paddling, then each time you shout the word, he should immediately start to paddle. And when you shout "STOP", the dog should stop swimming and wait for you to shout the next command.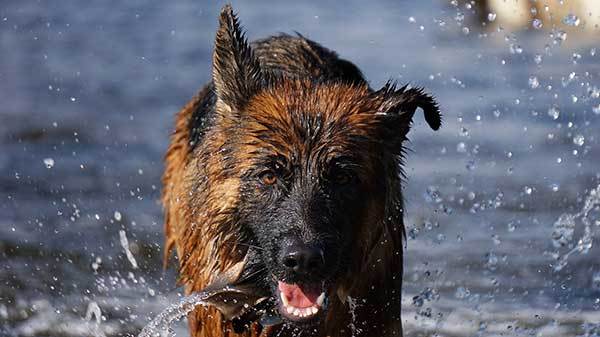 These commands need to be remembered for years to come, as you will not be going for swimming trainings every now and then. Being such an intelligent dog, your German Shepherd will remember these commands for years.
Another notable mental trait of German Shepherds that may help them learn to swim is courage and boldness.
Shepherds have been known to stand up to larger and fiercer animals such as the bear, something that speaks directly to their courage.
So while he might look a little nervous and afraid of water, the dog's boldness will quickly kick in and move him take the plunge. This is a trait that very few other dog breeds possess.
2. Physical Attributes
A dog may have the requisite mental endurance, but real swimming takes place at the physical level. Thankfully, a German Shepherd is still equal to the task. First, being such an athletic and energetic dog, the German Shepherd has the required stamina to maneuver in water.
The dogs also have fairly streamlined and well-proportioned body, along with long legs that enable them to seamlessly glide through the water. Their natural webbed feet act as flippers, giving them a larger surface area to paddle through the water.
Lastly, German Shepherds have double-layer coats for maximum protection while in water. The outer layer helps repel water, while the inner layer is more fluffy and acts as insulation.
What If Things Are Not Working?
It is not unusual to train your German Shepherd for months on end but then discover he is not learning any swimming skills. This may lead you to ask, can German Shepherd puppies swim?
Well, if he is a puppy, you should proceed with caution so he can develop keen interest in swimming. In fact, it is easier to train puppies to swim than mature shepherds but first, you will need to assist him overcome the nerves.
Dogs that have a past traumatic experience with water may not love to swim. The same goes for dogs with an injury or underlying medical condition. Swimming is such as rigorous exercise that it requires a complete health of the body.
Then there are dogs that are naturally slow learners. These are the dogs that take much longer to acclimatize to new experiences so training this kind calls for patience.
Also, if it is too cold outside, or the water contains something the dog finds repulsive, he may be unwilling to join you in the pool.
Conclusion
So, can German Shepherds swim? Yes, but most shepherds will need rigorous training. The general consensus is to start training your dog when he is still a puppy. That way, he will get good with it when he matures up.
Thankfully, you need not worry even if you get an adult German Shepherd. The dog is endowed with the right traits to make any training a breeze. From their sharp intelligence, retentive memory, boldness and even lean and streamlined body.
Just remember that like with most dog breeds, the German Shepherd is not a natural swimmer. That is why you will need to start by stirring his interest so he can learn fast.
 

 

View this post on Instagram

 
Checkout Our Favorite Dog Products
1. BEST PUPPY TOY
We Like: Snuggle Behavior Toy with Heart Beat & Heat Pack – Ideal toy for new puppies.
2. BEST DOG TRAINING PROGRAM
We Like: Doggy Dan The Online Dog Trainer – Stop any dog problem and raise the perfect puppy with The Online Dog Trainer.
3. BEST DOG PUZZLE TOY
We Like: Outward Hound Interactive Puzzle Toy – Every dog loves chasing squirrels at the park. The Outward Hound Hide-a-Squirrel Puzzle Toy gives your dog the same feeling as though he was outdoors chasing live squirrels.
4. Best Bone Broth for Dogs
We Like: (Solid Gold – Human Grade Bone Broth for Dogs) – Simmered Beef Bone Broth With Turmeric Provides A Nutrient-Dense And Flavorful Addition To Your Dog's Meal + Rich In Natural Collagen From Beef Bones.
5. Best Multivitamin for Dogs
We Like: PetHonesty 10-For-1 Multivitamin – 10 Benefits in 1 Daily Treat – These Multivitamin Snacks combine a well-rounded blend of the most essential vitamins and supplements including glucosamine, probiotics, vitamins and omegas, for dogs' overall daily health..
RECEIVE UPDATES ON DOG TRAINING, BREEDS, AND HEALTH + ALSO GET A FREE COPY OF OUR EBOOK 100 DOG TRAINING TIPS....