Has your furry friend been hanging around the couch a lot lately?
This is something that most dog owners face at some point. It all boils down to how you have trained your dog to behave.
You perhaps made your dog used to cuddling with you on the sofa so he definitely thinks it is the right thing to do.
This might turn out to be a concern especially if your dog sheds too much fur and the last thing you want is to have your furniture covered in dog hair.
Well, do not despair, here are some useful tips that will show you how to keep your dog off the couch. Read on!
1. Train your dog
You need to train your dog to stay away from the couch.
Some pet parents think that when their dog tries to get comfortable on the couch they are trying to show dominance.
Well, this might not be the truth because, the couch is definitely way comfortable and warm than the hard cold floor.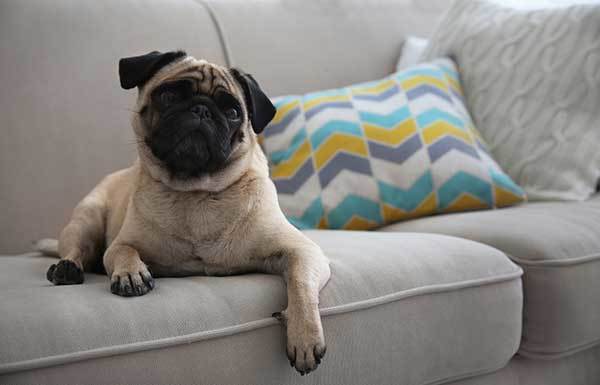 The first thing you need to do is to thoroughly train your dog to stay away from the couch. It might take time for him to learn but it is still worth a shot.
Never smack your dog for sitting on the couch or even yell at him. Always use positive reinforcement, which brings me to my next tip.
2. Give him treats
Dogs just like kids love to be pampered and given treats. Treats are an amazing motivation to your dog to always do the right thing.
According to dog experts, positive reinforcement always has a greater and long-lasting impact on dogs. In case you are wondering how to keep your dog off the couch using his favorite treat, here's how.
Simply wait for your furry friend to get on the couch then toss his favorite treat down onto the carpet or rug. He will begin to associate the treat with staying on the floor.
Make sure not to make this a habit, you can choose to applaud him with praises or a pat on the back once he gets off the couch. Your little friend will stop sitting on the couch just to please you and earn a yummy treat.
Threepaws Gourmet Vegan & Organic Dog Treats, Coconut Bacon Bones, Hickory…
INGREDIENTS: Organic coconut flour, organic garbanzo flour, organic coconut milk, organic peanut butter, organic sprouted buckwheat, organic beets,…
Our small-batch treats are handmade with love by adults with disabilities.
DID YOU KNOW? Most peanut butter used for commercial dog treats has hidden ingredients such as added salt, sugar and oil (often palm oil). Never any…
Last update on 2023-10-03 / Affiliate links / Images from Amazon Product Advertising API
3. Use Aluminium Foil
If you thought that aluminium foil is only used in the kitchen you are in for a treat.
Aluminium foil is one of the best ways you can use to keep your dog off your couch. Simply cover your couch evenly with long sheets of aluminium foil.
Let your couch remain so as you go about your normal house chores but keeping an eye on your dog.
Once your dog jumps on to the furniture and lands on the aluminium foil, it will make a crinkly noise without hurting him. This will deter your dog from ever thinking of jumping on the sofa set because of the aluminium foil.
Pet Repeller Furniture Pad Sofa & Couch Mat, SILVER, 72″
While throwing a blanket on the sofa or bed might keep it clean, it won't teach your pet to stay off like this pet repeller furniture pad can.
The creepy sound and the unfamiliar feeling beneath his paws are likely to do the trick!
Lined with a material similar to aluminum foil, a substance animals dislike for its rough feel and unpleasant sound when stepped on.
Last update on 2023-10-03 / Affiliate links / Images from Amazon Product Advertising API
4. "Poke" him using mats
Invest in a simple chair mat and use it to keep off your dog from sitting on your couch.
Buy a few of those chair mats that is used in an office on those low-pile carpets. Trim the chair mat into the size of your couch and place it up-side down so that the pointy bristles face up.
Definitely your dog will not like the idea of lying on pointy plastic bristles. Just after the first few attempts, he will leave the couch alone.
You need not to worry, the bristles will not hurt him, and they will only make his once comfortable couch very undesirable and will opt to stay on the floor or carpet.
Gorilla Grip Desk Chair Mat, No Divots, Rolling Chairs Glide Easy, Heavy…
Easiest Gliding: made in Europe and constructed from heavy duty material, this chair mat allows your chair wheels to glide seamlessly on top of its…
Slip Resistant Design: this mat is uniquely designed to stay in place on your low pile rug; featuring a studded, spiked underside, it stays securely…
Won't Bend or Crack: this European made design is incredibly durable and meant to last for years; at over 3 millimeters thick, it won't bend or…
Last update on 2023-10-03 / Affiliate links / Images from Amazon Product Advertising API
5. Don't throw away the bubble wrap
No need to pretend, we are all adults until we get hold of a bubble wrap.
There is simply no one on this planet that does not like to hear the pop sound when bursting the bubble wrap.
This bubble wrap might be annoying to your furry friend. Spread the bubble wrap on your sofa and let it be. Make sure that the bubble wrap you get is unused otherwise it will have no purpose.
When your dog gets on the couch, he will hear a series of pops that will freak him out, he might not like the pop sound as much as you do. This will deter him from getting on the couch in future.
6. Use the laundry basket
I hope this tip does not come out as selfish and mean to all you dog lovers out there.
However, you can empty your laundry baskets and use them to cover all the space on the couch so that your dog has no place to sit on.
In the long run, your dog will have no place to sit on and will eventually give up ever enjoying your comfortable couch. He will be forced to look for a new spot for his naps.
The laundry baskets should be empty, do not leave any clothes in the basket because you will only give your puppy a new chilling spot on your couch!
If you also suspect that your puppy might end up sleeping in the laundry basket, you can as well turn them upside down.
7. Crate your dog
This is one way you can effectively contain your dog. Crating your puppy will not only keep him away from getting on your couch but also from causing distraction in your home.
There are pet parents who might not agree to this but others will embrace this idea especially if you are leaving the house for a few hours.
You can invest in a pen or crate and have your dog confined to a dog-friendly space in the house.
As a way of keeping your dog occupied, you can as well give him some of his favorite toys and puzzles. This will effectively keep your dog off the couch.
Sale
MidWest Homes for Pets Newly Enhanced Single & Double Door iCrate Dog…
Newly enhanced with added security features to keep your pet safe | Slide-bolt door latches now feature patented Paw Block and locking tips to create…
iCrate double door dog crate measures 35.6L x 21.9 x 24.5 inches and is suitable for intermediate dog breeds with an adult weight of 40 to 70 pounds….
Dog crate includes a divider panel, durable & leak-proof plastic pan, protective rubber feet, carrying handle, and customer support team based in…
Last update on 2023-10-03 / Affiliate links / Images from Amazon Product Advertising API
8. Apply some Tabasco sauce
This is a method that you can use to keep your dog away from your furniture.
Tabasco sauce has a strong smell that your dog will probably not like. This will disturb him every time he wants to come near your furniture.
However, make sure not to directly apply it on your couch because it might spoil your seats. Instead, you can apply the sauce on a piece of cloth, maybe a rug you do not use and spread it on the sofa.
The strong smell will keep your furry friend away from your couch and other furniture as well.
LEARN ABOUT IT: Why Do Dogs Roll In The Grass? Is It A Cause For Concern?
9. Disarrange the cushions
If you have been looking for ways to keep your dog off the couch, turning up the cushions is one. Disarrange the cushions with the aim of making the place very uncomfortable.
Remember, one of the reasons why your dog loves to sit on your couch is because the place is soft and cozy.
When you turn up the cushions, your aim is not to make the place disorganized but to make sure it no longer is inviting to your dog.
Without the cushions, your couch will be empty and hard. This will no longer be appealing to your dog and he will stop wanting to get on the couch.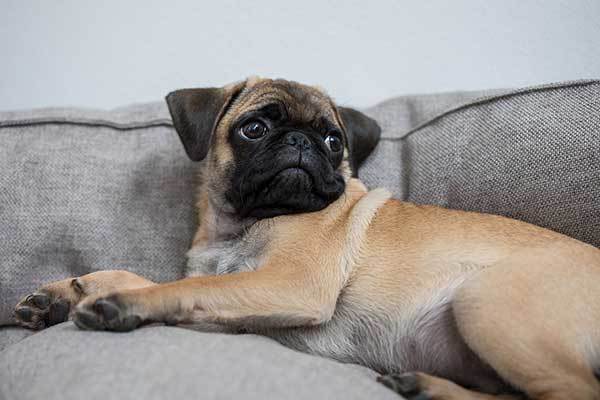 10. Use plastic bottles
This may sound a little bit awkward but if used correctly it can also be an effective method to ensure that your dog keeps off the couch.
Collect a few plastic bottles and fill them with stuff that will make noise, could be stones or pennies. Put these bottles on the couch in a manner that your little furry friend is likely to drop them when he gets on the couch.
This will startle him and freak him out to the extent of making him jump off from the couch. The plastic bottles can also be kept on laundry baskets just to make louder noise to startle your dog.
ALSO READ: 6 Tips to Stop Your Dog from Peeing in the House
11. Spray, spray spray
Spraying some essence on the couch will also help in keeping your dog off the couch. This is because that most dogs do not like these smells at all.
Being his owner, you need to be familiar with a particular smell that your little poochie hates and will do whatever it takes to stay away from.
You can also try to make your own home made sprays using oils and water. There are also non-chemical sprays at most pet stores.
Once you spray this on your furniture, your dog will stay away in order to avoid the smell. He will eventually learn how to stay away from the couch.
Sale
Bodhi Dog New Bitter 2 in 1 No Chew & Hot Spot Spray | Natural Anti-Chew…
DETER CHEWING & BITING OF SKIN IRRITATIONS: Our all-natural Bitter 2 in 1 No Chew & Hot Spot Spray is a safe and humane alternative to help train…
100% STEROID FREE AND 100% NON-TOXIC: Our all-natural safe, lemongrass scented formula is hand-crafted in small batches to ensure the highest of…
SAFE TO USE INDOORS AND OUTDOORS: Our non-staining, cruelty-free anti-chew spray is safe to use on things you want your pets to stop chewing on both…
Last update on 2023-10-03 / Affiliate links / Images from Amazon Product Advertising API
12. Apply some vinegar
Vinegar has always been a home remedy to cover some smells around the house. Your dog is probably going to dislike the smell of vinegar on your couch.
Simply soak some cotton balls in vinegar and put them on the furniture.
Be prepared because there might also be members of your family who might avoid sitting on the couch because of the strong smell of vinegar.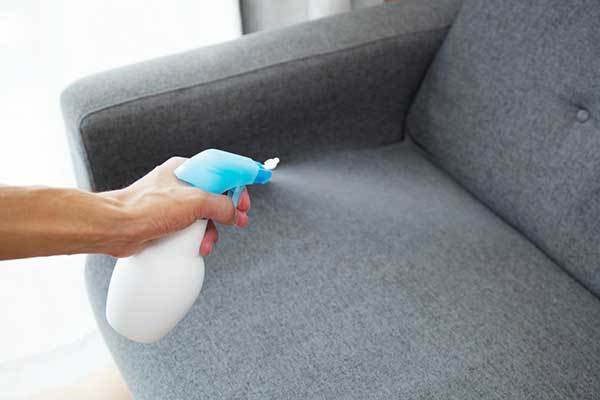 You are lucky because vinegar will also come in handy in covering up the dog smell on your furniture.
Remember, dogs have a much enhanced sense of smell compared to humans, the smell of vinegar is likely to be too much for your puppy to handle.
You can also soak some unused rugs with vinegar and spread it on the couch. Your dog will avoid your furniture and that is how to keep him off the couch.
ALSO READ: How to Train Your Dog to be Calm Around Strangers
13. Use pet repellents
You can also use pet repellents to keep your dog away from your couch. However, you need to do a thorough background check before getting some of these products.
The last thing you want is your dog to contract some skin infection or suffer from an allergic reaction after sitting on a sofa sprayed with some pet-repellents.
There are many kinds of pet repellents including mats and traps. These will produce some noise every time your puppy gets on the couch. This is meant to startle your dog so that he stays away from the couch.
The pet repellents are not going to harm your dog in any way but it is just prudent to do your own research before purchasing these things.
Last update on 2023-10-03 / Affiliate links / Images from Amazon Product Advertising API
14. Make your dog a comfortable bed
Have you tried to find out why your dog will opt to sleep on the sofa and not in his bed or crate? The reason could be his sleeping basket is not comfortable enough.
Make sure that you give your dog a comfortable place to sleep. Make it warm and cozy, easily accessible and he will enjoy sleeping in it more often than not.
You can also give him another place where he can relax and just take a nap apart from his bed just to break the monotony and to avoid him sleeping on your couch.
Best Friends by Sheri The Original Calming Donut Cat and Dog Bed in Shag…
DONUT PET BED; 36in round dog bed for pets up to 100lbs; this includes breeds such as Australian Shepherd, Siberian Husky, Border Collie, Labrador…
CALMING COMFORT DESIGN; round shape and 9in tall bolster make this the perfect bed for cuddling up and burrowing, helping to calm dog anxiety and…
LOFTY AND SUPPORTIVE; filled and finished in the USA with premium high loft and high density polyfill for long-lasting support and comfort
Last update on 2023-10-03 / Affiliate links / Images from Amazon Product Advertising API
15. Be consistent
Consistency is everything. You need to be firm and consistent in your training and everything that you are trying to teach your dog.
Make sure that everyone in your house knows the rules. It will be much easier to set the same standard other than have one person allowing him to stay on the couch and another shooing him away.
Be consistent in your training as well. Teach him some of the basic commands, of importance in this case is how to "Get off!".
A few minutes every day over the next few weeks is enough to effectively train your dog to get off the couch.
Conclusion
In a nutshell, training your dog to stay off your furniture should not be a difficult task.
Always try to discover the reason why your dog prefers sleeping on the couch and not his bed or basket. Make sure that his space is comfortable and warm.
Use positive reinforcement when training your dog to stay away from your couch.
Practice patience and do not smack or shove him off the couch, instead use his favorite treats to lure him away from your furniture.
Aluminium foil is also great in deterring your furry friend from jumping on the couch. Be consistent in your training and your dog will learn to stay away from your furniture.
RECEIVE UPDATES ON DOG TRAINING, BREEDS, AND HEALTH + ALSO GET A FREE COPY OF OUR EBOOK 100 DOG TRAINING TIPS....