The "come" or "recall" command is one of the best skills to teach your puppy. Not only will having a solid recall save time, but it can also save your dog's life if he is going towards danger.
However, it is also one of the most difficult behaviors to train since we can inadvertently make mistakes that ruin our own training.
So, here are 8 tips to help you if you are struggling with training your dog to come when you call:
1- Use a Constant Word
Start by practicing in the house or in a closed yard where there are few distractions. With his favorite treat in hand, go back a few feet and tell him "come" in a happy tone.
Immediately your pup starts moving towards you, encourage and praise him in a positive tone.
If he stops or begins wandering away, stop the encouragement and praise immediately.
Once he starts moving towards you, start encouraging him once again. Then, let your dog go back to whatever he was doing before. Repeat this training a few times until your dog learns to come when you call.
2- Give Tasty Treats
Another great way to train your dog to come when you call is to use tasty treats.
When you ask your pup to stop whatever they are doing and come running, they deserve more than just praises.
By offering tasty treats to your dog, you are asking him to came as fast as he can and you need to pay or reward him for being obedient.
Of course, you can do away with the treats over time, but  for now, you need to use them to get your dog to come when you call.
Furbo Dog Camera: Treat Tossing, Full HD Wifi Pet Camera and 2-Way Audio,…
FULL HD CAMERA & NIGHT VISION – The Furbo Dog Camera gives you HD video quality day & night. Stunning 1080p live view lets you easily check on your…
2-WAY AUDIO – Know what's going on at home and talk to calm them down via the app.
FUN TREAT TOSSING – Toss a treat to your dog through your Furbo dog treat dispenser camera via the free Furbo iOS/Android app. Fill your Furbo dog…
Last update on 2023-09-21 / Affiliate links / Images from Amazon Product Advertising API
3- Avoid calling Your Dog for Something He Hates
If you call your dog whenever you want to do something he doesn't like, such as trimming nails or taking a bath, he will most likely relate coming to anything bad and he will not come to you the next time you call.
In order to avoid ruining your training, it is a good idea to go get your dog in such situations. And more importantly, you should never call your dog if you want to punish him.
4- Get Low and Act Happy While Calling Him
Compared to your puppy, you're a big person. Therefore, getting low and showing signs of happiness can help make your puppy come to you.
In case he doesn't come immediately you say your cue, you can try bending down with both arms open while wearing a happy face.
Your dog is more likely to come to you when you're in this position compared to when you're standing up in a serious pose.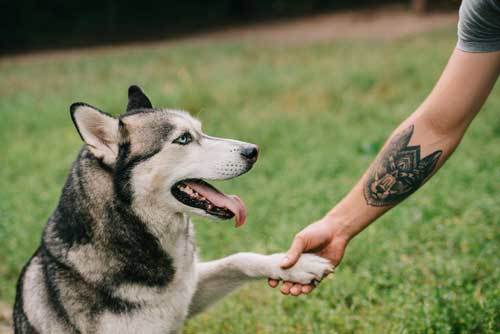 5- Play Hide and Seek
Most dogs enjoy playing hide and seek. It is wonderful to observe from your hiding place as he looks for you. And it's fun when he finally finds you.
You can start playing hide and seek indoors. Have your pup start behind, hide and then use your recall word to call him. When he finds you, give him treats and praise him.
This game is very enjoyable, and teaches your dog that finding you is rewarding.
6- Don't Tire Him Out
If you call him several times before he finally comes to you, he will realize that he doesn't have to run to you as soon as you call. Don't allow him to ignore you.
During training, make sure you call him only when you think he will come back. Avoid calling when he is sniffing something or chasing after a bird. If your pup doesn't come, simply go get him. Otherwise, you should wait until he finishes whatever he is doing.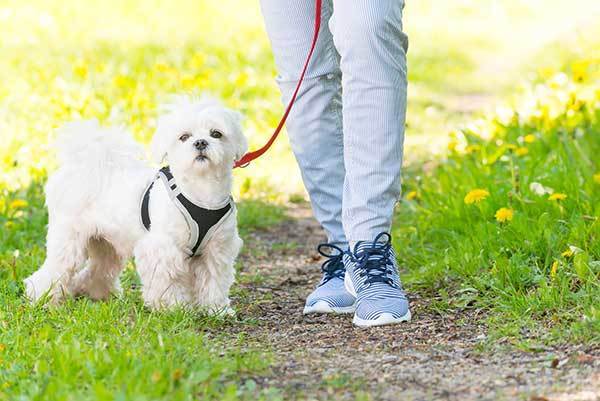 7- Give Your Dog More Freedom
If you just call your dog whenever you need to put them inside, they will learn that coming to you implies that it's time to stop playing.
He will not come back to you if he thinks you are preventing him from having fun. Therefore, you need to train them to come to you every few moments.
Make sure you praise him and give him tasty treats whenever they come to you. Then, let them go back to whatever they were doing.
8- Maintain a Happy Tone
Don't panic or get annoyed when you pup doesn't come when you call. Your dog can detect this easily and no pet wants to stay near an angry person. Be calm and maintain a happy tone whenever you call your dog.
It is also advisable to get a recall whistle to make this easier for you.
A recall whistle always sounds the same and allows you to call your pup without disturbing those around you.
Petcube Play 2 Wi-Fi Pet Camera with Laser Toy & Alexa Built-In, for Cats &…
YOUR ALL-IN-ONE PET MONITOR — With Petcube Play 2 Wi-Fi pet cam, check on your pet anytime from your phone with 1080p HD video, 160° ultra…
PLAY WITH LASER FROM YOUR PHONE — With a built-in pet and human-safe laser toy, controlled from your phone, or set to autoplay mode to entertain…
CHAT WITH YOUR PET — With high-quality 2-way audio, you can hear and speak to your pet when away, and they can reply back. Enjoy excellent sound…
Last update on 2023-09-21 / Affiliate links / Images from Amazon Product Advertising API
Get Help!
If you're still having trouble, get professional help from an experienced dog trainer like The Doggy Dan Online Dog Trainer Program.
Remember, no dog is perfect, and their great sense of smell and sharp hearing makes distractions extremely difficult to pass by.
Doggy Dan and his online course will teach you exactly what to do to train your dog to come to you when you call, no matter what they are doing or where you are.
What's more, you can find help with any other aspect of dog training with this program. So be sure to check it out.
RECEIVE UPDATES ON DOG TRAINING, BREEDS, AND HEALTH + ALSO GET A FREE COPY OF OUR EBOOK 100 DOG TRAINING TIPS....