One thing about dogs, which never fails to amaze people, is that any two breeds can create a hybrid pup.
The physical act isn't always possible, but their genetic material can form a litter of interesting cross breed pups.
One such cross breed where dog lovers are amazed is the Golden Retriever Dachshund mix.
This sounds impossible on paper. Yet, there are litters out there that show that this cross really is possible.
In this guide will will look at some of the pros and cons involved – from ethical concerns to potential benefits.
This means looking at the size and shape of the dog, as well as the temperament and potential as a family dog.
We will also look to the Golden Retriever weiner dog mix cost and issues of adoption.
Few Facts About the Golden Retriever Dachshund Mix
| | |
| --- | --- |
| Other names: | Golden Dox |
| Weight: | 30 to 60 pounds |
| Height: | 10 to 23 inches tall |
| Lifespan: | 10 to 14 years |
| Apartment living: | Yes |
| Coat: | Various possibilities depending on the parent breed they take after. |
| Level of shedding: | Moderate |
| Temperament: | Loyal, smart, stubborn, playful, active and loving. |
| Cat friendly: | Has high prey drive, early socialization is required. |
| Exercise needs: | High |
| Dog-friendly: | Yes, but early socialization is required. |
| Kids friendly: | Yes, but needs socialization |
| Price: | Around $1,000 |
 

 

View this post on Instagram

 
We can't keep calling this a Golden Retriever and Dachshund mix, so what name do we use?
There are actually lots of different names out there for this mix breed.
So much so that it can get a little confusing when searching for a Golden weiner dog or Golden Dox for sale.
Either term is fine, although Golden Dox is more common.
You are probably more likely to find breeders and keen owners talking about Dox crosses than Weiner Dogs.
Just make sure to see the parents when buying a puppy, to make sure you and the breeder really are on the same page.
Why some people are concerned about this extreme hybrid and question the ethics in breeding it?
There are some people that will dislike the idea of this cross because it is so extreme.
There are fears over the health of the parents and litter, and the practices involved in creating the pups.
Clearly, the most important issue on the minds of owners is the size of the dog. Golden retrievers are medium sized gun dogs with a good build. Dachshunds are tiny little hounds with long bodies and short legs.
The hope here is for a small dog that isn't as extreme in its proportions as the Dachshund, with some of the physical features of the Retriever.
There are many short Golden Doxie dogs with longer bodies and the ears and color of the Golden.
Golden Dox Size (Height & Weight)
Generally, the Golden Retriever Dachshund mix will be a medium-sized dog that reaches anywhere between 10 and 23 inches in height and has an average weight of around 30 to 60 pounds.
These factors will all depend on the leaning towards a certain parent. Some take after the Golden a lot, while others are much more like the Dachshund. Gender will also play its part here.
Sale
Embark | Dog DNA Test | Breed & Health Kit | Breed Identification & Canine…
HUNDREDS OF ACTIONABLE HEALTH INSIGHTS: 75% of dogs are either at risk or a carrier for a genetic health condition. Embark's panel tests 230+ health…
BREED ID THAT'S TWICE AS PRECISE: Embark tests over 230,000 genetic markers, twice as many as the next competitor. We also screen for 350+ dog breeds,…
HIGHEST RATED & MOST TRUSTED: Embark is the highest rated dog DNA brand on Amazon.com with over 16,000 5-star reviews. Only Embark uses research-grade…
Last update on 2023-09-22 / Affiliate links / Images from Amazon Product Advertising API
Unfortunately, there are are some health issues with breeding this size of dog
The problem with two parents of such different sizes is that it requires a male Dachshund and female Golden. The opposite would put a female Dachshund at risk because of the size of the puppies.
Clearly, this safer method requires artificial insemination. Many breeders will go about this the correct way, and breed for healthier litters with fewer health concerns. Others wont think about the risks and could put the pups and mother at risk.
Ideally, these pups wont have as many spinal issues, but there are still joint risks due to the heritage of the Golden Retriever. Other risks include epilepsy, bloating and some eye problems.
Golden Retriever Dachshund Mix Lifespan
The lifespan of this Golden Dox dog is generally between 10-14 years.
Your dog's life expectancy depends on his overall health, living conditions, and genetic factors like illnesses.
Some Golden Doxes may live longer with proper care. Others will not live that long due to physical issues.
 

 

View this post on Instagram

 
Other considerations with the physical side of the dog's character
The right diet and exercise regimen is essential with these Golden Retriever Dachshund mix puppies.
They may be small, but they can be quite active. This means good daily walks and lots of play.
Be aware that there is also the risk of overeating, which can put further stress on the joints.
This risk of weight gain means that portion sizes of dry dog food are essential – as is the need to provide the right amount of treats.
Treats are helpful tools when training these dogs, but don't go overboard. It may also help to provide fish oil supplementation into the diet. This can help with joint health and coat condition. On that note, let's take a closer look at that coat.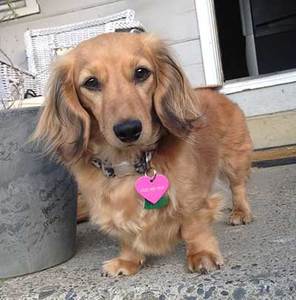 Anybody that has concerns about diet and feeding these dogs, as well as the health risks above, can turn to a great online guide from the experts at Kingdom of Pets.
This guide is called The Ultimate Guide to Dog Health, and it provides great information in easy-to-follow sections. It is ideal for all new owners after some guidance.
ALSO READ: 18 Awesome Dachshund Mixes You Won't Believe Are Real
Grooming and shedding with a Golden Doxie
Many online pictures show that this Golden Dox has a longer, Golden coat that can look beautiful when cared for.
There is a risk of moderate shedding with Dachshunds and Goldens, and the problem may depend on whether the parent is a long haired Dachshund or short haired.
This risk of shedding, and the length of the coat, means regular brushing and a need to invest in a good pet hair vacuum. A furminator is a bit too extreme on this small dog and single coat.
Grooming sessions also mean a chance to trim nails and check the eyes, teeth and ears of dog. The large ears can be an issue here. Some deodorizing wipes for dogs are always helpful.
Last update on 2023-09-21 / Affiliate links / Images from Amazon Product Advertising API
Why some people see the positives in this dog?
Other dog lovers see the positive side to this animal. They see the chance to perhaps soften some of the extreme features and personality traits with the genes of the Golden.
There are sometimes stubborn, aggressive tendencies in the Dachshund – as well as the potential prey drive of the hound. Golden retrievers are the sweetest, most patient and trusting dogs.
Therefore, you could end up with a companion lap dog with a better nature. This is a great family dog in a small package, but only when trained properly.
 

 

View this post on Instagram

 
Training these young Golden weenie dogs
Training these dogs doesn't have to be too difficult with the right approach.
As with any puppy, it helps to start young to get the best out of the dog. This is essential when it comes to housebreaking, socialization and general obedience.
They are a fairly smart dog that wants to please, so consistent, positive approaches will help.
Those that struggle can turn to online training guides for some extra help. Doggy Dan's The Online Dog Trainer Course is a brilliant example. This step-by-step guide is perfect for those that want some extra help on everything from barking to leash training.
Golden Dox Exercise Needs
Both parent breeds were originally bred as hunting dogs. With this in mind, we can safely assume that their offspring will also need a lot of exercises each day.
These dogs generally need around 45 minutes of physical activity each day to remain happy and healthy.

This family pet can be a tiny little bundle of fun that needs plenty of mental stimulation and play time.
This time spend out in the yard, or the dog park, is a perfect way to build a bond and socialize these dog. The pet can practice their commands and try new puzzles, while children learn the appropriate way to handle the dog.
Since the Golden Dox is a cross between two intelligent dogs, he will also need lots of interactive dog toys for mental stimulation.
AWOOF Snuffle Mat Pet Dog Feeding Mat, Durable Interactive Dog Puzzle Toys…
❤ RICH FEEDING GAME – Look at the Big Orange Flower in the middle of the snuffle mat dog puzzle toys. Total 4 layers of orange petals can hide…
❤ EXTRA FUN ATTRACTS YOUR PUPPY – We are extremely positive of our snuffle mat. But in order to provide more fun for lovely puppies, we set up 4…
❤ EXCELLENT RELEASE BUCKLE DESIGN – Have you ever bought a snuffle mat for your dog that want to develop good habits in your dog. But your dog…
Last update on 2023-09-22 / Affiliate links / Images from Amazon Product Advertising API
There is an important choice here between breeders and adoption
The issues of poor breeding and irresponsible practices are highlighted above.
Many will work hard to produce pups in a safe manner, with the best stock. Others will cut corners for profit, putting the animals at risk.
Find a breeder with a good reputation, meet the litter and parents and ask plenty of questions.
Adoption is a great alternative for those that are wary of breeders, and like the idea of saving the life of a dog.
Of course one risk with adopting mixed breed dogs is that there isn't 100% clarification of the breed heritage.
Shelter may take in animals without a clear idea of their genetic mix.
Therefore, some dogs that look like a Golden Dox might actually have other breeds in its linage. This is where an at-home testing kit can help to shed light on the matter. Embark's Breed Identification At-home Dog DNA Test can help.
How much is this cute little Golden Retriever Dachshund mix?
Adoption also allows new owners to reduce some of the costs involved in these new pets.
A Golden Retriever Dachshund mix puppy is never going to be a cheap dog. The breeding requires too much work, and there is that demand from consumers.
Shelter fees are much lower than these prices from breeders. Still, the cost of a puppy can vary from breeder to breeder.
Some that are less responsible may charge less to shift large, unhealthy litters. Avoid these cheaper puppies. Also watch out for those that ask for high prices based on certain traits.
 

 

View this post on Instagram

 
Is this Golden Dachshund mix the right type of family dog for you?
As long as you are certain about the origin of these dogs, and that they are carefully bred with good genetics, you should be able to find a health Golden Dox pup.
Those that then take the time to work on training and socialization should have a sweet, good-natured dog that suits the family home.
It is understandable if this mix is a little too extreme for some people. If you have any concerns, walk away and opt for a pure breed or a hybrid of safer origin.
The most important thing here is a strong, happy and loving relationship between the dog and the owner. The Golden Retriever Dachshund mix really does have the potential to provide that when bred correctly.
Featured Image Credit: Pinterest

RECEIVE UPDATES ON DOG TRAINING, BREEDS, AND HEALTH + ALSO GET A FREE COPY OF OUR EBOOK 100 DOG TRAINING TIPS....