Do you own that dog that will do almost anything just to stay away from water?
Worry no more because there are a number of alternatives to clean a dog without a bath.
You can still get your little puppy to always smell fresh with a waterless bath. That is if he cooperates during the whole process.
Maintaining a proper hygiene for your dog is of great importance to its overall health and well-being.
There are definitely those occasions in your dog's life when you will have to bathe him without water. The good news is that there are several alternatives to bathing a dog.
Here are some of the ways you can give a dog a bath without water.
1. Use Waterless Shampoo (Dry Dog Shampoo)
Waterless shampoo simply refers to a type of dog shampoo that you can easily purchase at any local dog store. It is usually made of foam or can also be in spray form.
When you use waterless shampoo on your dog, simply apply it to its fur and rub it gently in. Let the shampoo dry without rinsing. Your furry friend will be smelling clean and fresh in no time.
This is a great alternative if your dog dislikes water or maybe is feeling unwell or has just had a surgery and needs to keep water off the wound.
Sale
Handy Hound Pomegranate Mango All-Natural Foaming Dog Dry Shampoo for…
Safe And Effective — Vet Recommended and puppy-approved. Our waterless dog shampoo uses only 4 hand-selected natural ingredients and is free from…
No Time for a Bath? No Problem! — Our All-natural no-rinse foaming dry dog shampoo cleans pets quickly, leaving fur smelling fabulous and feeling…
No Need to Rinse — You will love our great-smelling foam shampoo. Just towel or air dry. This is a great solution when you are on the go (camping,…
Last update on 2023-09-21 / Affiliate links / Images from Amazon Product Advertising API
Also If you have found yourself on a camping trip with your dog and you realize there is no enough water to clean the two of you. Dry dog shampoo can equally do the job and keep your dog fresh until you get back home.
There are some pretty amazing dry dog shampoos that can help get your dog clean without a bath.
Dry shampoo like Head Waterless shampoo and Fresh Dog Dry Shampoo are just examples of commercial brands you could try to help remove that filthy stink from your dog without giving him a bath.
ALSO READ: The Best Calming Dog Treats for Stress and Anxiety Relief
2. Use Pet Wipes
This is one of the effective alternatives to bathing a dog.
Just like the way you will hardly miss wet wipes in any ladies' handbag, you sure should never forget to get some pet wipes for your canine friend. Baby wipes also work equally well in cleaning your dog's sensitive areas.
Make sure that you buy wipes which contain natural ingredients just in case your dog has a sensitive skin. There are some that may contain ingredients which may cause some skin allergic reactions.
Pogi's Dog Grooming Wipes – 100 Dog Wipes for Cleaning and Deodorizing -…
Conditioning Ingredients – Aloe Vera, Vitamin E, and Hawaiian Awapuhi help clean, freshen and condition while giving the coat a healthy shine. Perfect…
Large Pet Wipes (8 x 9 inches) – Our textured dog grooming wipes are made big enough for even the largest dogs, and thick enough for the heaviest…
Versatile – When normal baths are not an option, pet parents love using Pogi's dog cleaning wipes for gentle puppy baths, pets under stress, or pets…
Last update on 2023-09-21 / Affiliate links / Images from Amazon Product Advertising API
When cleaning your dog using pet wipes, it is advised to avoid his eyes as they might get irritated. Consult your vet before starting to use new products on your dog as well.
There are some recommended wipes that can be used such as Nature's Miracle Pet Bath Wipes and Earthbath All Natural Groomin Wipes.
They are known to produce the best results and keep your pet clean. It is worth trying when you want to avoid bathing for a longer period. It is very appropriate where there is a scarcity of water.
3. Baking Soda
Are you surprised that baking soda can be used to clean your dog without bathing?
Baking soda has a number of home uses and it can also be used to clean your dog as well. Baking soda is great in helping you get rid of that "dog smell" that most dogs have.
Sprinkle some baking soda into your dog's fur coat and allow it to start absorbing the smells. Slowly and gently massage that powder through your dog's coat. You can wear some gloves or use a face towel to do this.
Then gently remove any residue using a wet piece of towel which should be just damp but not dripping wet. Remember you are trying to clean your dog without exposing him to the water he dislikes.
4. Use Deodorizing Spray
You can use a deodorizing spray after you have perhaps cleaned your dog using baking soda.
The deodorizing spray can be used to compliment any other alternatives to bathing a dog. You simply do not want to combine your dog's stench of filth with a nice scented deodorizing spray.
Bodhi Dog Natural Dog Cologne | Premium Scented Deodorizing Body Spray for…
LEAVES YOUR PET SMELLING FANTASTIC: Snuggles and cuddles from your furry friend never smelled so good! A quick spritz of our pet cologne gets rid of…
FRESH SCENTS: Our colognes are the ultimate pet pamper treatment! A few spritzes will have your beloved fur companion smelling like they just came…
VET AND GROOMER RECOMMENDED: Our pet perfume offers safe, professional, quality for dogs, cats, puppies, kittens, ferrets, guinea pigs and rabbits of…
Last update on 2023-09-21 / Affiliate links / Images from Amazon Product Advertising API
5. Use Lemon and Vinegar
Get a spray bottle and fill it with lemon and vinegar juice.
Go ahead and spritz small areas of your dog's fur coat. Brush his fur coat as you spread the lemon and vinegar scent.
This is a great alternative to bathing a dog and it also helps to keep fleas at bay. Your dog will always be looking and smelling fresh.
6. Clean Your Dog's Ears

Use Ear Wipes:
There are dogs that have really big ears. Just imagine the amount of dirt that can get trapped in those adorable ears.
You can easily clean your dog's ears by using Aroma Care Ear Wipes. They contain natural Aloe Vera and eucalyptus oil that will keep your puppy's ears clean and smelling fresh.
When cleaning your dog's ears, you need to be careful because just like our ears, they also have very sensitive ears on the inside.
Sale
Pet MD – Dog Ear Cleaner Wipes – Otic Cleanser for Dogs to Stop Ear…
Advanced Formulation Designed to Gently Clean, Deodorize and Dry Your Pets Ears
Gentle and Safe for Regular Use which Prevents Ear Infections, Reduces Wax Build Up and Removes Debris in and Around the Ear
100 Convenient, Alcohol Free, Soothing and Non-Irritating Disposable Ear Wipes for Dogs. For Dogs Over 12 Weeks Old
Last update on 2023-09-21 / Affiliate links / Images from Amazon Product Advertising API
Use Ear Powder:
Gold Medal Pets ear powder is a great alternative to cleaning your dog's ears without having to subject your dog to take a bath.
It is recommended if your dog has itchy ears. It also helps to prevent any bacterial growth in your dog's ears.
When you're looking for something to get rid of the odor in your dog's ears then this ear powder is what you need. If your dog also has wet ears, this ear powder can help dry them up.
ALSO READ: 10 Tips on How to Clean a Dog's Teeth Without Brushing
7. Brush Your Dog
It is a fact that your dog will encounter dust and other allergens when moving around.
When such substances accumulate, that is when your dog needs a bath to maintain cleanliness.
It is advisable to take a recommended soft brush and use it to clean the dog' fluff. This helps in keeping them cleaner always and can reduce the number of times a dog should be given a bath.
It is also advisable to be careful when selecting the type of brush to use. Some brushes are not desirable as they can damage the coat of your dog. Seek referrals if you are not aware.
the recommended ones include Magic pro Dog Deshedding tool, FURminator deShedding tool and Dakpets Grooming tool.
Sale
Anshar Dog Brush for Shedding and Grooming – Deshedding Brush Tool for Long…
Shedding Aid: Is shedding a hairy situation for you? By getting under that undercoat, this pet brush can help reduce shedding and helps promote…
Built to Last: Your furry friend deserves the best, and this dog and cat brush for shedding and grooming is a great way to tell them. This deshedder…
No-Slip Handle: Don't get knotted down! The non-slip handle on our dog and cat grooming brush moves through long or short haired fur with ease.
Last update on 2023-09-21 / Affiliate links / Images from Amazon Product Advertising API
8. Clean Your Dog's Eyes
You can clean your dog's eyes using tear stain wipes.
Petpost Tear Stain Remover contains 100 pre-soaked cotton pads that you can use to get rid of any mucus and crust that forms around your dog's eyes.
It contains no harsh chemicals or bleach hence is quite safe for your dog.
Use it daily to remove any tear stains on your dog's fur coat. Cleaning your dog's eyes is an integral part of maintain a good body hygiene. It also helps to prevent your dog from catching any eye infections.
ALSO READ: The Top 20 Best Puzzle Toys For Your Bored Dog
9. Clean Your Dog's Teeth
Good oral hygiene is important in your dog's overall well-being. You simply wouldn't want to have a dog that has a bad breath.
Dental dog kits like Arm and Hammer Dog Dental care is a great way to keep your dog's oral hygiene fresh all the time.
Failure to maintain a good dental hygiene can easily lead to periodontal diseases in dogs. This is actually one of the most preventable illnesses in dogs.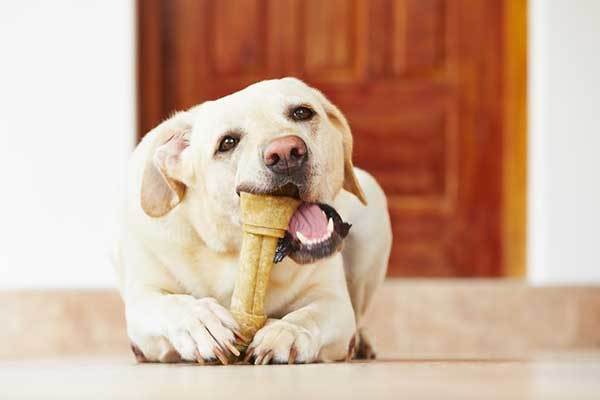 Avoid plaque build-up in your dog's mouth in order to prevent dental diseases. Just like humans, dogs need to brush their teeth regularly as well.
There are a number of dental dog treats that you can choose from. These include pastes, mints, foams, sprays, chews and many more.
Avoid plaque build-up by giving your dog high quality wet dog food as well as fruits and vegetables.
Never forget to give your dog plenty of fresh drinking water as well. Water additives for dogs are also important. This will help to prevent tartar from building in your dog's mouth.
Sale
ORAVET Dental Chews for Dogs, Oral Care and Hygiene Chews (Small Dogs,…
Help keep your dog's teeth cleaner, reduce plaque and tartar build-up, and fight bad breath with the chew veterinarians give to their own dogs, the…
Delmopinol forms a barrier to help protect against the harmful bacteria that contribute to bad breath. It has been used for years in human oral rinses…
Each once-a-day chew uses your dog's chewing action to loosen and dislodge plaque, helping it break away from teeth down to the gumline, and reduces…
Last update on 2023-09-21 / Affiliate links / Images from Amazon Product Advertising API
What are the cautions and considerations you need to have?
1. You need to remember that there are dogs that are naturally afraid of water and if yours is one of them, you need to try other alternatives to bathing a dog.
2. There are a number of alternatives from giving your dog a dry bath using waterless shampoo and even using deodorizing wipes and sprays.
If your dog has recently gone through surgery, it is best to clean him without a bath. The ultimate reason is to prevent water from going to the stitches if any that he might have.
3. There are a number of products in the stores that are meant to help you clean a dog without a bath.
You can check out the Aroma Care ear wipes and also the Gold Medal Pets ear powder to clean your dog's ears.
Dental hygiene is also important for your dog. You can opt to use Arm and Hammer to clean your dog's teeth and get rid of any odor in his mouth.
4. You can make your own dry shampoo at home using corn starch and baking soda. Sprinkle some baking soda on your dog's fur coat to help get rid of any awful smells and to keep him fresh and clean.
5. If you do not prefer bathing your dog, you can spray some lemon and vinegar on to his coat and brush it regularly. This will keep your dog fresh and clean.
LEARN ABOUT IT: 6 Tips to Stop Your Dog from Peeing in the House
ENDING NOTE…
In a nutshell, cleaning and grooming your dog is mandatory if you want your dog to live a long and healthy life free of diseases.
You must have realized that bathing some dogs is close to im-paw-sible. You therefore need not subject your canine friend to such an awful experience if he dislikes it.
Try out other alternatives to cleaning your dog without a bath and you will have a clean, healthy and happy dog in your house.
RECEIVE UPDATES ON DOG TRAINING, BREEDS, AND HEALTH + ALSO GET A FREE COPY OF OUR EBOOK 100 DOG TRAINING TIPS....