Also known as the Cojack, The Corgi Jack Russell Mix is a cross breed developed from the Jack Russell Terrier and the Pembroke Welsh Corgi.
These dogs have the face of the Pembroke Welsh Corgi, with short but strong legs, a long tail, large pointed ears, and a black nose tip.
Their loving nature and stunning looks make them excellent family pets.
This is a guide to the Cojack, so read on for more information and pictures of this wonderful cross-breed.
Some Quick Facts about the Jack Russell Corgi Mix
| | |
| --- | --- |
| Breed Type: | Crossbreed/Mixed Breed |
| Size: | Medium sized dog |
| Good Watch Dog, Guard Dog: | Yes, they are alert and protective |
| Average Weight: | 18 to 28 pounds |
| Average Height: | 10 to 13 inches |
| Lifespan: | 12 to 16 years |
| Other Names: | Cojack |
| Suitable for first time owners: | Yes, if you are able to dedicate a lot of time, patience and effort to this dog |
| Ideal For: | Active individuals and families with older children |
| Suitable for apartment living: | Yes, provided they get enough amounts of exercises each day |
| Maintenance: | Relatively low-maintenance dog |
| Trainability: | Moderate difficulty |
| Hypoallergenic: | No |
| Coat: | Short and silky, but may have some rough texture to it |
| Coat Colors: | Either the saddle shape of the corgi or the colored patches of the Jack Russell |
| Shedding: | Moderate |
| Grooming Needs: | Brushing should be done one or two times each week |
| Energy Levels: | Moderate to High |
| Exercise Needs: | At least 60 minutes of exercise every day is required |
| Barking Tendencies: | The Cojack doesn't bark a lot, but he will still alert you when he sees a stranger |
| Feeding and Diet: | 1 1/2 to 2 cups of high quality dog food each day, divided into two meals |
| Possible Health Issues: | Joint problems, eye problems, deafness, epilepsy, heart disease, degenerative myelopathy, Von Willebrand's disease |
| Temperament: | Loving, stubborn, energetic, loyal, intelligent, brave, friendly |
| Cat Friendly: | Moderate, early socialization is must |
| Dog Friendly: | No, early socialization is must |
| Kid Friendly: | Do well in homes with older children who understand how to interact with dogs |
| Price: | Expect anywhere in the $500 to $1,200 range |
 

 

View this post on Instagram

 
Corgi Jack Russell Mix History
The Cojack is a hybrid dog that is part of the increase in the popularity of mixed breeds over the last two decades. Owning such a dog has become a popular trend, as even top celebrities have been spotted with them.
With little or no history, it is important to look at the parent dogs to understand the Corgi Jack Russell Mix.
 

 

View this post on Instagram

 
Corgi
The Pembroke Welsh Corgi is a very popular dog breed and it is easy to see why.
From straight erect ears and radiant eyes, to cute small legs, the Corgi has won hearts around the world.
This charming dog originated in Wales approximately 1,000 years ago. It is thought that the Corgi were a present from the fairies, who would ride them around in the prehistoric times.
This explains why these dogs seem to have markings on the back and behind their shoulders. While this legend may not be necessarily true, it certainly adds to the charm of this breed.
The Corgi became very popular in 1933 after King George VI of Britain gave his two daughters this dog as a gift. The Corgi was then officially recognized by the American Kennel Club (AKC) in 1934. These days, they are commonly used as family pets.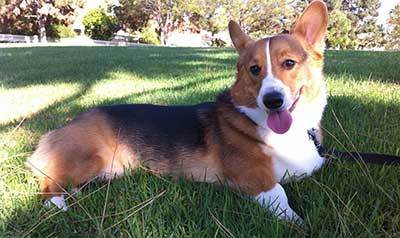 Corgi
The Jack Russell Terrier
The Jack Russell Terrier is a popular breed that was developed by a man named Parson Russell who became extremely popular with hunters as they could use the dog for hunting foxes. By 1935, the dog had also become popular in the United States.
Today, the Jack Russell is a very energetic dog that loves those around him.
He is loyal and dedicated to his master and can be quite funny sometimes. He is intelligent but he can be stubborn, making training quite difficult for some dogs. He is brave but that can make him to put himself in danger.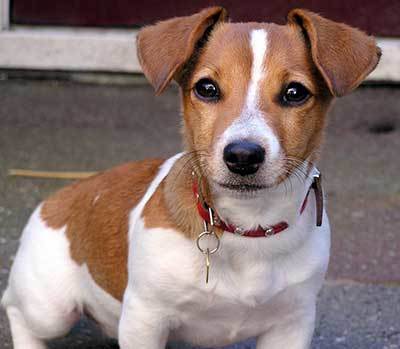 Jack Russell Terrier
Corgi Jack Russell Mix Personality & Temperament
With parents like the Pembroke Welsh Corgi and the Jack Russell Terrier, the Cojack is a friendly and intelligent mixed breed.
While the Cojack was designed to be a companion pet, the dog has herding instincts thanks to his Jack Russell Terrier genes. This trait is common with this breed, but it may also be diverted into training or play.
Both the parent breeds of the Corgi Jack Russell Mix are easy to train, so training your puppy should be an easy task. However, it is strongly recommended to start training early to avoid behavioral problems.
The Cojack doesn't bark a lot, but he will still alert you when he sees a stranger. This is a wonderful dog for a small-sized home provided there is a way for him to meet his daily exercise needs.
Corgi Jack Russell Mix Appearance: Height & Weight
The Corgi and Jack Russell Mix is a medium-sized dog that stands anywhere between 10 and 13 inches tall. A full grown Cojack weighs 18 to 28 pounds.
 

 

View this post on Instagram

 
Coat and Coat Colors
Their coat is short and silky, but may have some rough texture to it.
The hair may have several different colors and spots, but do seem to inherit the looks of both parent dogs; either the saddle shape of the corgi or the colored patches of the Jack Russell.
Corgi Jack Russell Mix Exercise Needs
Your dog is full of life and daily exercise is strongly recommended for this breed.
Jack Russell Corgi mix dogs need a minimum of 1 hour of exercise each day.
The exercise can be offered in various ways such as walking, running around leash-free in a yard, or engaging in more physical activity such as swimming or running.
Let him play throughout the day to his heart's desire, take him out for regular walks, let him play with your children and give him interactive dog toys and his favorite treats. This should help provide mental stimulation for a mentally fit dog.
AWOOF Snuffle Mat Pet Dog Feeding Mat, Durable Interactive Dog Puzzle Toys…
❤ RICH FEEDING GAME – Look at the Big Orange Flower in the middle of the snuffle mat dog puzzle toys. Total 4 layers of orange petals can hide…
❤ EXTRA FUN ATTRACTS YOUR PUPPY – We are extremely positive of our snuffle mat. But in order to provide more fun for lovely puppies, we set up 4…
❤ EXCELLENT RELEASE BUCKLE DESIGN – Have you ever bought a snuffle mat for your dog that want to develop good habits in your dog. But your dog…
Last update on 2023-12-07 / Affiliate links / Images from Amazon Product Advertising API
Training Your Corgi Jack Russell Mix
Put their agility in good use by teaching them any entertaining trick. Start leash training, housebreaking, and obedience training your dog from an early stage.
To prevent loneliness, start leaving your home for just a few minutes, and then increase the time gradually, each day from 20 to 30 minutes, and then an hour and so on. Your dog will ultimately learn to spend a whole eight-hour seclusion while you are at work.
To help prevent stubbornness or any other peculiar issue, be sure to keep your pup entertained.
Socialize your dog by taking him to dog parks and entertainment centers where it can meet new people and other dogs. Take it to dog-friendly parks, beaches, lakes, malls, fairs and anywhere they are allowed entry.
Training a Corgi Jack Russell Mix puppy can sometimes be a demanding task, especially if this is your first Cojack. They may inherit certain traits that aren't particularly easy to deal with.
Fortunately, you can rely on the Doggy Dan the Online Dog Trainer program to learn more about training your puppy. This program has combined the best dog training methods, thereby making it easier and quicker to train your dog. So be sure to check it out today!
Shedding & Grooming
The Corgi Jack Russell Terrier mix is a low maintenance dog. His short hair seems to shed moderately and brushing should be done one or two times each week to get rid of dirt and to keep it shiny.
While this is a minimal shedding breed, he actually sheds a little. Bathing should be done every few months or when your pup gets particularly dirty as this mixed breed doesn't have a bad smell.
To prevent fur from covering your carpets, it is important to use a reliable pet hair vacuum. Buying the best deodorizing wipes for dogs will also make brushing your dog a breeze.
If you have a Jack Russell Terrier Corgi mix with folded ears, make sure you dry them properly after swimming or bathing to prevent any trapped moisture from causing ear infections.
In addition to brushing and bathing, make sure you trim your pet's nails once every few weeks as necessary. This will help keep their paws in good shape.
 

 

View this post on Instagram

 
Health Concerns & Lifespan
The lifespan for this breed is approximately 15 years.
When it comes to health concerns, joint problems and cataracts are potential risks, but generally, this breed tends to be quite healthy.
That said, it is important to stay on top of your Cojack's overall health. Therefore, you need to take him for regular check-ups . This is something you need to keep in mind when looking for Corgi Jack Russell puppies for sale or adoption.
Sale
Embark Breed & Health Kit – Dog DNA Test – Discover Breed, Ancestry,…
BREED IDENTIFICATION: Embark screens for over 250 dog breeds. Using a research-grade genotyping platform developed in partnership with Cornell…
HEALTH SCREENING: Embark tests for 170+ genetic diseases including MDR1 drug sensitivity, glaucoma, degenerative myelopathy, and dilated…
HIGHEST RATED: Embark's Breed + Health DNA test is the highest rated dog DNA test on Amazon.com.
Last update on 2023-12-07 / Affiliate links / Images from Amazon Product Advertising API
Feeding/Diet Information
Selecting high quality dog food for your Corgi Jack Russell mix will set a good foundation for your dog's overall health for years to come.
Your Corgi Jack Russell will need 1 1/2 to 2 cups of premiem dry dog food, given as two meals per day.
The best diet for the Cojack should also include probiotics and wild Alaskan salmon oil to help keep their coat and skin healthy. It should also contain fish oil and glucosamine supplements because this dog is prone to hip dysplasia.
And don't forget to give your pooch fresh water every day to keep them hydrated.
 

 

View this post on Instagram

 
Buying or Adopting Cojack puppies
Most breeders deal with purebred dogs, but the popularity of this breed means that finding a Corgi Jack Russell Mix for sale or adoption may not be as tricky as you may think.
When getting your new dog from a breeder, it is important to ensure you are dealing with a reputable breeder. They should offer genetic testing to help ensure your chosen dog is of good health.
As with other dog breeds, you will also want to use Embark Breed Identification Dog DNA Test to find out if your Cojack is prone to any health problem. This dog DNA test kit is intended to discover puppies of mixed heritage, including the Corgi Jack Russell mix.
Jack Russell Corgi Mix Price
When it comes to price, you should expect to pay around $500 to $1200 for a healthy puppy.
Apart from the cost of buying a puppy, you want to factor in food costs, vet fees and pet products like the MidWest Folding Crate for Intermediate dogs and the Furhaven Orthopedic dog bed from reputable retailers like Amazon.
 

 

View this post on Instagram

 
Checkout Our Favorite Dog Products
1. BEST PUPPY TOY
We Like: Snuggle Behavior Toy with Heart Beat & Heat Pack – Ideal toy for new puppies.
2. BEST DOG TRAINING PROGRAM
We Like: Doggy Dan The Online Dog Trainer – Stop any dog problem and raise the perfect puppy with The Online Dog Trainer.
3. BEST DOG PUZZLE TOY
We Like: Outward Hound Interactive Puzzle Toy – Every dog loves chasing squirrels at the park. The Outward Hound Hide-a-Squirrel Puzzle Toy gives your dog the same feeling as though he was outdoors chasing live squirrels.
4. Best Bone Broth for Dogs
We Like: (Solid Gold – Human Grade Bone Broth for Dogs) – Simmered Beef Bone Broth With Turmeric Provides A Nutrient-Dense And Flavorful Addition To Your Dog's Meal + Rich In Natural Collagen From Beef Bones.
5. Best Multivitamin for Dogs
We Like: PetHonesty 10-For-1 Multivitamin – 10 Benefits in 1 Daily Treat – These Multivitamin Snacks combine a well-rounded blend of the most essential vitamins and supplements including glucosamine, probiotics, vitamins and omegas, for dogs' overall daily health.
Featured Image: Source
RECEIVE UPDATES ON DOG TRAINING, BREEDS, AND HEALTH + ALSO GET A FREE COPY OF OUR EBOOK 100 DOG TRAINING TIPS....