Help! My Puppy won't sleep!
If you are wondering how to get a puppy to sleep, you're not alone!
While sleep is an integral part of a puppy's health and a large portion of their life, it is often overlooked.
Many pet parents experience challenges when it comes to their puppy's sleeping habits.
Here, you will learn how to get a puppy to sleep through the night.
Puppies sleep a lot whenever they are idle. This is something that dogs have taken over from their wolf cousins. Wolfs can sleep for a long period of time, waiting for their next hunt and dogs have assumed a part of this sleeping capability.
Human beings sleep for around eight hours. On the other hand, it is not uncommon for some dog breeds to sleep longer than that, especially if they can't go out to have fun because of the weather conditions or any other reason.
So, how long until a puppy can sleep through the night?
In most cases, puppies start sleeping through the night once they reach the age of four months. But with due diligence and proper training, you can still achieve your desired results even earlier.
The Puppy Sleep Training E-Book is a highly recommended night-time survival guide that will teach you how to make a puppy sleep without whining and barking. So be sure to check it out.
Getting a new puppy is like bringing home a newly born baby; you need to be prepared for interrupted nights of sleep for some time. Fortunately, there are things you can do to make a puppy sleep through the night.
Here are some important tips on how to get a puppy to sleep at night:
1. Get Him a Crate
Although you might want to let your puppy sleep in bed with you from time to time, it is recommended to start out with a crate.
Afterwards, you can let them sleep in bed with you or your children, once they have undergone proper puppy sleep training, and can sleep through the night, knowing that their crate is their ideal sleeping place.
Until your pup has reached a stage where he can hold his bladder throughout the night, getting them to sleep with you in your bed is not a good idea. To avoid waking up in a soggy place, let your puppy sleep in a crate or a reasonable space with suitable bedding.
If you want to let him spend the night in his own space, it is also advisable to place a potty pad near his bed to ensure he can relieve himself during the night. If you put him in a crate, then you may have to wake up in the middle of the night to take your puppy for a potty break.
Last update on 2023-06-04 / Affiliate links / Images from Amazon Product Advertising API
Puppies generally cannot hold their bladder for several hours as their bodies are still not yet fully developed to do it.
Puppies also don't enjoy being made to sleep or sit in their own urine. This means that if you want to crate your pup through the night, you may need to wake up in order to let them out.
Unless you own a very small breed, your puppy may not be able to hold it until morning. Just like small kids, they can hold it throughout the night if they are tired, but they may still be unable to make it throughout the night.
Whenever you take your puppy for a potty break, remain calm and patient and don't try to play with him. Otherwise, they may want to play with you at night.
No matter where you want your new puppy to spend the night during his first days in your home, it is important to crate train him first.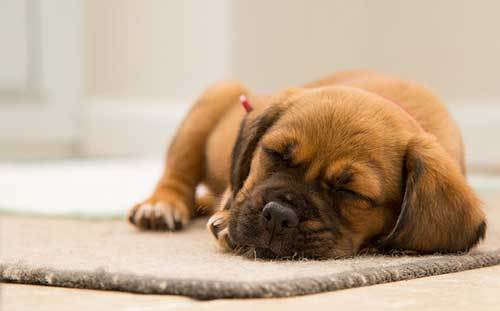 2. Make Sure Your Puppy Is Exhausted
You are more likely to get your puppy to sleep through the night if you get him exhausted during the day.
If you cannot take your new puppy out for daily walks because he has not yet been vaccinated, it is imperative to provide them with both physical and mental stimulation inside the property or in an enclosed yard.
Make sure to provide your new puppy with enough physical exercises during the day and in the evenings just before you go to bed.
If they are simply roaming around in the evenings as you watch your favorite TV shows, they are most likely to fall asleep early, so chances are they will wake up as soon as you get to bed.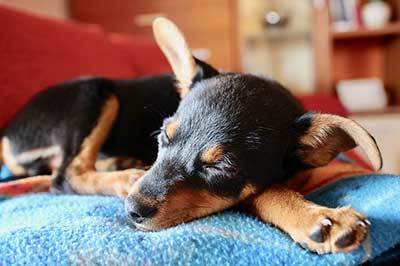 Spend at least 15 minutes playing with your new puppy several times in the evening to tire them out. Additionally, playing with your pup will help provide him with the much-needed exercises.
Moreover, mental stimulation can help put your pup in a sleepy mood. Get a puzzle feeder that you can use to give your pup his dinner meal. You may want to try doing some basic training in the evening, as well.
There are many interactive dog toys and puzzle feeders available in the market today. They are exciting for puppies and challenging enough to keep their minds engaged, but not so complicated that your puppy will become upset and quit.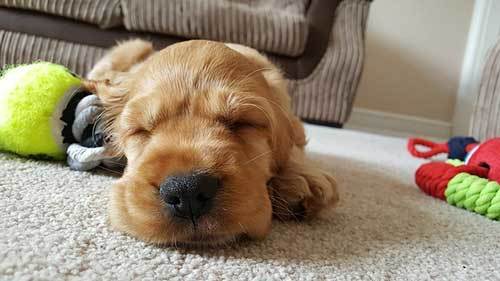 3. Give the Evening Meal Early
Make sure that his dinner meal is provided early enough to ensure he doesn't have to wake you up in the middle of the night to relieve themselves.
Some trainers will suggest that you give your pup his dinner meal later on in the evenings to ensure he sleeps fully satisfied. That's true, as dogs sleep much better when they are full.
However, young puppies might also need to wake up and do their business if they are fed a late meal.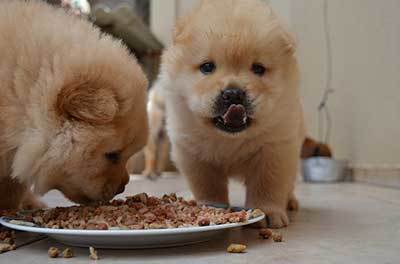 4. Take Your Pup Out For a Potty Break Before You Go To Bed
As mentioned earlier, pups are normally not capable of holding their bladder through the night.
If they have a chance to relieve themselves just before bedtime, you will most likely enjoy more time in bed before you have to take them out again for a potty break.
5. Turn off The Lights
So, do dogs prefer to sleep in the dark?
Just like human beings, your dog's sleeping patterns are affected by melatonin, a chemical that is influenced by the duration and amount of light in the sleeping space.
Melatonin is a hormone that encourages sleep and its release increases whenever the lights go dim.
Therefore, make sure to switch off the light in the space where your puppy is sleeping. That implies switching off the TV, computer, tablet and smartphone screens, as well. This will help make his room more comfortable and relaxing.
6. Get Cozy with Your Puppy's Bedding
Dogs can be quite flexible when it comes to getting a place to sleep. However, they also need to be comfortable.
Therefore, it is important to provide your pup with a comfortable nest of bedding to sleep on. Consider adding a piece of your clothes in their bedding to ensure your puppy feels near you.
Make sure you line their sleeping space with a lot of comfortable blankets and towels.
Even better, be sure to get a comfortable bed for your dog to sleep through the night. For your new puppy, it is highly recommended to get a dog bed that is rainproof or one that they cannot chew.
JOYELF Large Memory Foam Dog Bed, Orthopedic Dog Bed & Sofa with Removable…
HIGH-QUALITY MATERIALS: ①Solid Memory Foam base for perfectly to your pet's body for maximum comfort;②Memory Foam using flame retardant…
BETTER DESIGN:①The base high-density memory foam can provide the ultimate sleep experience with superior overall comfort and to last;②The bottom…
EASY To MAINTAIN:①Removable cover is machine washable,simply remove the cover, zip closed ②Easy to find & Remove hair;③Do not immerse in water…
Last update on 2023-06-04 / Affiliate links / Images from Amazon Product Advertising API
Fortunately, there are many great options available in the market. And you can find a suitable bed to make the bottom of your puppy crate more comfortable.
The best dog bed should not only be comfortable, but also an excellent way to ensure your dog does not sleep on the floor.
This will ensure proper air circulation and provide a good way for your puppy to avoid sleeping in a messy place if they accidentally do their business there.
7. Get Your Pup's Bed Beforehand
By choosing your dog's bed ahead of time, you can help avoid sleeping with your pup on the first day you bring him home. That way, once they begin whining or showing you the angry eyes, you won't be tempted to let your dog sleep with you.
If you allow your new pup to sleep on your bed with you from the beginning, then odds are you will end up sleeping with him the rest of their life.
But don't take it personal; there's nothing wrong with letting your dog sleep in your bed if you seriously want it.
8. Make His Sleeping Space More Relaxing
The importance of making your dog's sleeping space comfortable and soothing cannot be overemphasized.
Soothing smells, sounds and sights can greatly put your dog in a sleepy mood and ensure he sleeps through the night.
The Snuggle Puppy Sleep Toy can help put your pup in a relaxing mood by relieving their separation anxiety.
This toy comes with all the calming features that your new dog or puppy could ever need to get used to his new home or environment.
Original Snuggle Puppy Heartbeat Stuffed Toy for Dogs – Pet Anxiety Relief…
THE ORIGINAL PET ANXIETY AND COMFORT AID – Designed in the USA, since 1997 Snuggle Puppy has helped over 1,000,000 dogs
REDUCE NEGATIVE BEHAVIORS – Get more sleep! Helps with crate & kennel training by reducing barking, whining and anxiety for your dog, helping YOU…
EASY TO USE – Industry leading "Real-Feel" heartbeat with 2 modes; AAA batteries and simple to use Heat Pack included
Last update on 2023-06-04 / Affiliate links / Images from Amazon Product Advertising API
Other recommended things like white noise or relaxing music can help to send your pup off to sleep. The White Noise Machine is great because it calms your puppy down and creates a relaxing environment for your puppy to fall and stay asleep.
The White Noise Machine is also ideal as it comes preloaded with great features that are specifically designed to help calm fearful or anxious puppies.
Sale
Adaptive Sound Technologies LectroFan High Fidelity White Noise Machine…
[Masks Noise] Helps block out disruptive environmental noises. It can help improve sleep, focus, privacy, and relaxation. Helpful for any age.
[20 Non-Looping Sounds] A total of 20 unique non-looping sounds. 10 fan sounds & 10 white noise variations, including pink & brown noise.
[Safe] Safe, solid-state design is powered by AC or USB and dynamically creates unique, non-repeating sounds without moving parts. Power: 110V AC, USB
Last update on 2023-06-05 / Affiliate links / Images from Amazon Product Advertising API
Your dog also never barks needlessly during the night, thereby enhancing the peace of your home as well.
If your puppy sleeps well from the first day you bring him home, you will also enjoy peace of mind and get a good night's sleep too. You wouldn't have any issues or worries when your puppy is enjoying a good night's sleep.
The first few days you bring your puppy home, consider the White Noise Machine and any other noise-cancelling products to curb barking and whining.
9. Establish a Clear Bedtime Routine
If you are like most people, you have a clear nightly routine. You don't simply stop whatever you are doing each night and get to bed. You have some sort of bedtime routine and you should have a similar one for your new puppy.
You don't expect your pup to know when to go to bed and suddenly become sleepy. That's why it is important to establish a good bedtime routine for your pup.
Before you go to bed, you can consider giving them their last snack, playing with them for a few minutes and then ending with a last-minute potty break. You may even want to lead them to their bed with their favorite dog toy.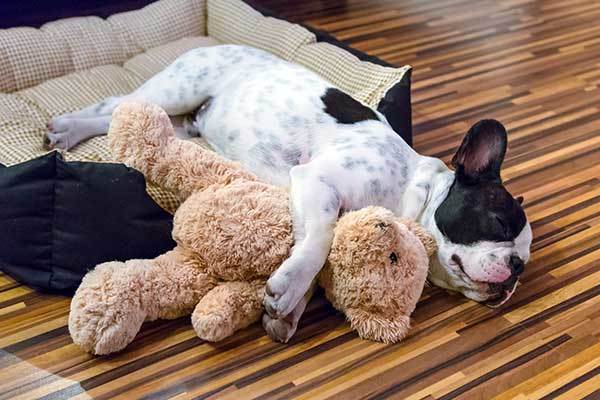 No matter the routine you follow, make sure you are consistent.
If you are consistent, your dog will soon learn when it's time to go to bed. You may even be pleasantly surprised to see them getting excited about it.
10. Rule out The Presence of Fleas or Any Medical Issue
A dog with fleas moving around his body will be uncomfortable and will get up feeling irritated.
If your pup has fleas, he will be unable to sleep through the night because he will be forced to wake up in the middle of the night to scratch.
Moreover, you should take your puppy for regular vet checkups to rule out any medial issues. That way, your pup will sleep for longer and you'll enjoy better sleep too.
Conclusion
So when do puppies sleep through the night?
In most cases, puppies sleep through the night when they reach around 16 weeks (four months) old.
However, with some proper care, diligence and positive reinforcement training, you can get your puppy sleeping through the night even earlier.
Be sure to follow the above tips to get a puppy to sleep through the night and enjoy a good night's sleep as well.
Also, get the Puppy Sleep Training E-Book and end those sleepless nights by training your pup to sleep without whining or barking. Just keep in mind that the effort and the investment will be worth it in the long term – for both of you.
RECEIVE UPDATES ON DOG TRAINING, BREEDS, AND HEALTH + ALSO GET A FREE COPY OF OUR EBOOK 100 DOG TRAINING TIPS....