Bringing a new puppy home is just as exciting as bringing a new baby home.
As his new owner, you cannot wait to give it the love and attention it deserves.
However, the hard truth is that you may not be able to stay at home with your dog the whole time probably because of other commitments, especially work.

It can be very heart breaking having to leave for work every day and your little furry friend watches with sad eyes as you leave.
Fortunately, here are some useful tips that will show you how to teach your dog to stay home alone without fear.
1. Train your dog to stay home alone for short periods
In order to effectively train your dog to stay home alone, you need to start by doing so at short intervals.
Puppies like new born babies like to sleep a lot. In a single day, a puppy needs up to 18 hours of sleep, therefore training them to stay home alone for an hour or two should not be a difficult task.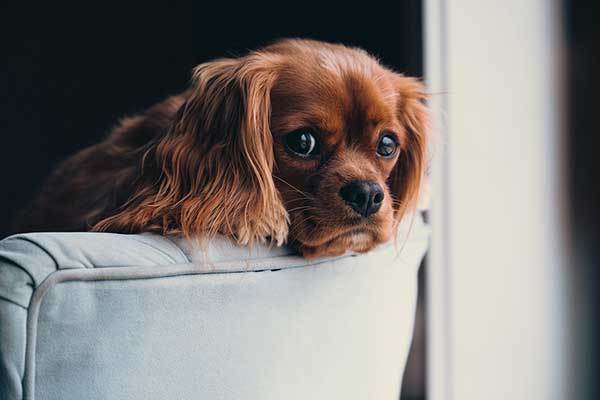 Once you bring your furry friend home, avoid him getting overly-attached to you because this might make it even harder when you need to start leaving him alone at home and he can easily develop separation anxiety.
Try to teach your puppy how to stay home alone at short intervals, especially during the weekend.
You can leave for the grocery store or mall for an hour or two while he stays back at home just to make him used to the idea of you gone.
2. Avoid making a fuss when you leave
When training your dog to stay home alone without fear, you need to avoid making a scene when you leave or come back from wherever you have been.
If you are leaving and you are all over your puppy, cuddling him and saying good bye making the situation all sad, this will have a negative impact on him.
Dogs are very intelligent animals and are able to sense or read human emotions. You need to keep your goodbye short and positive when you leave like "Bye Nala! See you in a few and be a good girl!"
Never make it a grand entrance when you come back either. Just calmly greet your dog and avoid being too over excited to see him.
3. Train your puppy to stay in a crate
You need to create a crate, a dog safe place where you can leave your puppy comfortably for a few hours when you are at work.
The best way to make your puppy love being in a crate that you have created for him is by making the crate the most exciting and fun place to be.
You can easily do so by giving him his favorite treats when he is in the crate, give him his favorite interactive dog toys as well to keep him occupied.
Start by training him to stay inside the crate for a few minutes each day and gradually increase the time as he continues to get used to it.
MidWest Homes for Pets Newly Enhanced  Double Door iCrate Dog Crate,…
Newly enhanced with added security features to keep your pet safe | Slide-bolt door latches now feature patented Paw Block and locking tips to create…
iCrate double door dog crate measures 42L x 28W x 31H inches and is suitable for large dog breeds with an adult weight of 70-90 pounds. If your…
Dog crate includes a divider panel, durable & leak-proof plastic pan, protective rubber feet, carrying handle, and customer support team based in…
Last update on 2023-12-03 / Affiliate links / Images from Amazon Product Advertising API
4. Try leaving your dog alone at home when you are at home
Teach your dog that it can actually be fun without necessarily having you around.
Make him used to stay in his crate and give him plenty of interactive dog toys and puzzles to keep him occupied as you do your own things in a separate area of your house.
5. Pay attention to your dog's needs before you leave
Take your dog to use his potty before you leave and also make sure that he is properly fed before leaving. This will greatly reduce the separation anxiety and will make him settle in much faster when you are at work.
Once you have made him use his potty and he is well fed, you can leave a bowl of clean fresh water in his crate just to keep him hydrated. Let him settle for a few minutes before you leave.
Sale
PetSafe Healthy Pet Water Station- Large, 320 oz Capacity- Gravity Cat &…
WATER CAPACITY: Available in 1/2, 1 or 2 1/2 gallon water capacities
DRINK ANY TIME: This gravity water station allows you to keep your pet hydrated at all times of the day or night
STURDY CONSTRUCTION: The reservoir is made of durable plastic and locks in place to help from knock over and spills
Last update on 2023-12-04 / Affiliate links / Images from Amazon Product Advertising API
6. Give your puppy enough mental and physical exercise
As already mentioned before, your puppy needs to sleep for a total of 18 hours each day.
A dog who is physically and mentally exhausted is likely to settle in for a nap for most of the hours that you are away.
Give him enough physical and mental exercise to drain his extra energy will make him want to rest and not look for things to do while you are gone.
7. Know what makes your dog calm
Dogs are different and they all have different things that will calm and sooth them.
Learning what makes your dog comfortable when you are gone is a huge plus because you will be able to have an easy time teaching him how to stay home alone.
There are some dogs who like to watch TV, you can put their favorite channel before you leave, and other dogs like roaming around so make sure to give him enough room in his crate to roam.
Furbo Dog Camera: Treat Tossing, Full HD Wifi Pet Camera and 2-Way Audio,…
FULL HD CAMERA & NIGHT VISION – The Furbo Dog Camera gives you HD video quality day & night. Stunning 1080p live view lets you easily check on your…
2-WAY AUDIO – Know what's going on at home and talk to calm them down via the app.
FUN TREAT TOSSING – Toss a treat to your dog through your Furbo dog treat dispenser camera via the free Furbo iOS/Android app. Fill your Furbo dog…
Last update on 2023-12-03 / Affiliate links / Images from Amazon Product Advertising API
8. Install a spy dog camera
You can invest in the latest modern technology and install a dog camera in your dog's room. This will help you to monitor his every move even when you are at work.
As a dog owner, this will actually give you peace of mind knowing that your furry friend is doing okay without you at home.
9. Give your dog choices
Dogs love to be given options. You need to spruce things up in his crate and make him love to stay in it.
You can put his sleeping basket full of warm, cozy rugs inside just in case he needs to nap while you are gone, give him a variety of interactive dog toys and chew toys to keep him entertained. That way he is likely to be less bored when you are not home.
10. Consult your vet in case of severe anxiety
If your furry friend gets seriously affected by your absence, you can consult your vet for medication to reduce the anxiety and make him calm. This will make it easier for you to teach your dog how to stay home alone without fear.
In a nutshell, leaving your pooch at home alone can be quite difficult for most pet owners. However, the above tips should be able to come in handy when you need to know how to teach your dog to stay home alone.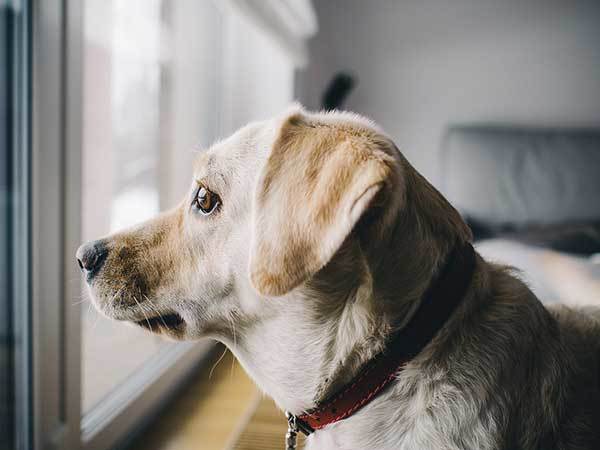 Checkout Our Favorite Dog Products
1. BEST PUPPY TOY
We Like: Snuggle Behavior Toy with Heart Beat & Heat Pack – Ideal toy for new puppies.
2. BEST DOG TRAINING PROGRAM
We Like: Doggy Dan The Online Dog Trainer – Stop any dog problem and raise the perfect puppy with The Online Dog Trainer.
3. BEST DOG PUZZLE TOY
We Like: Outward Hound Interactive Puzzle Toy – Every dog loves chasing squirrels at the park. The Outward Hound Hide-a-Squirrel Puzzle Toy gives your dog the same feeling as though he was outdoors chasing live squirrels.
4. Best Calming Treats for Dogs
We Like: FurroLandia Hemp Calming Treats – These soft chews will calm your dog so it can peacefully endure stressful situations, such as long car trips, visiting unfamiliar places, or hearing Thunder. Ideal for all dog breeds & sizes.
5. Best Bone Broth for Dogs
We Like: (Solid Gold – Human Grade Bone Broth for Dogs) – Simmered Beef Bone Broth With Turmeric Provides A Nutrient-Dense And Flavorful Addition To Your Dog'S Meal + Rich In Natural Collagen From Beef Bones.
RECEIVE UPDATES ON DOG TRAINING, BREEDS, AND HEALTH + ALSO GET A FREE COPY OF OUR EBOOK 100 DOG TRAINING TIPS....