Also known as the Australian Shepherd Border Collie , the Border Aussie and the Australian Border Collie.
The Australian Shepherd Border Collie mix is a great hybrid that inherits numerous personality traits for both its parent dogs, the Australian Shepherd and the Border Collie.
The outcome is a wonderful dog that is smart, hardworking and possesses great herding abilities that you would find in a crossbreed of these two amazing breeds.
Just like its parents, the Border Aussie is a herding or working dog, and it requires something to do all the time. It is ideal for herding livestock. 
The Border Aussie Mix needs to remain busy, but can get bored repeating the same task all the time. Therefore, if you adopt this dog as a pet, then you need to keep your creative juices flowing to keep him entertained.
Although largely a quiet dog, the Border Collie Aussie is a very energetic dog and has a strong desire to have fun.
In general, this is a dog that needs a job to do whether it's herding livestock, learning new tricks, agility training, and obedience games or doing a wide variety of canine jobs.
Here's everything you need to know about the Border Collie and Australian Shepherd Mix:
Few Facts About the Border Aussie
| | |
| --- | --- |
| Weight: | 30 to 65 pounds |
| Height: | 19 to 23 inches |
| Lifespan: | 10 to 16 years |
| Easy to train: | Yes |
| Coat colors: | Black and white, black, red, sable, liver, brindle, blue Merle, and red Merle, tan, or even tri-color. |
| Grooming: | Moderate maintenance |
| Temperament: | Intelligent, active dog, loyal |
| Barking: | No |
| Exercise Needs: | High |
| Dog-friendly: | Yes |
| Kids friendly: | Yes |
| Price: | Around 1000 USD |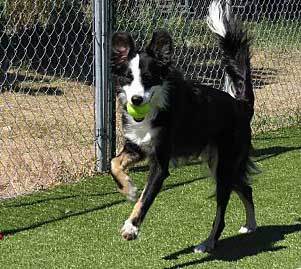 The General Appearance of the Border Aussie
The Australian Shepherd Collie Mix is a medium-sized dog with a muscular body.
The dog has a wedge-shaped ear with a tapered muzzle.
The eyes are generally almond or oval in shape. Although they can be blue or brown, it is not uncommon for the Aussie Border to have multi-colored eyes with one brown and one blue eye.
The Aussie Collie has a long and wide tail, but it can also spot a bobtail like the Aussie.
Overall, the appearance of the Australian Shepherd Border Collie mix is much similar to that of a Border Collie.
 

 

 

View this post on Instagram

 

 
Border Aussie: Size, Height, Weight
But how big does the Border Collie and Australian Shepherd mix grow?
As stated earlier, the Aussie Collie Mix is a medium-sized dog that has a muscular body.
In general, the full grown size of the Border Collie and Australian Shepherd mix is anywhere between 19 and 23 inches and its average weight 47.5 pounds.
Full grown Boarder Aussie may weigh anywhere between 30 and 65 pounds. There is no significant size and weight difference between a male Border Aussie and a female one.
Australian Shepherd Border Collie Mix: Coat
Aussie Border has medium coats with a mark or light feathering instead of tight curls. This includes a thick topcoat and undercoat that protects it against harsh weather conditions.
The colors of this breed can be a wide range of colors and spots including black and white, black, red, sable, liver, brindle, blue Merle, and red Merle, tan, or even tri-color( white, black and blue, red, black and white).
ALSO READ: All About the Australian Shepherd Beagle Mix
Grooming
Do Australian Shepherd Border Collies shed?
Grooming the Aussie Border Collie mix is an easy task. Overall, they are very clean dogs and can be cleaned just once per month.
In order to clean them, all you have to do is to wipe them with a wet piece of cloth every week to remove debris and dust particles.
Brushing is necessary 3 times per week to eradicate dead hair, but this can be done more regularly during the shedding season.
The Border Collie Australian Shepherd mix short hair around the ears and feet can be trimmed to enhance cleanliness, but this is sometimes not necessary.
The Border Collie Aussie Mix can be vulnerable to ear infections so you should check their ears on a regular basis. Also, it is vital to trim nails if necessary.
 

 

 

View this post on Instagram

 

 
Aussie Border Collie Mix: Lifespan
Just like many other cross breeds, the lifespan of this breed varies based on the health and general status of the parent breeds that produced the mix.
The Australian Shepherd Border Collie Mix breed has a lifespan of between 10 and 14 years, but some can live up to 16 years of age.
Border Aussie Personality and temperament
If you are looking for a dependable companion dog, then the Border-Aussie Mix fits the bill.
It is generally a quiet dog, which is ideal if you live in an apartment with neighbors residing nearby.
Generally, it has a cool temperament. The breed is an active dog with a very positive personality. He is also great with kids and will love anyone close to him.
However, keep in mind that early socialization is the key to preventing personality behavioral problems in the future.
It is a great family dog and loves being around other family members. Being left at home all alone for an extended period of time can result in separation anxiety.
This dog also needs to be fully entertained to prevent boredom and the annoying habits of chewing anything they come across in the house.
Mental stimulation is extremely important for a Border Collie Aussie Mix; in any case, the Border Collie is the most intelligent dog breed in the world. You don't expect its offspring to be any different, do you?
Aussie and Border Collie Mix: Training
Training a Border Collie and Aussie is quite easy. This breed enjoys any challenges you throw at him, and he always wants to please his masters.
However, keep in mind that this breed is very calm, and as with any other pet, it should be handled with care and attention.
Implement firm but pleasant training methods, otherwise scolding or shouting will only serve to draw him farther away from you.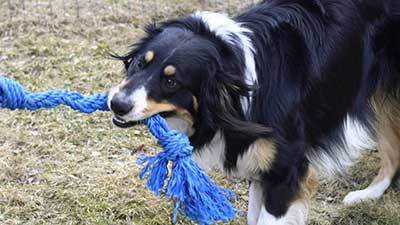 Good reinforcements such as praises and treats will work magic with this dog. Nonetheless, make sure that the dog adheres to your commands and that it is not just following the treats.
In case the dog starts to roll or sit unnecessarily, then it is advisable to change your training methods.
Anyone that struggles with the training of these dogs can turn to Doggy Dan the Online Dog trainer for accessible guides on all kinds of issues.
Moreover, it is advisable to make your dog understand that nipping at heels is a habit that's only acceptable while controlling sheep or cattle.
Like its parents, the Border Aussie may try to direct people around it by nipping at their heels. Therefore, it is vital to set the boundaries and make the dog understand when this behavior is acceptable.
Exercise Needs
If you are in the market for a high energy breed that will keep up with your active lifestyle, then the Australian Shepherd Boarder Collie mix will suit your needs best.
This is a dog that enjoys being on the move and are ideal for different dog sports and jobs.
Even if you are searching for a house pet, this dog will require plenty of exercises that will provide the mental stimulation it requires.
A bored dog will easily become a very destructive dog, so it is crucial to provide your pet with plenty of interactive dog toys and challenges that will keep exercising their brain.
On top of mental stimulation, The Australian Shepherd Border Collie Mix requires at least one hours of exercise each day. These should include dog walks and rest time in a safe yard.
The Border Collie Aussie can be an excellent jogging partner and usually flourishes in active and athletic families.
AWOOF Snuffle Mat Pet Dog Feeding Mat, Durable Interactive Dog Puzzle Toys…
❤ RICH FEEDING GAME – Look at the Big Orange Flower in the middle of the snuffle mat dog puzzle toys. Total 4 layers of orange petals can hide…
❤ EXTRA FUN ATTRACTS YOUR PUPPY – We are extremely positive of our snuffle mat. But in order to provide more fun for lovely puppies, we set up 4…
❤ EXCELLENT RELEASE BUCKLE DESIGN – Have you ever bought a snuffle mat for your dog that want to develop good habits in your dog. But your dog…
Last update on 2023-10-03 / Affiliate links / Images from Amazon Product Advertising API
Diet and Feeding Requirements
Generally, these dogs thrive on a dry dog food. However, it is crucial to choose a high-quality kibble food with the right protein and caloric content.
Border Aussies are very active dogs that burn plenty of calories every day.
It it's important to point out here that the amount of food your pet will consume will vary based on the individual dog and the type of dog food you are feeding them.
Although it is crucial to include the treats in their calorie figures, it is not necessary for this breed since they are very busy dogs. They usually enjoy a wide range of treats such as fresh fruits and leafy vegetables.
In addition to feeding dry dog food to your Border Aussie, make sure you give him plenty of water throughout the day.
We also recommend adding canine probiotics with Wild Alaskan Salmon Oil to your dog's food to help promote gastrointestinal function and boost the overall health of your pet.
Sale
Victor Super Premium Dog Food – Grain Free Active Dog & Puppy – Dry Dog…
GRAIN FREE DOG FOOD: This premium high protein dog food is specifically formulated as a gluten free, grain free dry dog food suitable for active dogs…
33% PROTEIN DRY FOOD: Packed with premium-quality beef, pork and fish meals
ALL BREEDS, ALL LIFE STAGES: Suitable for all life stages of small dogs, medium dogs and large breed dogs, this premium dog food is an ideal food for…
Last update on 2023-10-03 / Affiliate links / Images from Amazon Product Advertising API
Finding Healthy Border Collie Aussie Mix Puppies
Prospective Border Aussie owners should go for lively and playful puppies.
The Border Aussie puppy must be fluffy and their ears should be in various stages of rising, unless they bear the semi-folded ear.
Another important thing to consider is that your Australian Collie puppy should be alert. This is a smart breed and while considering Border Aussie puppies for sale, it is vital to see that smartness from an early stage.
Borders Aussies have between five and seven average-sized litters. Some puppies can be bigger, but this is not the norm.
As with all breeds, socialization and training should start immediately the puppy arrives home. Otherwise, those small habits might become a major problem in the future.
 

 

 

View this post on Instagram

 

 
The Price of Aussie Border Collie Mix Puppies for Sale
The cost of Border Collie Aussie Mix puppies for sale is around $1000.
Again, you should meet the parent dogs as well as the puppy before you buy. Familiar personality traits are often inherited, but individual qualities are more important than the overall breed qualities.
Aussie Border Collie Mix Health Problems
There are certain health problems to look out for in an Australian Shepherd Border Collie. These include diseases that are related to their hair color.
Border Aussie breeders may not breed two Merle parents together, since there is an elevated chance of the offspring being deaf, blind or both.
Moreover, prospective Border Aussie owners should watch out for other health problems, including cataracts, elbow dysplasia, hip dysplasia, lymphoma, collie eye anomaly, epilepsy, thyroid disease and hemangiosarcoma.
A great tool to help determine any genetic health risks is a DNA test. The Embark Breed Identification Dog DNA Test is a simple, at-home solution that any dog owner can try.
 

 

 

View this post on Instagram

 

 
Is an Australian Shepherd Border Collie Mix Suitable for Me?
Although the Australian Shepherd Border Collie Mix is an easy-to-train and eager-to-please dog breed, it is not suitable for everyone.
These dogs require plenty of exercises and thrive in families that have plenty of time to exercise and train them.
If you wish to adopt/buy a Border Collie and Australian Shepherd mix as your four-legged companion, ensure that you can meet its basic needs of work and exercise.
That way, the Border Aussie will be a wonderful companion for you, one that will always be by your side no matter what adventure you want to explore next.
Like this? SUBSCRIBE for more actionable tips for dog owners!