Also known as the Italian Daniff, Corso Dane or the Great Corso, the Cane Corso Great Dane Mix is a cross between the Cane Corso and the Great Dane.
This massive dog weighs around 115 to 130 pounds and stands anywhere between 35 and 36 inches tall.
The canine's sheer size makes him unsuitable for an apartment or small house.
However, families with plenty of space will find the Italian Daniff to be a loving, loyal and protective dog.
He is known to be a gentle giant who gets along well with children and other household pets.
With their high intelligence levels and eagerness to please, they should also be relatively easy to train.
To help you make an informed decision when trying to find this particular crossbreed, here's everything you need to know about the Cane Corso and Great Dane Mix.
A Quick Look at the Breed Characteristics
| | |
| --- | --- |
| Good with cats | Yes, If socialized properly. |
| Good with kids | Yes |
| Tolerates Being Alone | No |
| Friendly Toward Strangers | Yes, If socialized properly. |
| Good for Apartment Living | No |
| Exercise Needs | Moderate |
| Easy To Train | Yes |
| Shedding Amount | Low |
| Good with other Dogs | Yes, If socialized properly. |
| Good for first time owners | No, Needs Experienced Owner. |
| Life Expectancy | 8 – 10 years |
| Price | Around $800 to $1000 from responsible breeder. |
What Is The Italian Daniff?
The Italian Daniff is exactly what its name suggests – a mix between the Cane Corso Italiano and the Great Dane.
This mix can also be referred to as the Great Dane Cane Corso Mix, Great Corso or Corso Dane.
The Cane Corso Great Dane Mix combines the best traits of both the Cane Corso and Great Dane to produce a wonderful crossbreed.
But where did the Great Dane and Cane Corso Mix come from?
What Is the Origin of the Cane Corso Great Dane Mix?
The actual origin of the Great Dane and Cane Corso is unknown. This is because it is a first-generation crossbreed whose history is still developing.
To get a good idea of what to expect from the Italian Daniff, we need to check out the origins of his purebred parents.
The History of the Great Dane
The Great Dane has a long and interesting history. They are sometimes depicted in early Norse and British drawings and paintings.
They have found favor with royal families and were known for being formidable hunting dogs.
Great Danes are believed to be the descendants of the early mastiffs and wolf dogs.
Due to their large size, they would commonly be used to hunt large game and had the potential of taking down mature bears.


The History of the Cane Corso
The Cane Corso has an equally interesting history.
The courageous Cane Corso is a descendant of the ancient roman war dogs.
They were originally used as guard dogs, and for hunting and farming purposes.
Cane means 'dog' in Italian while the word 'Corso' loosely translates to 'bodyguard'.
The breed began to rapidly decline as more and more people deserted their farms. In the 1970's, the Cane Corso was officially recognized by the American Kennel Club (AKC) and was registered under the working group.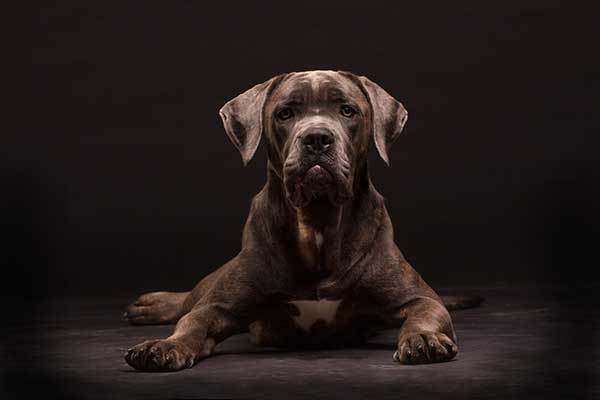 When you cross these two lovely breeds, you get an Italian Daniff who is as loving as the parent breeds. They enjoy playing and are very loyal to their family members.
They will protect their family and offer you a life of fun and joy.
Cane Corso Great Dane Mix Size, Height & Weight
So, how big will a Cane Corso Great Dane Mix get?
Considered to be a large sized mixed breed dog, a full grown Italian Daniff stands between 35 and 36 inches tall and weighs between 115 and 130 pounds.
As we have mentioned, the breed's sheer size make them unsuitable for an apartment or small home.
As with other crossbreeds, most of the Italian Daniff's physical characteristics will depend which parent breeds he takes after most.
In fact, when you take a look at the Italian Daniff pictures, you'll notice that the dogs do not look exactly the same.
So, apart from the fact that your Great Dane Cane Corso Cross will be a very large dog, what other traits could this hybrid dog inherit?
Let's take a closer look at the general appearance the Italian Daniff: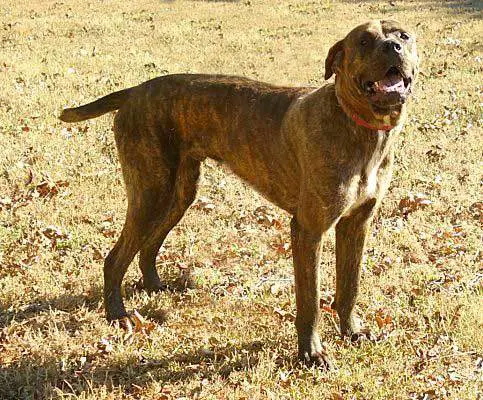 Image Source
The General Appearance of the Cane Corso Great Dane Mix
The Great Corso is known to be a very large designer dog who can inherit the physical characteristics of either parent breed.
This crossbred is a very muscular dog who closely resembles the Great Dane. However, the chest is wider than that of the Great Dane parent and looks like that of the Cane Corso.
Coat and Coat Color
The Italian Daniff has a short coat that rarely sheds. His coat is also smooth and glossy (just like that of the Great Dane).
His coat comes in five different colors, including black, blue, brown, fawn and Isabella.
Italian Daniff Behavior & Temperament
The temperament of the Cane Corso Great Dane Mix is gentle, loving and protective. These personality traits are inherited from the parents' breeds since both the Great Dane and the Cane Corso are affectionate and loyal in nature.
The Great Dane Cane Corso Cross is also a very intelligent and devoted dog who is friendly towards his family and other pets.
They adore kids and get along well with other animals.
 

View this post on Instagram

 
Due to his high intelligence levels, the Italian Daniff is easily trainable. They are very easygoing and do not easily get overly excited.
If you are searching for a dog that is known for barking, then you should consider another breed since the Cane Corso Great Dane rarely barks unless they meet a quick intruder.
However, your Italian Daniff could be a loud barker if he takes after the Cane Corso.
Is Italian Daniff Kid-Friendly?
The Great Corso is very friendly, spirited and protective of kids. They enjoy playing with children while keeping a close eye on them.
However, they might unintentionally knock over little kids due to their massive size, so close supervision is important when you allow them to play with each other.
Moreover, teach your children how to interact with dogs as they may play too rough.
The Italian Daniff is also good with other dogs and gets along with cats and other pets especially if they have been properly socialized.
Training
The Cane Corso Great Dane is intelligent just like his parents.
However, he is stubborn so housetraining might be challenging. Therefore, he needs an experienced pet parent who will train him with patience and consistency.
You also need to be firm and use plenty of positive reinforcement training methods.
Reward your dog with yummy treats and offer lots of praises as a way of encouraging and motivating your dog.
Proper socialization should also make an integral part of your Italian Daniff's training to help him grow into a confident and well-mannered pup.
Exercise Needs
The huge and muscular Cane Corso Great Dane Mix will need a 30-minute walk each day to help maintain his fitness levels.
Despite his massive size, however, the Italian Daniff doesn't require strenuous exercises. He is not the best jogging companion and might not enjoy running.
Instead, keep your Italian Daniff in a fenced-in-yard where he can play with his interactive dog toys.
Playing games of fetch with your dog is a great way to exercise them and prevent health issues like obesity, and offer an energy outlet to correct any destructive behaviors. Moreover, it will keep him mentally stimulated and improve your bond with your dog.
Despite the fact that most of these dogs do not like running, they are wonderful pups to take to a nearby dog park since they get along well with other dogs and humans.
The Italian Daniff will do well in cold regions since their tolerance to cold is high.
However, you should avoid exercising your pup in extreme temperatures. If they become heated, they can drool a lot so it is important to bring a washcloth with you to clean their face.
AWOOF Snuffle Mat Pet Dog Feeding Mat, Durable Interactive Dog Toys...
❤ RICH FEEDING GAME – Look at the Big Orange Flower in the middle of the snuffle mat. Total 4 layers of orange petals can hide large chunks of...
❤ EXTRA FUN ATTRACTS YOUR PUPPY – We are extremely positive of our snuffle mat. But in order to provide more fun for lovely puppies, we set up 4...
❤ EXCELLENT RELEASE BUCKLE DESIGN – Have you ever bought a snuffle mat for your dog that want to develop good habits in your dog. But your dog...
Last update on 2021-04-14 / Affiliate links / Images from Amazon Product Advertising API
Grooming
The short coat of the Cane Corso Great Dane Mix rarely sheds.
However, this is not a hypoallergenic breed and he will require bushing every few days to keep shedding at a minimum and to get rid of any loose hairs.
It is also a good idea to brush your dog's teeth to keep their breath smelling fresh.
The long, floppy ears of the Italian Daniff should also be cleaned regularly to remove any dirt and prevent ear infections.
Their nails may wear down over time, but you should consider investing in quality dog clippers to help keep them short.
The Italian Daniff rarely produces any bad doggy odor, but you should use high quality dog shampoo when bathing your dog. This should be done once a month to keep them smelling fresh.
Otherwise, you should use deodorizing wipes for dogs to keep your pet clean and smelling fresh in between baths.
 

View this post on Instagram

 
Feeding
To help maintain its health, your Great Dane and Cane Corso Mix will require a high quality dog food that is formatted for large breeds with its level of activity.
Meeting your puppy's nutritional requirements is vital to having a healthy and happy pet without any major health issues.
As a large energetic breed, your Italian Daniff will require around 3 to 5 cups of dry dog food each day.
To keep your dog's digestive system healthy, provide him with probiotics as well.
You should also supplement your dog's diet with Omega-3 fatty acids to help maintain the health of their skin and coat.
And one of the best options is the Pure Wild Alaskan Salmon Oil, a natural supplement that helps to maintain the health of a dog's coat, skin, joints and hips, as well as the immune system.
It's also recommended to provide your dog with fresh water since it boosts digestion while keeping your pooch cool and hydrated.
Last update on 2021-04-13 / Affiliate links / Images from Amazon Product Advertising API
Cane Corso Great Dane Mix Health Issues
Knowing in advance which health problems can affect your dog is extremely important as it helps you to provide them with the best care possible.
It is very draining (both emotionally and financially) to keep a dog that's sick most of the time. In an ideal world, a dog should bring joy and happiness to your life, not misery.
That's why it's important to know health issues that your Great Dane Cane Corso might inherit from his parents.
The Italian Daniff is a prone to health problems such as bloat and hip dysplasia (just like both parent breeds).
It's best to take your pet to see your veterinarian annually for its vaccinations and to have regular checkups.
Italian Daniff Lifespan
Based on the average lifespan of his parent breeds, the Cane Corso Great Dane life expectancy will be quite short, usually around 8 to 10 years. This is sadly quite normal for large-sized dogs.
ALSO READ: All About the Great Dane Mastiff Mix (Daniff)
Finding Reputable Italian Daniff Breeders?
Since the Cane Corso Great Dane Mix puppies are quite rare, you'll definitely have your work cut out when trying to find reputable breeders.
It's strongly recommended to join dog forums and search through local dog breeder networks.
Perusing the latest puppy classified ads on a regular basis is another great way to find Cane Corso Great Dane Mix puppies for sale.
Networking with other dog owners and letting them know that you are interested in buying this particular designer dog can also help you to find healthy Italian Daniff puppies for sale.
Your best bet is to search for local breeders that can provide these huge pups with the care and attention they need to remain healthy and happy.
 

View this post on Instagram

 
How Much Does an Italian Daniff Puppy Cost?
Due to their size, Italian Daniff puppies can be rather expensive.
But if you look around for a reputable breeder who has a litter of Italian Daniff puppies, then you can buy one at around $800 to $1,000.
The price of these pups will vary depending on availability and the breeders involved.
Cane Corso Great Dane Mix for Adoption
If you were to go through an animal shelter or rescue center, the charges are much lower. In most cases, the adoption fees will be anywhere between $50 and $100.
Also, most rescue centers will take care of the cost of the first vet visit.
ALSO READ: The Great Dane German Shepherd Mix (Ultimate Guide)
Conclusion
If you have ample space and a large home for your Italian Daniff to play and exercise in, then he can make an excellent family dog.
Although they have a short lifespan, they can bring a lot of joy and happiness to your home.
Known for their bravery and being friendly and protective, the Great Dane Can Corso Mix has moderate energy and will require activities that challenge them physically and mentally.
This designer dog is intelligent and will need plenty of attention. This means they can be easy to train, but you should be firm and consistent since they are stubborn at times.
With proper training and socialization, a Cane Corso Great Dane Mix can be one of the best family pets you could ever own.
Checkout Our Favorite Dog Products
1. BEST PUPPY TOY
We Like: Snuggle Behavior Toy with Heart Beat & Heat Pack – Ideal toy for new puppies.
2. BEST DOG DNA TEST
We Like: Embark Dog DNA Test – Embark screens for over 250 dog breeds + tests for 170+ genetic diseases including MDR1 drug sensitivity, glaucoma, degenerative myelopathy, and dilated cardiomyopathy, some of the most common adult-onset diseases in dogs.
3. BEST DOG TRAINING PROGRAM
We Like: Doggy Dan The Online Dog Trainer – Stop any dog problem and raise the perfect puppy with The Online Dog Trainer.
4. Best Vacuum to Tackle Pet Hair
WE Like: Dyson Ball Animal 2 – Engineered for homes with pets. With features and tools that dig out dirt, hair and allergens everywhere your pet gets.