Training a stubborn dog can be a daunting and challenging task.
Is your dog proving to be hard-headed?
Training a stubborn dog can be really frustrating. It requires a lot of patience and perseverance. You need to sacrifice a number of things including your time to put in more effort in training your stubborn puppy.
However, do not despair because all hope is not lost, fortunately all dogs are people pleasers. They will do almost anything just to please their master.
Training a stubborn dog will not be a smooth sail but you will eventually manage to transform him into an obedient and polite pooch.
Here are easy steps to train a stubborn dog.
1. Timing is everything
You need to begin training your dog immediately you bring him home.
As the old saying goes, "Prevention is better than cure" it is better to "prevent" your dog from being stubborn other than to have to "cure" his stubbornness.
Immediately you begin to see signs of stubbornness in your dog, you need to train him using better and effective methods. Make sure to teach your dog all the basic commands right from the time you adopt him as a puppy.
RELATED: Teach your dog the basic commands COME, SIT, DROP IT
2. Exercise some patience
Patience is a key ingredient when you are training a stubborn dog. This is even more crucial when you are trying to teach your stubborn puppy new skills.
Remember that all dogs require training. When you bring your puppy home, he has no clue whatsoever of any of your house rules.
Never shout at your dog however stubborn you think he is. This will only make matters even worse. Be patient during your training sessions and your dog will slowly begin to start listening and following your instructions.
3. Establish yourself as the Alpha
Every dog looks up to a leader. You need to establish yourself as his alpha.
Being his leader, you need to act like so. This should reflect in your actions. For instance, you should always lead your dog when you have taken him outdoors for a walk.
Many dog owners let their dog walk in front while tagging them by the leash. This should not be position you should take as his alpha.
Once you allow your dog to always have his way, he will develop a stubborn attitude. If he respects you as his alpha he will definitely obey your instructions.
4. Be clear in your communication
Sometimes you can never really blame your dog 100% for being stubborn.
The double standards set by people in your household could be the reason why your dog acts in a way that may seem stubborn to you.
For instance if you command your furry friend to sit and not jump on people or furniture and your spouse comes home from work and entertains the fact that your dog will jump all over him. This will confuse your dog on whether or not to jump on the furniture or even people?
You need to be clear on the kind of rules that you set in your house and make sure that everyone adheres to those rules including your canine friend.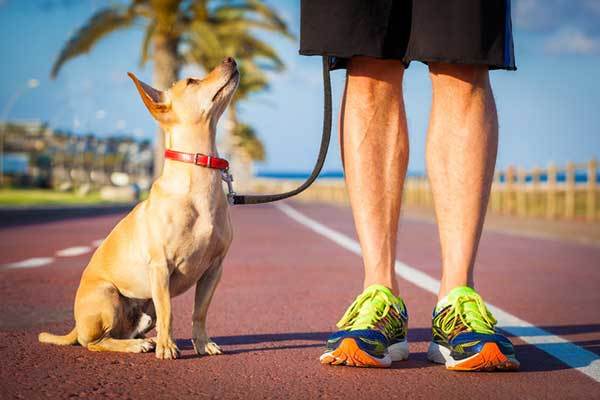 ALSO READ: 5 Signs Of A Jealous Dog And How to Deal With It 
5. Repeat, Repeat, Repeat
Repetition is for emphasis. When you are training a stubborn dog, you need to conduct your training in a serene and quiet environment.
Your home could be a good place to start if you can just get a room where it will just be the two of you. Set up your training sessions in a quiet place where it will be easy for your dog to concentrate and pay attention.
You will be forced to repeat the training sessions every day for at least thirty minutes to one hour for almost a week before your puppy can grasp what you teach him.
Obedience training is a vital aspect of managing a stubborn dog and it should be done repeatedly to transform his behavior.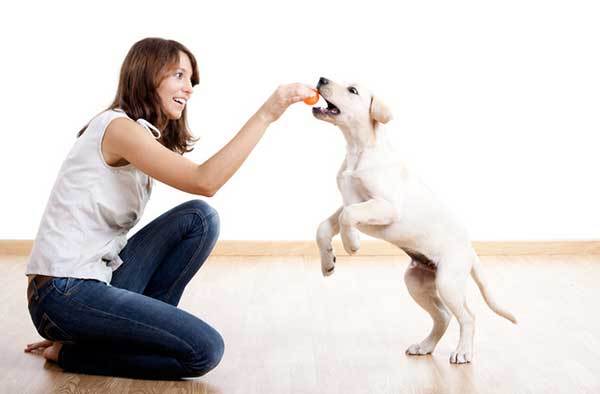 6. Know your dog's abilities
Every pet owner ought to know that all dogs have different capabilities just like we humans. Your dog will only do what works for him.
Therefore, you need to find out what your dog's abilities are and know how best to reinforce them.
For instance, your dog will use his powerful sense of smell to go after a piece of meat in the kitchen and may not respond to your call. Such kind of behavior may seem rude and make you conclude that your dog is outright stubborn.
However you can resist fighting his powerful nose and choose to let that fact work for you. Offer him a better piece of reward that will definitely make him to always want to come to you.
Furbo Dog Camera: Treat Tossing, Full HD Wifi Pet Camera and 2-Way Audio,…
FULL HD CAMERA & NIGHT VISION – The Furbo Dog Camera gives you HD video quality day & night. Stunning 1080p live view lets you easily check on your…
2-WAY AUDIO – Know what's going on at home and talk to calm them down via the app.
FUN TREAT TOSSING – Toss a treat to your dog through your Furbo dog treat dispenser camera via the free Furbo iOS/Android app. Fill your Furbo dog…
Last update on 2023-12-03 / Affiliate links / Images from Amazon Product Advertising API
7. Use positive reinforcement
Dogs, just like kids like to be pampered and applauded for everything they get right.
Avoid scolding your dog or even shouting at your dog. Dogs do not understand 90% of the words that we speak especially when we are angry. To them it sounds just as gibberish and they cannot make head or tail out of it.
However, positive reinforcement has been known to be very effective in training any dog including one that is stubborn.
Give your dog his favorite treat when he does your bidding. This will motivate your dog to even do better next time knowing that there is a treat in the offing.
Pat your dog gently on the back and give him a shower of praise, he will definitely want to impress you even more next time.
Sale
Kingdom Pets Filler Free Duck Jerky & Sweet Potato Twists, Premium Treats…
FREE FROM FILLERS: All of our protein-packed treats are free from grain, soy, and corn. Your pup can savor the natural, rich flavor of farm-raised…
LOVED BY DOGS OF ALL SIZES: Dogs of all sizes and breeds can enjoy our tasty treats. Easy-to-break jerky can be customized into small pieces for…
LIMITED INGREDIENTS: Treats with limited ingredients decrease the likelihood of allergic reactions for dogs with allergies and food sensitivities….
Last update on 2023-11-11 / Affiliate links / Images from Amazon Product Advertising API
8. Understand that your dog is NOT stubborn
I know what you are probably saying by now, "You just haven't met my stubborn dog!" Well, you have to actually know the rules before you can be accused of breaking them.
The reason why your dog might be acting "stubborn" could be because you haven't probably done enough training on him.
Having unrealistic expectations of your dog will make you believe that your dog is just being hard headed.
Remember, just because your dog follows through with a command once or twice it does not mean that he has understood and truly knows the command. Train your dog thoroughly and teach him all the basic commands.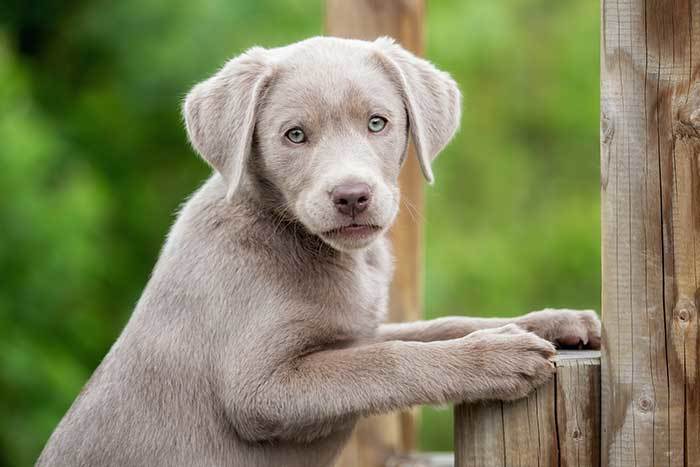 9. Say his name before each command
Training a stubborn dog doesn't have to be a hard task. Does your dog know his name? If not, you need to make him learn how to respond to his own name.
When you bring your canine friend home, you need to pick a name for him. Choose a name that is easy and unique. In order for your dog to easily identify himself with that name, the name chosen should not sound similar to other words.
Once you teach your dog his name, you then need to say his name before each command. This will make him give you his undivided attention.
LEARN ABOUT IT: 6 Tips to Stop Your Dog from Peeing in the House 
10. Train on a leash
Is your dog so stubborn that he would just not stay still to the end of your training session?
Dogs are easily distracted and this could be the reason why he is acting stubborn. Put your dog on a leash so that you can easily control his movements.
Avoid a choking collar as this is likely to irritate him even more. Be firm with him and let him follow you as his alpha.
Give him his favorite treat if he stops tugging the leash and follows what you want him to do. This will make him feel even more motivated to stay calm to the end of the training session.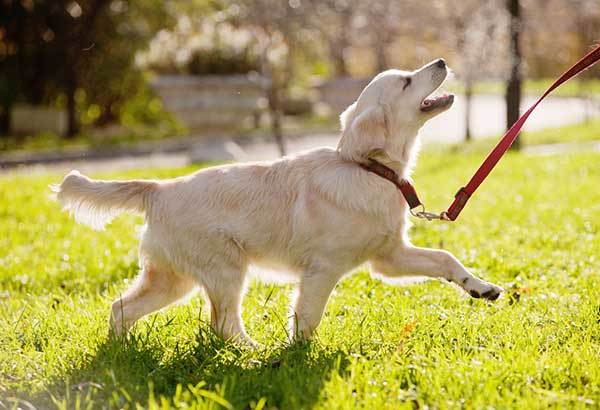 11. Keep Practicing
Make training a habit. This will help your dog to continuously learn how to behave.
As already mentioned before, your dog might not be stubborn it might just be lack of proper and consistent training.
Keep practicing and teaching him the various basic commands and he will eventually transform into an obedient dog.
12. Seek professional help
If your dog persists on being "stubborn" you better seek professional help. There are professional dog trainers that can help you train a stubborn dog.
Check online for good dog trainers or you can even ask friends or family for recommendation. Consult your local veterinary when you see that your dog is showing signs of aggression or excessive fear.
Your dog's stubbornness may be caused by other factors beyond your control like genes. Your vet will help you find out some of these things and may even be able to recommend a professional dog trainer to help you train your stubborn dog.
ALSO READ: 13 Common Dog Training Mistakes You Ought to Avoid
Conclusion:
In a nutshell, dog training is an enjoyable activity that every dog owner ought to delight in. This is the time you get to bond with your puppy and even get to discover more about each other.
Learning how to train a stubborn dog can be quite challenging but it is very possible to transform his behavior. Remember to invest in your dog's favorite treats and toys.
Dogs like to be rewarded and praised and your stubborn dog is no exception.
Give him a treat when he behaves well and this will motivate him to always do good to impress you. Positive reinforcement has always been an effective way to train your dog.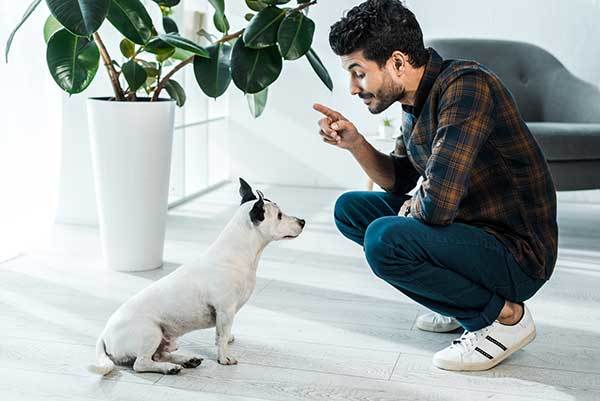 Checkout Our Favorite Dog Products
1. BEST PUPPY TOY
We Like: Snuggle Behavior Toy with Heart Beat & Heat Pack – Ideal toy for new puppies.
2. BEST DOG TRAINING PROGRAM
We Like: Doggy Dan The Online Dog Trainer – Stop any dog problem and raise the perfect puppy with The Online Dog Trainer.
3. BEST DOG DNA TEST
We Like: Embark Dog DNA Test – Embark screens for over 250 dog breeds + tests for 170+ genetic diseases including MDR1 drug sensitivity, glaucoma, degenerative myelopathy, and dilated cardiomyopathy, some of the most common adult-onset diseases in dogs.
4. BEST DOG PUZZLE TOY
We Like: Outward Hound Interactive Puzzle Toy – Every dog loves chasing squirrels at the park. The Outward Hound Hide-a-Squirrel Puzzle Toy gives your dog the same feeling as though he was outdoors chasing live squirrels.
5. Best Calming Treats for Dogs
We Like: FurroLandia Hemp Calming Treats – These soft chews will calm your dog so it can peacefully endure stressful situations, such as long car trips, visiting unfamiliar places, or hearing Thunder. Ideal for all dog breeds & sizes.

RECEIVE UPDATES ON DOG TRAINING, BREEDS, AND HEALTH + ALSO GET A FREE COPY OF OUR EBOOK 100 DOG TRAINING TIPS....