Just brought your canine friend home and you are wondering how to train your springer pup.
Well, worry no more because we've got your back. Obedience training your puppy doesn't have to be a daunting task.
What makes it even more fun and enjoyable is that the English springer spaniel dog breed was originally bred to flush or spring in the field. This makes them great companions as well.
Naturally, springer spaniels are smart dogs, so training your puppy shouldn't be a challenge. Your English springer puppy has a lot of energy and stamina which also makes it all easier for you to train him.
Your springer puppy loves and craves for human attention and affection, so training them will be very easy with the right training tips.
Here are some basics that you can use in training your springer spaniel dog:
1. Prepare well in advance
You need to make all the necessary preparations before you bring your new springer puppy home.
Make sure that his sleeping area is well done and have a meeting with your family too. Agree on some of the basic rules that will need to be followed once your puppy is home.
This will save you a lot of unnecessary confusion in the house. You really don't want a scenario where you will give one command and another person issues a different command. This will confuse your springer spaniel puppy.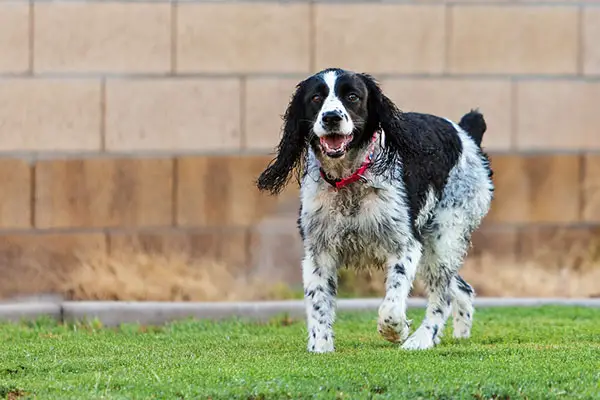 2. Start training early
Timing is everything when it comes to springer spaniel puppy training. You need to subject your puppy to training immediately you bring him home.
Train him when he is still a young puppy as opposed to waiting until he has fully grown into an adult. Just the same way you would inculcate discipline into your young child rather than waiting until he is fully grown.
Start with short and fun sessions every day and keep increasing the time even as he continues to grow older. Keep in mind that your springer puppy has a shorter concentration span so it will be quite useless to go on for hours and hours.
3. Avoid punishing your springer puppy
When training your dog, please don't get annoyed and opt to beat him or shout at him. This can even end up making your springer aggressive and rebellious that is not the type of dog that you want to have in the house.
Your pooch will end up hating you or even scared of you. That is definitely not the relationship you want to have with your furry friend.
Failure to train him the right way, your springer puppy may end up becoming obnoxious and stuck-up, ignoring you instead of being affectionate and loyal.
You need to know that dogs do not even understand half of the things we rant when we are angry, it all sounds gibberish to them.
Your springer is likely to pick up your facial expressions and gestures than the many words you speak. Dogs don't understand every English word. This brings me to my next obedience training tip.
AWOOF Snuffle Mat Pet Dog Feeding Mat, Durable Interactive Dog Puzzle Toys…
❤ RICH FEEDING GAME – Look at the Big Orange Flower in the middle of the snuffle mat dog puzzle toys. Total 4 layers of orange petals can hide…
❤ EXTRA FUN ATTRACTS YOUR PUPPY – We are extremely positive of our snuffle mat. But in order to provide more fun for lovely puppies, we set up 4…
❤ EXCELLENT RELEASE BUCKLE DESIGN – Have you ever bought a snuffle mat for your dog that want to develop good habits in your dog. But your dog…
Last update on 2023-10-03 / Affiliate links / Images from Amazon Product Advertising API
4. Teach him the basic commands
Teach your dog the most basic commands that you are likely to use every day. This could be commands like "Come!" "Sit!" "Stop!" You need to also make him learn his name too.
I hope that the name you would have picked out for your dog is an easy and short name that does not resemble any other common English word.
Agree on the same set of commands that everyone around the house will be using, you also don't want a scenario where one person will be telling him "SIT" and another one commanding him to "STAY" this will just cause confusion to your little pooch.
5. Use positive reinforcement
A rewards based sytem of training is a way better and one of the most effective ways of training a springer spaniel puppy.
Have a stack of your puppy's favorite treat and use them during your training sessions. When your springer spaniel follows through with your command, give him a treat to motivate him to do the same the next time. This will make him obey your commands because well he knows that something yummy is in the offing.
Dogs are just like children, they love to be pampered and treated special. Give him his favorite treat or shower him with praise or give him a pat on the back.This will motivate your spaniel always want to impress you every time.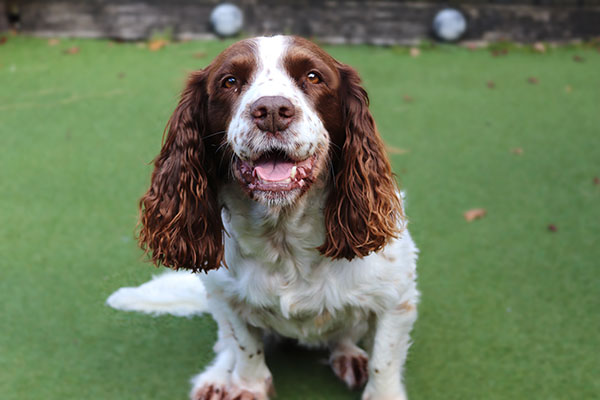 6. Be firm and clear
Make your commands, short and clear.
Use a sharp voice and make your commands clear and precise. This will enable your springer puppy to easily understand what you are saying and judging by the tone of your voice, your puppy will obey and follow through with the instructions.
Keeping your phrases short such as "No" or "Stop It Nala" will be much more effective during your obedience training sessions. This will be better and more effective than you scolding or shouting at your puppy.
Keep calm and don't get angry or frustrated. Your dog can easily tell by your facial expression.
7.  Socialize your furry friend with other dogs and people
Dog training and socialization go hand in hand. You need to introduce your dog to other dogs and even people. He will feel he belongs through socialization, so make sure to expose him to other dogs early enough.
The dog park is a good place to begin, you can also organize a play date at a friend's house if they also have a dog, just for them to meet and interact.
Make sure your springer is well exposed to people and other dogs, it gives him a sense of fulfilment and security. Before taking your springer outdoors, visit your vet for him to give you a go ahead.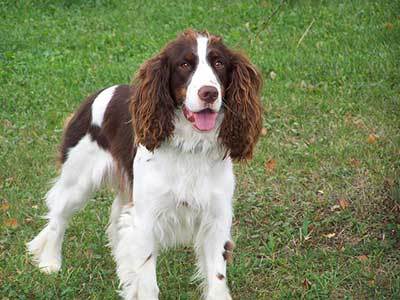 8. Exercise patience while training your dog
Even though your puppy is a smart one, no dog is perfectly trained the same day. You need to be patient with him even as he slowly learns the basic commands and other things.
If you do it consistently and patiently, your springer will eventually master all the things he needs to know. Try different training approaches if you realize that some training methods work best compared to others.
Having a diverse range of options will also ultimately make the training sessions fun and interesting for your dog. Dogs easily get bored and monotonous training sessions will easily bore your puppy. For instance, if your springer puppy does not like a specific treat, try something else or try changing the training environment too.
9. Train him to walk on the lead
Train your dog walk on the lead. Originally, this breed was kept as a hunting dog. This is because of their athletic nature and high-energy too.
Train him to walk on a leash in a good area where there are no distractions. Your backyard can be a good place to conduct the training because it is enclosed.
You can hold a treat directly in front of him and walk a few steps in front. He is likely to follow the aroma of the treat. If he does, give him some praise and give him the treat. Do the exercise for at least 10-15 minutes giving him a slight tug on his leash if he refuses to walk forward.
With practice and patience with your dog he will learn to walk on the lead.


10. Meet all his needs
Dogs have needs, just the same way we humans do. You need to make sure that your canine friend is well fed even before training begins.
No dog will pay attention with a hungry stomach. Feed him high quality dog food that will enable him to grow healthy and strong.
Physical exercise should also not be ignored. The English spaniel springer is naturally a hunter and sporting dog. Drain off some of this energy by making sure that you have engaged your dog in all manner of useful exercise.
When he comes to the training session he will not be overly active making him easier to handle. Allow him to use the potty before training so that he is not distracted during the training session.
Conclusion
In a nutshell, training your canine friend should not be a frustrating activity. Utilize it and make it a session of bonding and knowing him well. You will know for instance what treats really make him tick.
Train him when he is still young, at least when he is 8 weeks old, anything younger than that will be wastage of time. Teach your pooch the very basic commands and let him learn his name as well to make training easier.
Positive reinforcement is the way to go. Reward your furry friend with his favourite treats to motivate him to be obedient next time.
Be consistent in training and have some patience because, we all know that great things take time.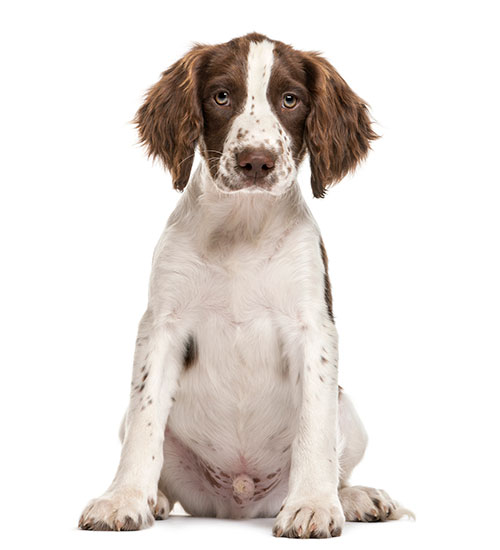 Checkout Our Favorite Dog Products
1. BEST PUPPY TOY
We Like: Snuggle Behavior Toy with Heart Beat & Heat Pack – Ideal toy for new puppies.
2. BEST DOG TRAINING PROGRAM
We Like: Doggy Dan The Online Dog Trainer – Stop any dog problem and raise the perfect puppy with The Online Dog Trainer.
3. BEST DOG PUZZLE TOY
We Like: Outward Hound Interactive Puzzle Toy – Every dog loves chasing squirrels at the park. The Outward Hound Hide-a-Squirrel Puzzle Toy gives your dog the same feeling as though he was outdoors chasing live squirrels.
4. Best Bone Broth for Dogs
We Like: (Solid Gold – Human Grade Bone Broth for Dogs) – Simmered Beef Bone Broth With Turmeric Provides A Nutrient-Dense And Flavorful Addition To Your Dog's Meal + Rich In Natural Collagen From Beef Bones.
5. Best Multivitamin for Dogs
We Like: PetHonesty 10-For-1 Multivitamin – 10 Benefits in 1 Daily Treat – These Multivitamin Snacks combine a well-rounded blend of the most essential vitamins and supplements including glucosamine, probiotics, vitamins and omegas, for dogs' overall daily health.
RECEIVE UPDATES ON DOG TRAINING, BREEDS, AND HEALTH + ALSO GET A FREE COPY OF OUR EBOOK 100 DOG TRAINING TIPS....