Great Dane training is just as important as training of any other breed.
It just seems a little more intimidating when we consider the size of these dogs, and their potential behavior issues.
[thrive_text_block color="blue" headline=""]In this guide to how to train a Great Dane we will look at a series of behavioral problems, their training solutions and any products that may be of use. [/thrive_text_block]
This includes general obedience, socialization, potty training, leash training, boundary training and crate training.
Are Great Danes easy to train?
There are many Great Dane owners that will say that these dogs are really easy to train. They talk about their devoted giants that are soft and eager to please.
However, this isn't that straightforward.
[thrive_text_block color="red" headline=""]For a start, these giants can use their size against their owners – either on purpose or unintentionally.
They need as much patience and consistency in their training regimen as any other breed.
[/thrive_text_block]
You also have to remember the importance of handling these dogs from a young age.
There are two reasons for this:
First of all, they are much smaller and easier to manage. Secondly, they are better able to learn everything without picking up bad habits.
Further Reading: A Guide To Finding The Best Dog Houses For Large Dogs
Let's start with general obedience
All owners need to begin with some strong, consistent Great Dane obedience training so that they can learn all the basics.
This large dog needs to be able to sit, stay and lie down on command. You need to make sure that you are in control of them at all times.
The best way to do this is with positive reinforcement, but via a strong dominant position as pack leader. These pups should never be the ones in charge, but you don't want to be tough on them either.
These gentle dogs can be a bit sensitive and won't respond well to any negative approaches. Some guides talk about correction training with a leash, but this might not be the best approach.
[thrive_leads id='7777′]
Instead, you can probably do pretty well with a series of tools for positive behavior training.
One of the best places to start when learning how to train your Great Dane puppy is with a clicker and some simple treats.
[thrive_text_block color="note" headline=""]Clickers offer audible responses to good behavior. Puppies react to a command, then associate the click with a positive response and a treat. [/thrive_text_block]
Eventually, you can decrease the treats and rely on the clicker. With time, they will respond with no sensory reward at all.
Be careful with feeding too many treats to these pups and make sure they are safe and age appropriate.
A great example of a clicker for Great Dane training is the PetSafe Clik-R Trainer.
This tiny, affordable option is comfortable – thanks to the finger strap – and easy to use. This means that you don't have to worry about missing a click and confusing the dog. It is also bright purple, so won't get lost if dropped in the grass.
Further Reading: A Guide To Choosing The Best Multivitamin For Dogs
Then there is the need for good socialization training from an early age.
This is important for a number of reasons:
First of all, you need to make sure that these dogs act appropriately around other people and animals.
This means no jumping and barking at strangers or other family members. This is a little more of an issue with the Great Dane because of its size.
A toy, companion dog isn't going to do much damage jumping up at an unknown child. A large Great Dane could knock them over and scare them with its bark.
The other problem is that despite their size and appearance, these Great Danes are actually quite wary of people.
Nervousness and anxiety with strangers can lead to them biting or lashing out. Effective socialization from an early age should help to prevent against this.
Further Reading: The Top Ten Best Chew Toys For Destructive Dogs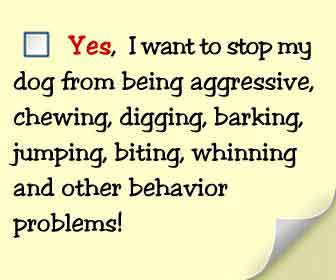 The next issue to consider here is Great Dane potty training
All dogs need to undergo appropriate housebreaking training – regardless of their breed.
Every dog needs its designated area where they know they can relieve themselves. With time, you can train them to go outside and alert owners when they need to be let out.
Obviously this takes some time, as puppies need to learn this behavior and have less control over their bladders.
This is where it helps to put down puppy pads. This is a good stepping stone tool as pups learn to go in a designated area.


Dogs that have problems with housebreaking, or other issues within the home, may also benefit from crate training. This is a bit more controversial compared to some of the other issues raised here.
Some owners don't like the idea of keeping puppies crated and confined.
However, this may be an essential step to take if these dogs are still learning where to pee, where not to roam and what not to chew.
Obviously, the best experiences occur in the best crates. These crates are comfortable, spacious areas where you can create a den-like set-up for your pet.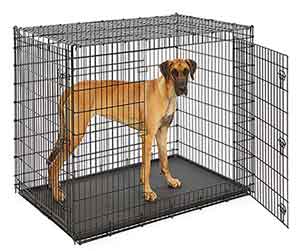 A brilliant example of a Great Dane dog crate is the Midwest Solution Double Door Dog Crate. This is sold as a "ginormous" option for extra-large dogs – measuring 54 inches long and 45 inches high.
This makes it suitable for Great Danes, especially if you add a comfortable Great Dane bed on the base. There is also the benefit of the secure construction and two different entry points.
Further Reading: A Dog Rocks Review: Does This Natural Solution To Yellow Grass Really Work?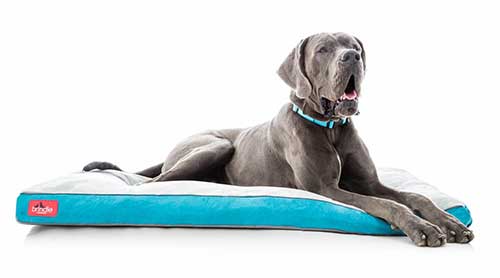 The next issue to deal with is training a Great Dane to walk on a leash
Leash training is essential here because of the size of the dog, and their potential prey drive.
We can't forget that this breed was originally bred for hunting boar, which means that there may be some primal instincts in these pets to chase other animals.
This could be disastrous if these powerful animal get away from owners and head after livestock, pets or other animals.
Leash training helps to keep them under control, but may be a little tougher here because of the strength of the dog.
This is where it is important to use a strong, well-made leash that works with a strong, well-made collar.
The final behavioral issue to here is Great Dane dog training with boundaries
Boundaries can be an issue with these dogs, they can enjoy wandering and exploring, which may get them in trouble.
You don't want these big dogs jumping fences or digging escape route to sniff out a friendly neighborhood dog.
This is an important part of Great Dane puppy training, and requires the right tools and a lot of patience.
[thrive_text_block color="note" headline=""]Where possible, you need to ensure that the boundaries of the home are large and secure. Don't make it easy for them to get out. [/thrive_text_block]
From there they need to learn not to wander too far from their home territory. A Great Dane training collar can help.
This means that you need the best training collar for Great Danes. One great example to consider here is the PetTech Remote Controlled Dog Training Collar.
This wireless, rechargeable collar provides static-based correction at the hands of the owner. This means that dogs can be corrected for straying too far from the house, but also for barking, chewing or any other undesirable behavior.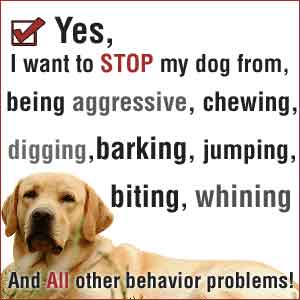 Finding a good Great Dane training guide
What ever the situation with your dog – whether they need basic training or have a behavioral issue – it helps to have some guides and other resources to hand.
There are lots of great books and online guides with helpful Great Dane training tips. One of the most popular online dog training guides is Doggy Dan the online dog trainer.
This guide provides accessible, step-by-step approaches that owners can really connect with. Others will prefer more specific Great Dane training books, like the Great Danes (Complete Pet Owner's Manual).
It also wont hurt to get a copy of The Ultimate Guide to Dog Health from Kingdom of Pets. This health care guide will offer information about the breed's needs to compliment the other lessons learned here.
Further Reading: A Guide To Some Of Best Dog Training Books Available Today (Top 24)
Great Dane intelligence
Finally, while we see these animals as sweet, gentle giants, we can't overlook their intelligence and ability to problem solve.
After all, they are smart enough to catch prey and are able to find their way past those boundaries.
This intelligence is helpful in one respect, as it means that they can learn commands and behaviors with relative ease under the right circumstances.
The potential problem comes in letting that intelligence go to waste. That is where a guide like Brain Training for Dogs can help.
Further Reading:  The Importance of Keeping Your Dog Mentally Stimulated
Training a Great Dane puppy take a lot of work and patience, but is rewarding.
There is a lot to consider here. There are lots of different areas of training to perfect, from the housebreaking and socialization to boundary issues and prey drives.
This means that owners need a strong, positive regimen of training from an early age.
The sooner they are responsive to command and understand behavior needs, the safer they are around other people and animals.
This means some investment in different tools, like the Great Dane leash, crate, collar, clicker and over guides.
[thrive_text_block color="red" headline=""]Great Dane training isn't as easy as some hope, but all the effort pays off in the end. [/thrive_text_block]