Nothing hurts more than seeing your once beautiful lawn or yard looking like a fresh mining site with soil lumps and holes every few meters with no one to blame but your dog.
You keep wondering why your dog keeps digging up the yard and what you can do to prevent such behavior?
Here are 5 essential tips to guide you on how to stop a dog from digging:
1. Monitor your dog
You need to supervise your dog anytime he goes out to play in the yard until you can be able to get his digging behavior under control.
Just pretend to also take a walk in the yard while closely watching his every move. The minute he begins to dig, you can cause a distraction by calling him perhaps or just make some sort of noise to distract him.
While doing so do not frighten him too much. The main aim is to make him to stop digging the yard and have him focus his energy on something else.
Monitoring your dog's moves can be an efficient tactic because you are able to keep him on check every time he goes out to play.
In case you are not around, let him remain indoors or instruct your dog-sitter to monitor his behavior while he plays outdoors. You don't want to come back to find a devastated garden and all your flowers looking pathetic.
2. Try to contain his digging behavior
Dogs are naturally curious animals. It is their natural behavior to dig around, sometimes they do it for fun, or out of curiosity at what is beneath the soil; could be a buried bone they have caught a whim of it.
Therefore, instead of suppressing this natural behavior of your furry friend, it might be wise to try and contain it by marking out an area that he is allowed to dig. Create the boundaries using stones or a low plant fence.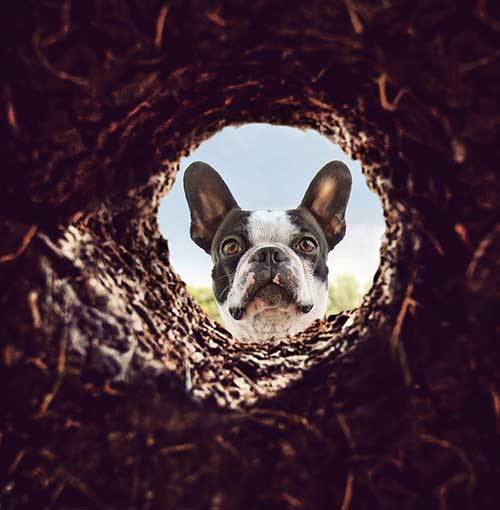 You might be wondering how to teach him that the place you have marked out is meant for digging. Well, that is fairly simple, partially hide some of his favorite items like toys and bring him out to play and have fun digging them out.
Repeat the exercise for several days until it sticks in his mind that the area you marked out is meant for digging.
Give him rewards and treats every time he digs out the item he is meant to find. This will motivate him to dig the right patch and not all over your yard.
Sale
Last update on 2021-09-23 / Affiliate links / Images from Amazon Product Advertising API
3. Use some dog digging deterrents
Observe your dog's behavior and take note of the place that he likes to dig most. If he keeps on digging the same place, you can use some dog digging deterrents to discourage him from digging the same spots over and over again.
A dog digging deterrent could be something that you know your dog does not like or something he will encounter and make him not dig the place again.
For instance you can use rose bushes and other thorny shrubs that will act as a fence to deter the dog from digging the lawn or yard. You can also use a sprinkler system that has a motion sensor, this can also be a good deterrent.
Last update on 2021-09-23 / Affiliate links / Images from Amazon Product Advertising API
4. More play-time and exercise
Some dogs are simply hyper active, you need to help them redirect that energy by engaging him in more physical exercise.
You can take him out to play and teach him new games that will take his mind completely off digging your yard. Running, swimming, playing fetch and other activities will help keep the dog occupied.
According to recent study, dogs keep digging around if they feel under exercised or due to boredom.
If your dog does not get a good walk or exercise, then he will definitely turn to your beautiful lawn and begin his digging activities. Just like kids, puppies are very athletic and energetic.
Make sure you drain them off that energy before they completely turn your yard into a war zone. Dog toys and other chewable toys can be good distraction. There are interactive dog toys that will help develop your dog's brain.
iFetch Too Interactive Ball Launcher for Dogs – Launches Standard Tennis…
FETCH-A-HOLICS REJOICE! Interactive, automatic tennis ball launcher lets big dogs play fetch to their hearts' content.
THE BIG DOG: This is our large automatic ball thrower. Launches a standard sized tennis ball 10, 25, or 40 feet all with the touch of a button. It…
RECHARGEABLE BATTERY: No batteries needed here… ever! Runs on a built-in, rechargeable battery, so just charge and go.
Last update on 2021-09-23 / Affiliate links / Images from Amazon Product Advertising API
5. Train your dog
Good dog training is very essential. Teach your dog the basic commands like "leave it", "Stop" among others. It is very simple to make your puppy to obey your every instruction.
Simply use positive reinforcement and avoid shouting or smacking him whenever he goes out to start digging in your yard or lawn. Give him his favorite treats when he digs the right place that you marked out for him.
If you train your dog well, the minute he begins to dig and you command him to stop, he will listen to you.
If your dog won't listen to your command and continues to dig, find out the reason why he is digging and deter him from doing that next time but do not shout at your dog. This will simply frustrate him and he will respect you less.
You can check out the services of Doggy Dan the Online dog trainer. The program is very beneficial to both dog owners and dogs alike.
This program has helped dog owners get to the root of stubborn behaviors that some dogs exhibit like digging in the yard.
The trainer is a professional dog trainer who has worked with thousands of dog owners into moulding and nurturing obedient dogs. It does not matter how stubborn the dog is, the program will definitely help him get rid of the ill manners.
ALSO READ: 6 Tips to Stop Your Dog from Peeing in the House
Conclusion
In a nutshell, there are a number of reasons why your dog could desire to keep unearthing sand in your yard or lawn. Some of the issues that are addressed include lack of exercise and boredom.
Make sure that you give your dog plenty of exercise and feed him high quality dog food to enable him grow healthy and strong.
Some dogs are just outright naughty and will dig your yard just for the fun of it. Take him through Doggy Dan the online dog trainer's program and see the positive change in his behavior.
RECEIVE UPDATES ON DOG TRAINING, BREEDS, AND HEALTH + ALSO GET A FREE COPY OF OUR EBOOK 100 DOG TRAINING TIPS....