Hybrid dogs are becoming more and more popular the world over and the French Bulldog Pug Mix is at the forefront when it comes to cute designer dogs.
Are you interested in a French Bulldog Pug Mix?
In this guide, you'll view pictures and discover interesting facts about this hybrid dog.
Hopefully, this information will help you decide if the French Bulldog and Pug Mix is the right pet for you.
What is a French Bulldog Pug Mix Called?
French Bulldog Pug Mix is a cross between two of the world's most popular small-sized breeds: the French Bulldog and the Pug.
Also known as the French Bulldog Pug, Frenchie Pug, Frug or the Pugbull, the French Bulldog Pug Mix is a loving and friendly dog with a huge personality.
This hybrid dog is small in size and possesses the physical characteristics of both parent breeds.
Due to his love for humans and loyalty to his owner and family, the French Bulldog Pug Mix makes for an excellent pet for first time dog owners and families with young children.
These pups are generally even-tempered and in recent times, they have proved to be quite reliable when trained to work as guard dogs.
If you love both the French Bulldog and the Pug and are interested in getting the mix between these ancient dog breeds, it is best to do some research regarding the pros and cons of mixed breed dogs.
But where did the Frenchie Pug come from? Let's delve into the history of this interesting mixed breed dog.
Frenchie Pug Breed History
This hybrid dog is gaining popularity but it is not as popular as other mixes such as the Cockapoo or the Labradoodle.
Unfortunately, little is known about the breeding of most designer dogs.
Some of the most popular mixed breed dogs have well-documented histories, but others are not as lucky. This is because some crossbreeds have been around for just a few years while others have been with us for much longer.
Pug and Frenchie mixes have been with us for as long as anyone can remember. In fact, the difference between ancient mixes and today's hybrids is that the latter were bred deliberately with the aim of creating a new and superior dog breed.
Sadly, no particular breeder is credited with crossing the French Bulldog with the Pug. This simple fact leads us to just make conclusions about mixed breed dogs as a whole.
It is likely that the Frenchie Pug was originally bred in the United States within the last 20 to 30 years. The objective was most likely to create an ideal lapdog with the much adored wrinkly look.
In order to get a better understanding of where the Frug came from, we need to study the histories of both parent breeds.
The History of the French Bulldog:
Surprisingly, the French Bulldog has its origins in England and not France.
Little Bulldogs were particularly popular among lacemakers in the 1800's. During the French industrial revolution, the lacemakers moved to France, taking the breed with them.
The smaller French Bulldogs were mixed with a range of other dogs, including Pugs to develop their characteristic bat ears. At this time, they were popularly called Bouledogue Francais.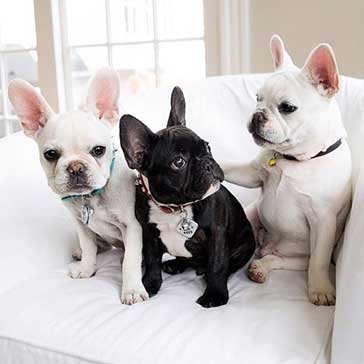 Soon after, the breed was discovered by Parisians and it became more commonly associated with the local café culture and city living.
The breed first arrived in United States at the end of the 18th century, and soon became popular with dog lovers around the country.
The History of the Pug:
The Pug is a very ancient breed that is believed to date as far back as 2,000 years ago.
Chinese emperors loved the unique appearance of the Pug, Shih Tzu and Pekingese breeds. For some time, it was only possible to acquire any of these breeds if you were gifted one by an emperor.
Dutch merchants returned to Holland with Pugs in the 1500's and once here, they are believed to have become the official mascot of the Royal House of Orange.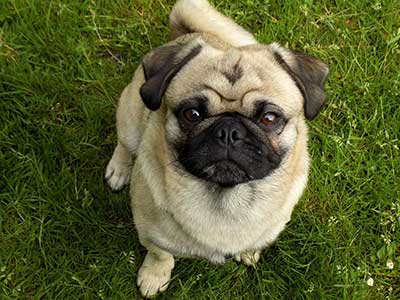 Pug are said to have accompanied William and Mary of the Royal House of Orange to the UK, where this little breed became very popular as well.
The French Bulldog Pug Mix has been bred for many years now and is one of the most popular designer dogs in the world today. This hybrid dog is said to have originated in the United States in the early 1990's when the population of Pugs was growing at a rapid rate.
Frenchie Pug General Appearance
The most important thing to bear in mind when considering a designer dog like the French Bulldog Pug Mix is that the mix can have a combination of the physical characteristics and personality traits found in each parent breed.
This means that it can be quite easy to predict how your Frenchie Pug puppy will look like as a full grown dog.
The Frug dog is undeniably cute. This mixed breed dog is considered to be a brachycephalic breed, just like his parents. This means that this cross has a short nose and a flat face just like his parents.
Frenchie Pugs also have wrinkles or folds around the forehead as well as the area around their eyes. They also have erect ears resembling those of a bat.
French Bulldog and Pug Mix Size, Height & Weight
A full-grown Frenchie Pug weighs 15 to 30 pounds and reaches around 14 to 15 inches in height.
They are small-sized canines that have well-built bodies with short curved tails.
 

 

View this post on Instagram

 
Frenchie Pug Behavior & Temperament
Frenchie Pugs are naturally energetic, smart and friendly dogs who get along with people and other household pets.
They love attention and enjoy being close to their owners. These dogs are also very playful and tend to follow their owners around and all of these qualities are naturally acquired from their parents.
Since Frugs are gentle in nature, they also relate well with kids and enjoy playing with them. However, make sure to teach your children how to play with these small dogs without hurting them.
 

 

View this post on Instagram

 
They also get along well with other dogs, but should not be left alone with larger dogs due to their fragile nature.
Frugs are also natural entertainers. They are always in the mood to entertain their family and please their owners in every way possible.
They are also very curious about their environment. They don't tolerate being left alone for far too long as they can get bored and suffer from separation anxiety.
Generally, Frenchie Pugs do not bark excessively and are not considered to be good watchdogs. However, this can be achieved with proper training.
Small Companion Dogs:
Frugs crave the love and attention of their owners even when they are not doing anything.
Don't be surprised if your Frug likes to follow you around the house. These dogs are also true lapdogs and some of them even enjoy watching TV with their owners.
This tendency to stay close to their family makes the French Bulldog Mix an ideal companion dog.
ALSO READ: Interesting Facts About The Jack Russell Pug Mix (The Jag)
Is the French Pug a Good Family Dog?
The French Bulldog Pug Mix dog's loving and easygoing nature has won the hearts of many dog lovers the world over.
When it comes to behavior, a Frug puppy will enjoy being close to his family and spending time or playing with small kids or older children.
 

 

View this post on Instagram

 
They are also good with cats and other animals in the home, especially if they are trained and introduced to each other from a young age.
These dogs are also intelligent and easy to train, making them ideal pets for both experienced and first time dog owners. Just make sure to start training and socializing your Frug puppy early to ensure they grow into confident and well-behaved dogs.
LEARN ABOUT IT: 5 Signs Of A Jealous Dog And How to Deal With It 
Training
Housetraining a Frenchie Pug can be somewhat challenging since these pups are known to be quite stubborn.
If you start housetraining and obedience training your pooch immediately you bring him home, you should be able to achieve the desired results. Just be sure to establish yourself as the pack leader of your dog from an early stage.
Also, use lots of positive reinforcement techniques in the form of praise and treats to encourage obedience.
As we've mentioned earlier, these brave and intelligent dogs can also be trained to be reliable watchdogs. Although these dogs tend to be friendly to a wide range of people, you can successfully train your puppy to let you know when there is any strange activity going on in your home.
Since Frenchie Pugs enjoy entertaining their masters, you can also teach them a lot of entertaining and fun tricks.
The most important thing when training your Frug is to remain calm and patient while keeping each session short and entertaining for your puppy.
Exercise Requirements
The French Pug is considered a fairly active dog, so a short walk each day will be a great way to meet his exercise needs.
These pups don't do well if subjected to strenuous activities, so you should provide you pup with plenty of interactive dog toys indoors and also give him enough room to play and run around in a fenced-in yard.
 

 

View this post on Instagram

 
Frenchie Pugs tend to be more active while they are still puppies. As full grown dogs, they tend to be calmer in nature. Regular exercises indoors and lots of toys, whether you live in an apartment or a small home will help keep your Frug physically fit and mentally stimulated.
It is important to keep in mind that French Bulldog and Pug mixes are generally sensitive to extreme weather, so it is important to monitor your pet's temperature, particularly if it's a very hot day.
Sale
Last update on 2023-09-21 / Affiliate links / Images from Amazon Product Advertising API
Another issue to keep in mind is that it is vital not to allow Frugs to overexert themselves.
If you have young children at home who love playing with dogs, make sure you monitor their interactions since they may not understand the effects of pushing brachycephalic breeds to too hard.
👉 Also, remember that both the Pug and French Bulldog parents cannot swim, so you should not leave your Frug around deep puddles or swimming pools.
ALSO READ: Best Treat Dispensing Toys for Dogs (Top 15)
Shedding and Grooming Requirements
Fortunately, the French Pug's coat is low maintenance. Brushing their short coats at least once a week is enough to keep them smooth, shiny and healthy.
Frugs rarely shed, but these dogs are not completely hypoallergenic. This means Frenchie Pug may not be ideal for individuals with allergies.
 

 

View this post on Instagram

 
Bathing should be done once per week during winter and once or twice during the summer season. Otherwise, we recommend using quality deodorizing wipes for dogs to help keep the coat clean, smooth and healthy when you are not bathing your dog.
Your Frug's grooming routine should also include: brushing his teeth at least twice a week; cleaning his ears once a week; and clipping his nails whenever they get too long.
RELATED: 9 Tips To Clean A Dog Without A Bath
Feeding Information
To provide your dog with the nutrition his body needs to do well, stick with buying only high quality dog foods. These contain natural ingredients and no artificial ingredients that are unhealthy.
Your Frenchie Pug will need around one and half to two cups of high quality dog food, but divide this amount into two or more meals per day.
If you want to serve some canned dog food to your Frug, you should adjust the amount of dry dog food accordingly to help prevent your pup from overeating and becoming overweight.

The Frenchie Pug Life Expectancy
Frenchie Pugs have a moderately long lifespan. The average lifespan of a French Bulldog cross Pug is 12 to 15 years.
French Bulldog and Pug Mix Health Problems
To better understand what health conditions could affect a crossbreed, it is important to consider the health issues that affect both parent breeds.
One important thing to remember is that both the Pug and French Bulldog are brachycephalic breeds. This means that they have been deliberately bred to have short noses and flat faces. Nonetheless, there's a price to pay for this – their health may be adversely affected.
Although some experts claim that mixed breed dogs are healthier than their purebred counterparts, it is still important to know the health problems they may acquire from each parent breed.
 

 

View this post on Instagram

 
Below are the most common health problems Frenchie Pug may inherit:
• Brachycephalic Obstructive Airway Syndrome (BOAS): this condition causes brachycephalic dogs to experience breathing difficulties. Both Pugs and French Bulldogs are known for their snoring and snuffing tendencies.
Although noisy breathing may seem nice at first, it is normally because of the fact that they are experiencing breathing problems. This also implies that the mixed breed dog may be unable to run over long distances in hot weather due to overheating.
 

 

View this post on Instagram

 
• Atopic Dermatitis: your Frug may inherit this health condition due to the skin folds on his face.
• Dry eye, entropion and other eye problems because of their protruding eyes.
• obesity: Pugs are known to overeat, so make sure you monitor your pup's food intake.
For both French Bulldogs and Pugs, the list of probable health issues is extensive. When getting a puppy, it is very important to use an at-home health screening kit like the Embark Dog DNA Test Kit to determine what health issues you may be dealing with in the future.
Finding Healthy French Bulldog Pug Mix for Sale
If you are convinced a Frenchie Pug is the right pet for you, the next step is to find a good source for your new puppy.
This means you need to find a reliable breeder that not only offers healthy Frug puppies, but will also help you determine the best puppy for you.
When looking for the right Frug for sale, there are a number of things you need to keep in mind:
First of all, a reputable Frenchie Pug breeder will be able to provide you with records showing the health of both the puppy and his parents.
In order to get a good idea of how your Frug Puppy will turn out temperament-wise, request to see the puppies and their parents. This will also give you a good idea of what your dog will look like once it matures.
Moreover, interacting with both the parents and puppies will help you understand the physical and personality traits that your new pet will inherit.
A responsible breeder should also be willing to answer all of your questions and help you through every step of the way. That's a good way to evaluate the breeder's interest in the health and overall wellbeing of their Frenchie Pug puppies for sale.
Not only should the breeder respond to your queries, but they should also establish whether the puppy is an ideal choice for you to ensure he gets into the right family.
How Much Does a Frug Dog Cost?
So, how much is a Frenchie Pug? The price of a French Bulldog Pug Mix varies from $1200 to $2500, depending on the location, availability and the breeder in question.
French Bulldog Pug Mix Rescue
If you are considering getting a Frug dog, you may also want to adopt one from a shelter instead of going through a breeder.
This helps to prevent increasing the demand for unethical breeding practices. Expect any adoption or rescue center to carry out a home check and ensure the puppy gets into the right home.
ALSO READ: The Stubborn, But Affectionate Pug Yorkie Mix
Conclusion
Cute, playful and intelligent, the Frenchie Pug is a loyal companion.
These dogs are also low-maintenance and do not require much exercise and grooming. However, they do require patience and consistency when training them.
Frugs may also inherit various health problems from each parent dog, so they are best suited to an owner who is prepared for regular vet checkups.
RECEIVE UPDATES ON DOG TRAINING, BREEDS, AND HEALTH + ALSO GET A FREE COPY OF OUR EBOOK 100 DOG TRAINING TIPS....